Join Online Growth Summit and learn first-hand from experienced entrepreneurs on how to grow your business in 2021.
About this event
Join Online Growth Summit to find better ways to grow your business in 2021. 
Learn first-hand from experienced entrepreneurs and operators on how they grew their businesses, the mistakes they made, and the lessons they learnt along the way. 
If you're feeling that you're mostly working in your business but not on your business, then this is a must attend event.
We've made sure that all speakers are founders or seasoned operators and the discussions will focus on practical insights that you can implement tomorrow.
What does the ticket get you?
With this ticket you will get access to the live sessions on Day 1 of the Online Growth Summit as well as the recordings of the sessions.
Online Growth Summit is kindly supported by

Growclass is an 8 week intensive course to teach you growth marketing, connect you with an incredible network, and help you grow your business and career.
Day 1 Theme: Audience Growth
2.00pm - 2.45pm
Strategic Positioning and How to Find your Brand Voice
Positioning your business in the right way can be a difficult process but it is a crucial for creating success. By deciding on how you create value for your customers (especially how that differs from your competitors) and how to communicate this in a distinctive and authentic way, you will be able to attract the right audience for your brand. Join us for this discussion if you want to make sure your start-up is in a strong position to scale.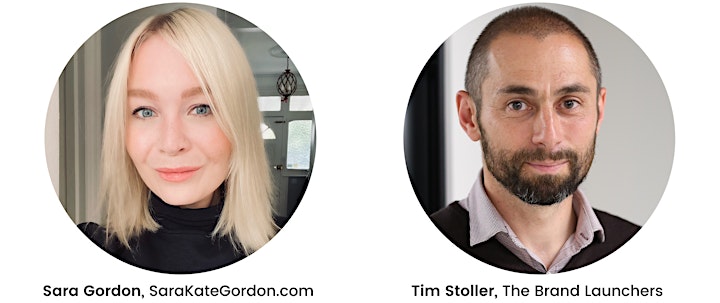 Sara Gordon is a marketing Swiss-army knife that helps early stage companies better understand their customer, craft their positioning and creative, and develop strategies for growth. Having scaled Bloom & Wild from a seed stage start-up to European market leader over her four year tenure, she's experienced in scaling teams, marketing and creative efficiently. Most recently, she scaled ZOE's COVID Symptom Study app from zero to 4.5 million global users in less than two months with over 6,000 pieces of press coverage including the New York Times and Wall Street Journal. She's currently working with fintech, healthcare and lifestyle brands to position them, develop their creative identities and develop their marketing strategies. You can see her latest work at www.sarakategordon.com.
Tim Stoller is founder of The Brand Launchers, who provide no-nonsense support to people launching and scaling businesses. Tim has contributed to big business by growing and launching new services at the BBC. He has helped fast-paced companies like Innocent Drinks increase their turnover and profit and has successfully scaled startups to secure Series A funding at The Happiness Index. Tim is an investor and has started his own businesses, so he knows firsthand what it is like to create something from scratch. Tim uses wide-ranging sector and functional experience to provide practical support, helping people work out what to do and what to avoid. He shows how you can nurture a business and brand without running out of cash
2.45pm - 3.30pm
Growth by Content: Drive Massive Traffic without a Big Budget
If you want to grow but don't have a massive budget for paid marketing then look no further. There has never been a better time to grow your audience with content marketing. In this session we will reveal the secrets on how you can drive traffic organically by providing valuable content to your target audience without a big budget.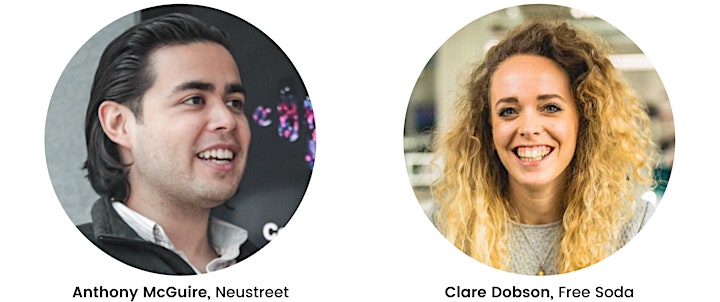 Anthony McGuire is Head of Marketing for Neustreet, a fintech media platform building the future of collectible cultural assets like sneakers, trading cards and NFTs. He has consulted with dozens of startups and corporates on topics like growth marketing, content marketing, and paid social. Anthony is also the host of several podcasts and writer of several newsletters in marketing, media, and tech. Anthony previously worked on the Facebook and Instagram Global Partnerships Team in both New York and London, advising the world's largest advertisers like American Express, Volkswagen, and Procter & Gamble on how they should approach advertising on Facebook and Instagram.
Clare Dobson is founder at Free Soda, a digital marketing agency that builds brands online through content strategy. She helps clients with digital strategy planning and content production. She has over ten years of experience and worked with giants such as Google and Facebook but also marketing/technology start-up Seenit from London. Besides that she is also a Yoga teacher, sound therapist and bookworm.
3.30pm - 3.35pm
Coffee Break
3.35pm - 4.15pm
Audience Growth Tactics to Win on Social Media in 2021
Do you find yourself spending way too much time on social media without getting much return? With new social media formats such as Clubhouse, Twitter Spaces popping up it can be difficult to figure out what activities drive the highest ROI. This discussion is here to guide you through the convoluted world of social media and help you decide which ones you shouldn't miss and which ones you should rather skip.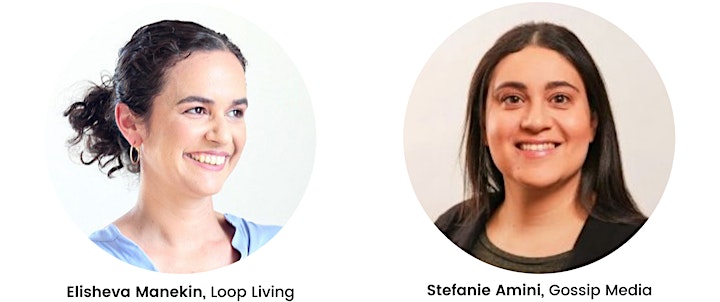 Elisheva Manekin is the founder of Loop Living, a design studio that helps breathe life into people's homes by creating original, modern, indoor plant decor. When Covid19 hit, Elisheva had just let go of her bestselling product line to niche indoor-plant wares. Working with micro-influencers, brand ambassadors, and utilizing the ever-changing algorithm to their advantage, Loop Living tripled their sales during an incredibly trying year. Their product line is carried by leading industry players in the US, and decorates thousands of homes worldwide.
Stefanie Amini is Co-Founder of Gossip Media and an expert in developing and executing hands-on marketing strategies for growing Startups. She is a Mentor at Google and a fan of all things tech. Stef's expertise is in helping increase app installs and drive leads using growth methods as well as content, social media, and paid ads. She is also co-founder of the coffee discovery app, Discoveringcoffee.com
4.15pm - 5.00pm
E-Commerce Panel: How to Get Your First 1000 Orders
Starting your own e-commerce brand sounds easy. Source products somewhere, come up with a name, set up a website and you're ready to launch! But wait, the number of orders is not growing as fast as you thought it would? You're not even close to the first milestone you've set? This panel will be experienced entrepreneurs who once were in your shoes and can now share their insights on how to get those first 1000 orders - and what comes after!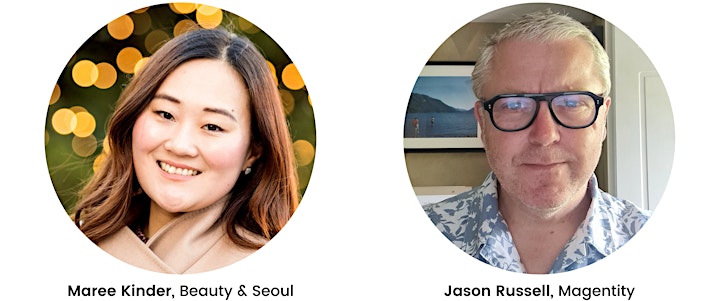 Maree Kinder is a multi award-winning entrepreneur listed as 35 under 35 Women in Business by Management Today and the founder of Beauty & Seoul, an online store curating South Korea's best skincare brands to Europe.
Having started Beauty & Seoul next to her day job in 2017, Maree has successfully bootstrapped her business to over 7-figures in revenue, creating UK's go-to destination for K-Beauty fans.
Jason Russell is founder and managing director of Magentity helping SME businesses and Startups develop their e-commerce presence and digital marketing strategies. He is a top level retail strategy and granular 'hands-on' person. He's been Head of Ecommerce for a number of big online players, is a technology market expert and versatile across all ecommerce platforms and plug-ins. His clients include Cutler and Gross, So..? Fragrance, King of Shaves and Aromatherapy Associate to name but a few.
REMINDER: YOUR TICKET OPTIONS
Also check out our discussion topics with inspiring speakers on Day 2 and Day 3 of the Online Growth Summit or get a Full Conference Pass to save on your ticket price.
If you have any questions or sponsorship enquiries, please contact: taylor@bloomingfounders.com. 
THIS EVENT IS BROUGHT TO YOU BY 

Blooming Founders helps early stage founders grow their businesses online. We will be launching our new platform soon. Sign up to our newsletter on our website to be the first to know.
Date and time
Location
Refund policy
Organiser of Online Growth Summit 2021 (Day 1 Access)
Blooming Founders is a business incubation platform that facilitates the growth of female-led businesses. We run a co-working space and events all year round to provide education around entrepreneurship, fundraising, as well as networking opportunities with fellow founders and investors.
​