Join Online Growth Summit and learn first-hand from experienced entrepreneurs and operators on how to grow your business in 2021.
About this event
Join Online Growth Summit to find better ways to grow your business in 2021. 
Learn first-hand from experienced entrepreneurs and operators on how they grew businesses, the mistakes they made, and the lessons they learnt along the way. 
If you're feeling that you're mostly working in your business but not on your business, then this is a must attend event! 
We've made sure that we're inviting real experts that hate fluff as much as we do and that the discussions will focus on practical insights that you can implement tomorrow.
Each session will also have plenty of time for you to ask your questions!
What does the ticket get you?
With this ticket you will get access to the live sessions on Day 2 of the Online Growth Summit as well as the recordings of the sessions.
Online Growth Summit is kindly supported by

Growclass is an 8 week intensive course to teach you growth marketing, connect you with an incredible network, and help you grow your business and career.
Day 2 Theme: Revenue Growth & Conversion
2.00pm - 2.45pm
Building Funnels: Strategies that Actually Drive Demand
In this session of the day we are going to talk about how to guide your audience through your sales funnel and convert them to paying customers. Seasoned founders and marketing experts will share their top tips on strategies that are most effective in today's world, so you can get the highest return for your efforts.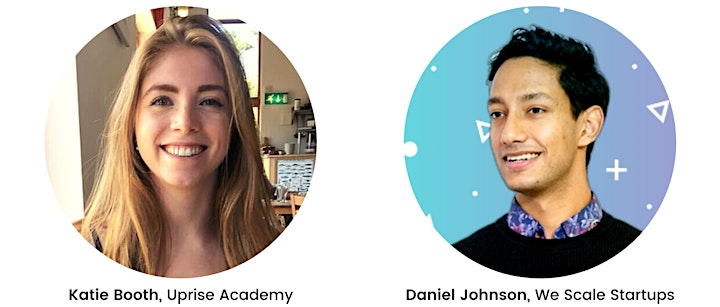 Daniel Johnson is the founder of We Scale Startups. He helps startups achieve ambitious goals using growth marketing through a data-driven, first-principles approach. With extensive experience working with some of the world's fastest-growing startups and companies, he knows what works. Over 50% of internet users in the western world have seen his work. He generated over £15m in revenue for various ecommerce stores as well as millions of downloads for multiple Android & iOS apps. Daniel has also mentored startups in over 11 countries and used to be a Growth Mentor at the Google for Startups Accelerator.
Katie Booth is Head of Growth at Uprise Academy, where she has played a key role in pivoting the business during the pandemic, growing an online community from scratch. She has spent her career working in growth-focussed roles in startups, from marketing and sales to fundraising, and is passionate about supporting purpose-driven, early-stage entrepreneurs and change makers to bring their ideas to life, have their voices heard and build engaged communities.
2.45pm - 3.30pm
The Power of Clear and Compelling Copywriting that Drives Conversion
Copywriting is a hot topic at the moment and has every right to be. Clear and convincing copy can help you increase conversions from your audience simply through the power of words. Join this discussion to learn how you can use compelling copywriting to grow your business.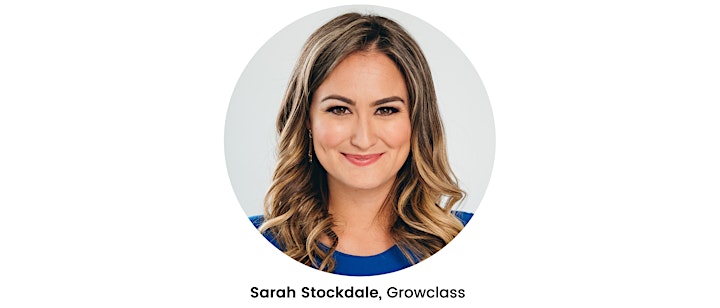 Sarah Stockdale is founder and CEO of Growclass, an online growth marketing training company and a copywriting expert. She is also host of the podcast The Growth Effect in partnership with The Globe and HSBC and author of the blog/newsletter We Need To Talk About This. She's spent her career working on early stage tech startups such as Wave, a Canadian FinTech giant. As Director of International Growth at Tilt, she led the crowdfunding company to its acquisition by Airbnb in 2017.
3.30pm - 3.35pm
Coffee Break
3.35pm - 4.10pm
How People Make Buying Decisions
It is key for every founder and marketer to understand what drives the purchase decisions of their customers. Yet, 95% of how we make these decisions takes place at the non-conscious level of our brains. In this session, we will talk with a neuroscientist about how neuromarketing can be used to drive higher conversion in your business.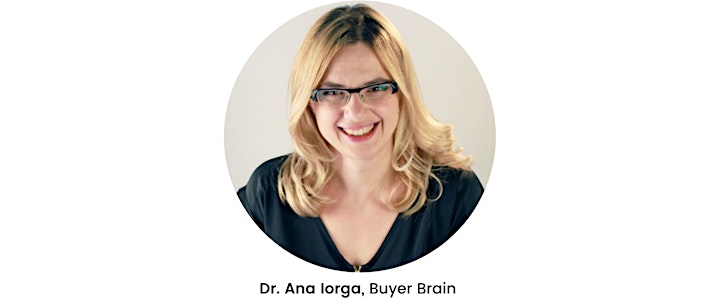 Dr. Ana Iorga is the founder of Buyer Brain, a consumer neuroscience company and behavioral sciences expert with a deep abiding passion for understanding human behavior. She worked with companies in the banking, consumer goods, manufacturing, retail, and automotive industries for over 15 years helping them improve customer experience and engagement strategies. Her work has been recognized with several awards including a nomination by Advertising Week as one of the most influential women in marketing. She is also a Medical Doctor, holding a Ph.D. in Consumer Neuroscience and a double MBA degree in Marketing & Finance.
4.10pm - 5.00pm
Growth Panel: Top Mistakes to Avoid for Founders
No matter if you are still working on your idea, already in the early stages of your start-up or you already established your business in the market. It is never too late to learn from others' mistakes! So join this session where founders share mistakes they made when growing their businesses so you can avoid going down those paths.

Pip Jamieson is the Founder & CEO of The Dots 'dubbed "The next LinkedIn?' by Forbes. Delightfully Dyslexic with a distinctive marmite laugh (you either love it or you hate it), Pip was named by The Sunday Times as one of the Top 100 Disruptive Entrepreneurs innovating in their respective fields & by Ad Week as one of the 41 trailblazing leaders having a positive impact on the world. Being a dyslexic sole female tech founder, Pip has put promoting social responsibility and helping businesses build diverse teams at the heart of everything they do!
Leitha Matz is cofounder/CPO at women's investment platform FinMarie and a digital strategy leader in Berlin. She co-founded the award-winning German FinTech startup Zuper GmbH, as well as Mind the Gap (MtG) e.V., a nonprofit community organization focused on financial education for women. Previous work includes launching data products for The Adecco Group's Global Tech Center, building online customer service operations for logistics company FedEx and the eCommerce systems for FreshDirect.com (now a $600 MM rev/yr business recently acquired by Ahold Delhaze).
Tom Dewhurst is founder of Growth Division, an agency designed to help founders find and validate channels to market. Before that, he founded and grew Ordoo 2015, a mobile ordering app that was before the Pandemic Age ahead of its time. He discovered his entrepreneurial spirit at a young age when he started a business selling child identification cards to parents. After University he detoured into the corporate world with Accenture and Vodafone before returning to what he liked - starting and growing a business. He is a positive, dedicated, committed team leader with a restless need to find new and creative ways to make the agency work better.
REMINDER: YOUR TICKET OPTIONS
Also check out our discussion topics on Day 1 (Audience Growth) and Day 3 ( Operational Excellence) of the Online Growth Summit or get a Full Conference Pass to save on your ticket price.
If you have any questions or sponsorship enquiries, please contact: taylor@bloomingfounders.com. 
THIS EVENT IS BROUGHT TO YOU BY 

Blooming Founders helps early stage founders grow their businesses online. We will be launching our new platform soon. Sign up to our newsletter on our website to be the first to know.
Date and time
Location
Refund policy
Organiser of Online Growth Summit 2021 (Day 2 Access)
Blooming Founders is a business incubation platform that facilitates the growth of female-led businesses. We run a co-working space and events all year round to provide education around entrepreneurship, fundraising, as well as networking opportunities with fellow founders and investors.
​