Join Online Growth Summit and learn first-hand from experienced founders and operators on how to grow your business online in 2021.
About this event
Join Online Growth Summit to find better ways to grow your business in 2021. 
Learn first-hand from experienced entrepreneurs and operators on how they grew their businesses, the mistakes they made, and the lessons they learnt along the way. 
If you're feeling that you're mostly working in your business but not on your business, then this is a must attend event! 
We're only inviting real experts who hate marketing fluff as much as we do, so we're making sure that the discussions will focus on practical insights which you can implement tomorrow.
Each session will also have plenty of time for you to ask your questions!
What does the ticket get you?
Tickets on this page give you access to the entire 3 days of Online Growth Summit taking place during June 22nd - 24th, each day from 2-5pm BST, plus all recordings.
If you can only make it to one or two days of the conference, there are also individual tickets available for:
Day 2 (Revenue Growth & Conversion)
Day 3 (Operational Excellence)
Online Growth Summit is kindly supported by

Growclass is an 8 week intensive course to teach you growth marketing, connect you with an incredible network, and help you grow your business and career.
Conference Schedule
DAY 1: AUDIENCE GROWTH (June 22nd)
2.00pm - 2.45pm
Strategic Positioning and How to Find Your Brand Voice
Positioning your business in the right way can be a difficult process but it is a crucial for creating success. By deciding on how you create value for your customers (especially how that differs from your competitors) and how to communicate this in a distinctive and authentic way, you will be able to attract the right audience for your brand. Join us for this discussion if you want to make sure your start-up is in a strong position to scale.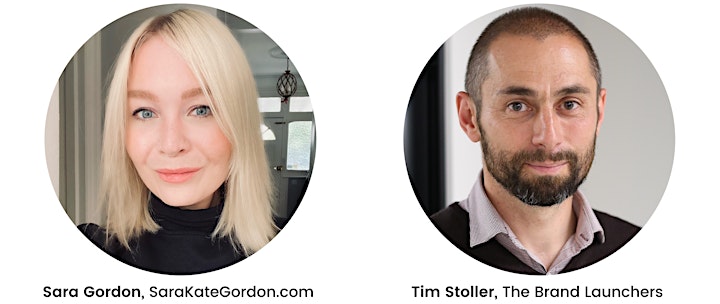 Sara Gordon is a marketing Swiss-army knife that helps early stage companies better understand their customer, craft their positioning and creative, and develop strategies for growth. Having scaled Bloom & Wild from a seed stage start-up to European market leader over her four year tenure, she's experienced in scaling teams, marketing and creative efficiently. Most recently, she scaled ZOE's COVID Symptom Study app from zero to 4.5 million global users in less than two months with over 6,000 pieces of press coverage including the New York Times and Wall Street Journal. She's currently working with fintech, healthcare and lifestyle brands to position them, develop their creative identities and develop their marketing strategies. You can see her latest work at www.sarakategordon.com.
Tim Stoller is founder of The Brand Launchers, who provide no-nonsense support to people launching and scaling businesses. Tim has contributed to big business by growing and launching new services at the BBC. He has helped fast-paced companies like Innocent Drinks increase their turnover and profit and has successfully scaled startups to secure Series A funding at The Happiness Index. Tim is an investor and has started his own businesses, so he knows firsthand what it is like to create something from scratch. Tim uses wide-ranging sector and functional experience to provide practical support, helping people work out what to do and what to avoid. He shows how you can nurture a business and brand without running out of cash
2.45pm - 3.30pm
Growth by Content: Drive Massive Traffic without a Big Budget
If you want to grow but don't have a massive budget for paid marketing then look no further. There has never been a better time to grow your audience with content marketing. In this session we will reveal the secrets on how you can drive traffic organically by providing valuable content to your target audience without a big budget.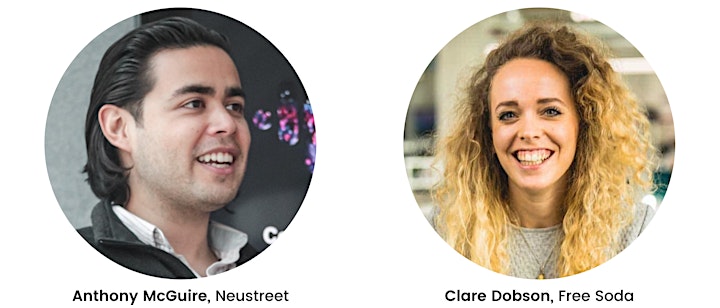 Anthony McGuire is Head of Marketing for Neustreet, a fintech media platform building the future of collectible cultural assets like sneakers, trading cards and NFTs. He has consulted with dozens of startups and corporates on topics like growth marketing, content marketing, and paid social. Anthony is also the host of several podcasts and writer of several newsletters in marketing, media, and tech. Anthony previously worked on the Facebook and Instagram Global Partnerships Team in both New York and London, advising the world's largest advertisers like American Express, Volkswagen, and Procter & Gamble on how they should approach advertising on Facebook and Instagram.
Clare Dobson is founder at Free Soda, a digital marketing agency that builds brands online through content strategy. She helps clients with digital strategy planning and content production. She has over ten years of experience and worked with giants such as Google and Facebook but also marketing/technology start-up Seenit from London. Besides that she is also a Yoga teacher, sound therapist and bookworm.
3.30pm - 3.35pm
Coffee Break
3.35pm - 4.15pm
Audience Growth Tactics to Win on Social Media in 2021
Do you find yourself spending way too much time on social media without getting much return? With ever changing algorithms, your social media strategy also has to stay up to date. This discussion is here to guide you through the best ways to gain visibility on social media right now and will provide practical steps on how to work with micro-influencers and build a brand ambassador programme.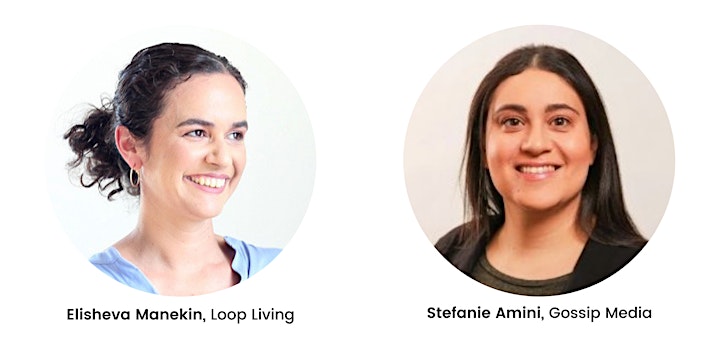 Elisheva Manekin is the founder of Loop Living, a design studio that helps breathe life into people's homes by creating original, modern, indoor plant decor. When Covid19 hit, Elisheva had just let go of her bestselling product line to sell niche indoor-plant wares. Working with micro-influencers, brand ambassadors, and utilizing the ever-changing algorithm to their advantage, Loop Living tripled their sales during an incredibly trying year. Their product line is carried by leading industry players in the US, and decorates thousands of homes worldwide.
Stefanie Amini is Co-Founder of Gossip Media and an expert in developing and executing hands-on marketing strategies for growing Startups. She is a Mentor at Google and a fan of all things tech. Stef's expertise is in helping increase app installs and drive leads using growth methods as well as content, social media, and paid ads. She is also co-founder of the coffee discovery app, Discoveringcoffee.com
4.15pm - 5.00pm
E-Commerce Growth: How To Get Your First 1000 Orders
Starting your own e-commerce brand sounds easy. Source products somewhere, come up with a name, set up a website and you're ready to launch! But wait, the number of orders is not growing as fast as you thought it would? You're not even close to the first milestone you've set? This panel will be experienced entrepreneurs who once were in your shoes and can now share their insights on how to get those first 1000 orders - and what comes after!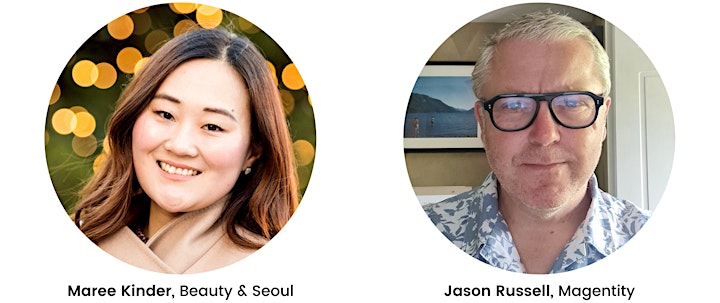 Maree Kinder is a multi award-winning entrepreneur listed as 35 under 35 Women in Business by Management Today and the founder of Beauty & Seoul, an online store curating South Korea's best skincare brands to Europe.
Having started Beauty & Seoul next to her day job in 2017, Maree has successfully bootstrapped her business to over 7-figures in revenue, creating UK's go-to destination for K-Beauty fans.
Jason Russell is founder and managing director of Magentity helping SME businesses and Startups develop their e-commerce presence and digital marketing strategies. He is a top level retail strategy and granular 'hands-on' person. He's been Head of Ecommerce for a number of big online players, is a technology market expert and versatile across all ecommerce platforms and plug-ins. His clients include Cutler and Gross, So..? Fragrance, King of Shaves and Aromatherapy Associate to name but a few.
DAY 2: REVENUE GROWTH & CONVERSION (June 23rd)
2.00pm - 2.45pm
Building Sales Funnels: Strategies that Actually Drive Demand
In this session of the day we are going to talk about how to guide your audience through your sales funnel and convert them to paying customers. Seasoned founders and marketing experts will share their top tips on strategies that are most effective in today's world, so you can get the highest return for your efforts.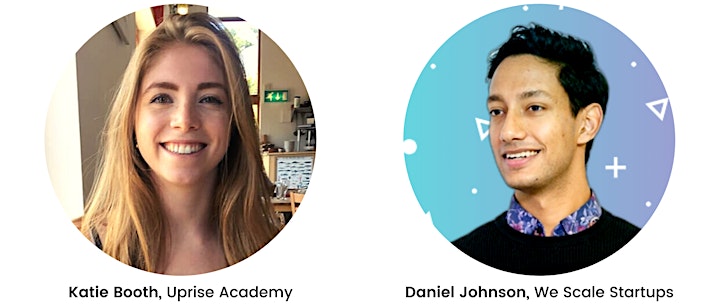 Katie Booth is Head of Growth at Uprise Academy, where she has played a key role in pivoting the business during the pandemic, growing an online community from scratch. She has spent her career working in growth-focussed roles in startups, from marketing and sales to fundraising, and is passionate about supporting purpose-driven, early-stage entrepreneurs and change makers to bring their ideas to life, have their voices heard and build engaged communities.
Daniel Johnson is the founder of We Scale Startups. He helps startups achieve ambitious goals using growth marketing through a data-driven, first-principles approach. With extensive experience working with some of the world's fastest-growing startups and companies, he knows what works. Over 50% of internet users in the western world have seen his work. He generated over £15m in revenue for various ecommerce stores as well as millions of downloads for multiple Android & iOS apps. Daniel has also mentored startups in over 11 countries and used to be a Growth Mentor at the Google for Startups Accelerator.
2.45pm - 3.30pm
The Power of Clear and Compelling Copywriting that Drives Conversion
Copywriting is a hot topic at the moment and has every right to be. Clear and convincing copy can help you increase conversions from your audience simply through the power of words. Join this discussion to learn how you can use compelling copywriting to grow your business.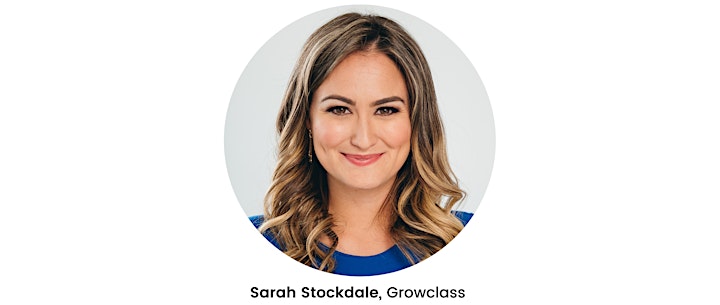 Sarah Stockdale is founder and CEO of Growclass, an online growth marketing training company and a copywriting expert. She is also host of the podcast The Growth Effect in partnership with The Globe and HSBC and author of the blog/newsletter We Need To Talk About This. She's spent her career working on early stage tech startups such as Wave, a Canadian FinTech giant. As Director of International Growth at Tilt, she led the crowdfunding company to its acquisition by Airbnb in 2017.
3.30pm - 3.35pm
Coffee Break
3.35pm - 4.10pm
How People Make Buying Decisions
It is key for every founder and marketer to understand what drives the purchase decisions of their customers. Yet, 95% of how we make these decisions takes place at the non-conscious level of our brains. In this session, we will talk with a neuroscientist about how neuromarketing can be used to drive higher conversion in your business.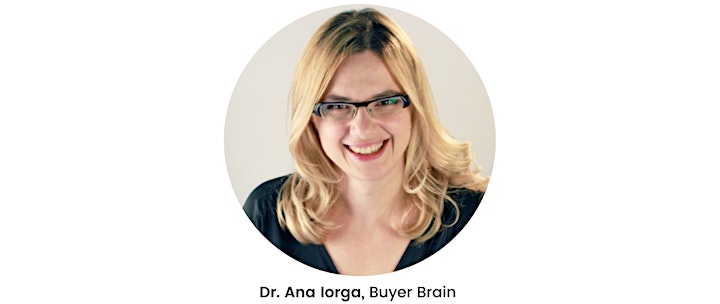 Dr. Ana Iorga is the founder of Buyer Brain, a consumer neuroscience company and behavioral sciences expert with a deep abiding passion for understanding human behavior. She worked with companies in the banking, consumer goods, manufacturing, retail, and automotive industries for over 15 years helping them improve customer experience and engagement strategies. Her work has been recognized with several awards including a nomination by Advertising Week as one of the most influential women in marketing. She is also a Medical Doctor, holding a Ph.D. in Consumer Neuroscience and a double MBA degree in Marketing & Finance.
4.10pm - 5.00pm
Growth Panel: Top Mistakes to Avoid for Founders
No matter if you are still working on your idea, already in the early stages of your start-up or you already established your business in the market. It is never too late to learn from others' mistakes! So join this session where founders share mistakes they made when growing their businesses so you can avoid going down those paths.

Pip Jamieson is the Founder & CEO of The Dots 'dubbed "The next LinkedIn?' by Forbes. Delightfully Dyslexic with a distinctive marmite laugh (you either love it or you hate it), Pip was named by The Sunday Times as one of the Top 100 Disruptive Entrepreneurs innovating in their respective fields & by Ad Week as one of the 41 trailblazing leaders having a positive impact on the world. Being a dyslexic sole female tech founder, Pip has put promoting social responsibility and helping businesses build diverse teams at the heart of everything they do!
Leitha Matz is cofounder/CPO at women's investment platform FinMarie and a digital strategy leader in Berlin. She co-founded the award-winning German FinTech startup Zuper GmbH, as well as Mind the Gap (MtG) e.V., a nonprofit community organization focused on financial education for women. Previous work includes launching data products for The Adecco Group's Global Tech Center, building online customer service operations for logistics company FedEx and the eCommerce systems for FreshDirect.com (now a $600 MM rev/yr business recently acquired by Ahold Delhaze).
Tom Dewhurst is founder of Growth Division, an agency designed to help founders find and validate channels to market. Before that, he founded and grew Ordoo 2015, a mobile ordering app that was before the Pandemic Age ahead of its time. He discovered his entrepreneurial spirit at a young age when he started a business selling child identification cards to parents. After University he detoured into the corporate world with Accenture and Vodafone before returning to what he liked - starting and growing a business. He is a positive, dedicated, committed team leader with a restless need to find new and creative ways to make the agency work better.
DAY 3: OPERATIONAL EXCELLENCE (June 24th)
2.00pm - 2.45pm
Optimise for Profitability like a CFO
Growth is great, but profits are what counts at the end of the day. In this session, we are looking into how you can optimise your profits or at least make sure that your business is growing in the right direction. What does it take to develop the right pricing strategy and how can you calculate your unit economics? Which costs should you be careful with and where is it worth to splurge? Find out the answers in this session.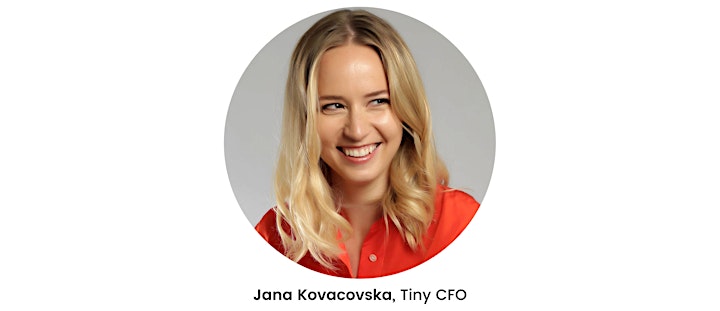 Jana Kovacovska is founder and writer of Tiny CFO, a platform that empowers entrepreneurs and small business owners to build financially robust companies. She is also an independent strategy & finance consultant to companies and investors in the tech, consumer, and media space, having worked with Deliveroo, The Business of Fashion and Heist. Prior to that, she was a VC as well as a McKinsey consultant.
2.45pm - 3.30pm
How to Find the Best Talent in the Most Cost-Effective Way
Hiring is an exciting but also challenging task for first-time founders, especially when it comes to the first members of your team. More often than not, you are looking for someone who can wear multiple hats, can hit the ground running and costs as little as possible. Where do you find these people and how do you judge and select for right skills set? We'll be talking with experienced operations and recruitment experts on how to find the best talent in a way that doesn't kill your budget.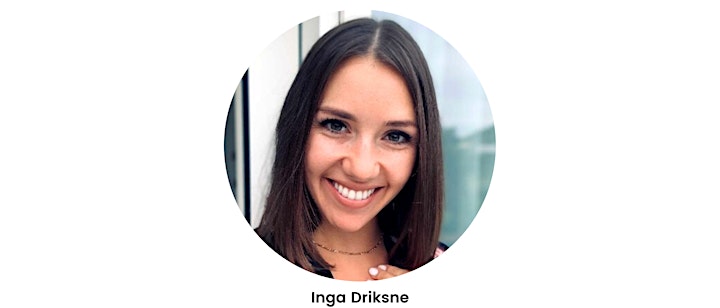 Inga Driksne supports early-stage founders as an Operations Consultant. She has 10 years of experience working in start-ups across Europe, largely in the tech space. Recruitment and the hiring process play a significant role in her work. Inga is passionate about finding diverse talent for small teams and getting more women into senior roles. She is originally from Latvia and has spent the past 15 years in the UK.
3.30pm - 3.35pm
Coffee Break
3.35pm - 4.15pm
How to Identify Growth Drivers and Align Your Team Around Them
When you are busy working to achieve more and more, it can be hard to zoom out and get a clear picture of what actually drives the business. Join this session to find out how you can identify your most impactful levers for growth and how you can align you team, so that everyone is pushing in the same direction - especially when everyone is working remotely.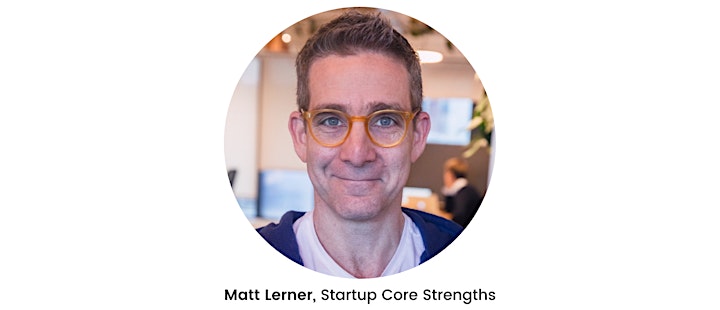 Matt Lerner is founder of Startup Core Strengths, where he and his team offer training and growth coaching workshops to founders and their teams in Europe. Prior to founding Startup Core Strengths, Matt was the London-based partner for 500 Startups, where he initiated the 'Distro Dojo' seed-stage growth program for the funds' portfolio companies. Matt also had an 11-year run at PayPal where he lived through the company's 15x hyper growth phase from progressive start-up to FinTech giant, culminating in him leading B2B marketing for PayPal UK.
4.15pm - 5.00pm
Multi-Passionate Founders: How to Juggle Different Ventures and Thrive
If you are the entrepreneurial type, chances are that you have many different ideas and might have a hard time doing just one thing. Additionally, multiple streams of income could come in handy in case one of your ventures gets disrupted (by a global pandemic, for example). But managing multiple ventures also means that there is less time to nurture each one. Join this session to hear from busy founders how they manage their time, health and productivity while juggling multiple activities.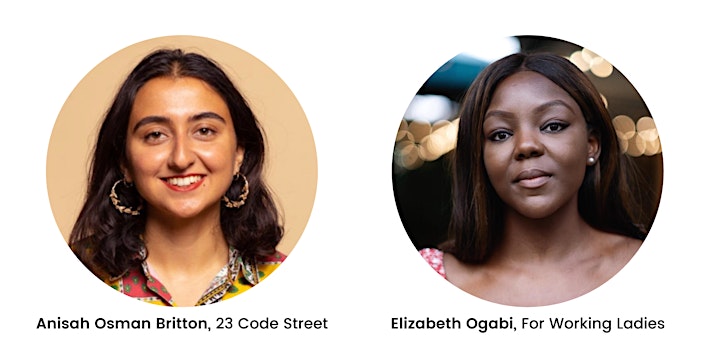 Anisah Osman Britton is founder of 23 Code Street, a coding school for women and non-binary people that helps provide digital skills training for women in the slums of Mumbai since 2016. She is also CTO at the second hand fashion company Vinokilo and Startup Life Reporter at Sifted. Since December 2020 she is also a Trustee at Social Tech Trust a social technology funder that invests in and supports people using tech to address complex social challenges.
Elizabeth Ogabi is founder of For Working Ladies, a digital media platform focused on equipping women with the information and tools they need to start a successful business and co-founder of Leicour.com, a private membership network focused on accelerating women within organisations into leadership roles. She is also the host of How I Made It Happen, a podcast focused on sharing advice from women who are entrepreneurs, innovators and leaders. In June 2021 she will publish her debut book Side Hustle in Progress: A Practical Guide to Kickstarting Your Business. Whether it's starting a side hustle, breaking through the corporate glass ceiling or pursuing full-time entrepreneurship, her ultimate goal is focused on the advancement and economic empowerment of women.
REMINDER: YOUR TICKET OPTIONS
This is the event page to purchase the Full Conference Pass which will allow you get gain access to all 3 days of the conference (June 22-24th).
If you can only make one or two days, then you can purchase day tickets individually:
Click here for Day 1 Tickets (Audience Growth)
Click here for Day 2 Tickets (Revenue Growth & Conversion)
Click here for Day 3 Tickets (Operational Excellence)
If you have any questions or sponsorship enquiries, please contact: taylor@bloomingfounders.com. 
THIS EVENT IS BROUGHT TO YOU BY 

Blooming Founders helps early stage founders grow their businesses online. We will be launching our new platform soon. Sign up to our newsletter to be the first to know!
Date and time
Location
Refund policy
Organiser of Online Growth Summit 2021 (Full Conference Pass)
Blooming Founders is a business incubation platform that facilitates the growth of female-led businesses. We run a co-working space and events all year round to provide education around entrepreneurship, fundraising, as well as networking opportunities with fellow founders and investors.
​