90 minute Improv Jam + social space
About this event
The Nursery Theatre Online Improv Jam
TNTOIJ for short, though we don't recommend this acronym, is a 90-minute non-public weekly improv jam night every Tuesday evening that's totally accessible to anyone with an internet connection and a love of Improv.
The event is FREE OF CHARGE to those who can't pay, otherwise a 'Pay What You Can' ticketing system. No need to check with us about donations, the FREE spots are offered no questions asked.
TNTOIJ is Weekly on TUESDAYS from 6pm BST.
What to expect:
A short group warm-up led by the Nursery's hosts, followed by 2 Jam sections; A freeform montage of scenes for you keep your improv muscles limbered and some fast and fresh short-form style scenes.
Just sign up to whichever date/s you'd like to attend and you will be emailed a private Zoom link before the event goes live.
PLEASE READ: Tickets are a limited quantity, and most weeks sell-out. So If you were to book a place and can no longer attend, we kindly ask that you inform The Nursery by any channel in good time (email/socials etc) as your non-attendance will take the place of somebody who may be able to attend. :)
Open - An event for anyone, regardless of their improv experience. Although more experienced players are of course welcome, the content does not require any prior improv knowledge.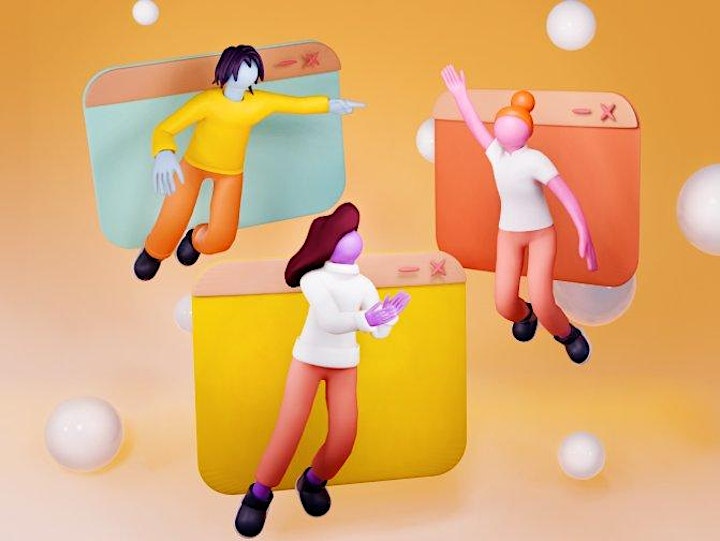 Timings in UK BST (Jam lengths approximate):
5.55.PM - Jam room opens for everyone, time to grab a drink and catchup.
6.00PM - Nursery Hosts run a group warmup and explain the format of the evening. We ask everyone to attend from the start time.
6.10PM - JAM! Short scenes and Short form, A mixture of scenes with a specific tilt and some classic short form games adapted or invented for cyberspace.
6.40PM - A short screen break
6.50PM - JAM! – A montage of more freeform and potentially interconnected scenes, curated by the hosts but lead by you.
7.30PM – Virtual hugs and clinking of glasses.
PLUS- The Zoom room will stay open until 8pm for anyone wanting to have a post-show hangout.
HOSTS:
We have a rotating schedule of hosts, made up of members of staff, teachers, and volunteers. Our current hosts are:
Jonah Fazel
Juwel Haque
Rhiannon Jenkins
Jennifer Jordan
Rebecca MacMillan
Jessica Mitolo
Jules Munns
Jon Nguyễn
Francesca Reid
Jenny Rowe
Dan Ryan
Gaurav Singh
Heather Urquhart
Marie de Waal
N.B
PLEASE CHECK THAT YOU HAVE CHOSEN THE CORRECT DATE FROM THE DROP DOWN BOX WHEN FOLLOWING THE BOOKING LINK.
A Zoom link will be sent to all registered participants approximately an hour before the show starts.
This is not a public show, and we won't record or use your image without obtaining explicit permission during the jam.
We strongly recommend using a Laptop to attend the Jam and not a phone due to mobile device limitations.
Organiser of Online Improv Jam (Pay What You Can/ Free)
The Nursery have been bringing improv to Londoners for more than ten years. They host regular shows, as well as regular courses, drop-ins, guest workshops, jams and socials.
The Nursery/The Maydays Online Improv Cancellation/Refund Policy
● All online improv bookings are non-refundable
● We reserve the right to change the instructor of any of our online improv events
● If you are unable to make your class due to illness, we will offer to transfer your credit to another session/course. This credit is valid for a period of 6 months for online improv events only.
● If we have to cancel a scheduled online improv event for any reason, we will offer you a choice of either a replacement online event of the same value or a full refund.
● Bookings may be transferred from one student to another before the commencement of training, after first notifying us at least 48 hours before training begins. The new student must have the necessary prerequisites for the training.
● To transfer your credit to another class, please send an email to classes@thenurserytheatre.com with the subject line 'TRANSFER' and add the following details:
- Your Full Name:
- Your Booking Email ID:
- Name of Class/Course Originally Booked:
- Name of Class/Course to be Transferred To:
- Any Other Details:
● To transfer your spot to someone else, please send an email to classes@thenurserytheatre.com with the subject line 'TRANSFER' and add the following details
- Your Full Name:
- Your Booking Email ID:
- Name of Class/Course Booked:
- Full Name Of Your Replacement:
- Email ID of your Replacement:
- Any Other Details: