Create collages with mixed media artist, Gavin Mitchell.
About this event
When we extended our Bond Street gallery, art classes for children were one of the first events we wanted to set up. You are never too young to enjoy art and we wanted to invest in the artistic expressions of younger members of the local community!
Current Covid 19 precautions means we are unable to host our monthly Kids Club inside the gallery, but we have brought back our online Kids Club to keep the little ones creative (and occupied) at home!
Mixed media artist, Gavin Mitchell will be showing us some magnifique collage techniques from the South of France in this exciting collage workshop on Saturday 19th September.
Sign up here at eventbrite to receive the video this Saturday at 10am so we can all join in together!
You will need:
PVA glue
An old paintbrush (any size will do).
Something to collage. Gavin has used this elephant head from Hobby craft, but you can use a cereal box, paper plates or whatever you can cover with collage.
Tissue paper, old maps, comic books, newspapers. Anything you don't mind ripping up!
Beads, buttons or pasta shapes (optional)
Glue gun
Glitter
Scissors
Everyone who signs up will be entered into a draw to win the beautiful collaged elephant that Gavin has created.
We'd love to see what you come up with – Tag your creations with @enter_gallery on Instagram or follow us on Facebook.
See our previous online Kids Clubs here.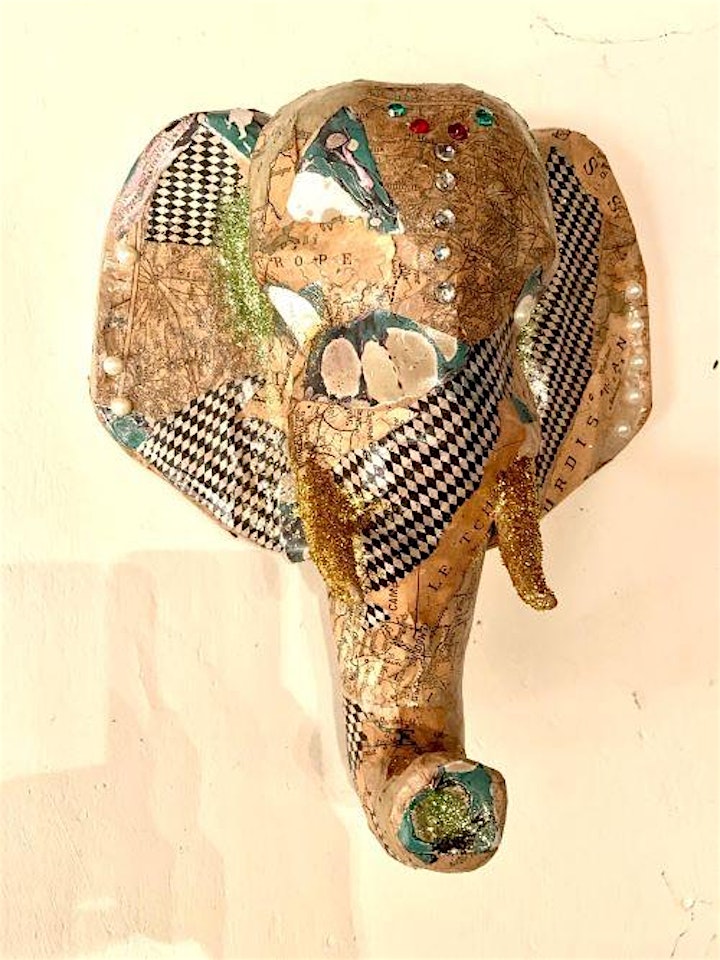 Organiser of Online Kids Club with artist, Gavin Mitchell
What is Brighton famous for? Beyond its two piers (one now sadly a rusty skeleton), pebble beach, hybrid Asian-style palace (The Royal Pavilion), LGBT+ community, annual arts festival and Mods-and-Rockers showdown on the seafront? The Laines, with their boutiques and independent businesses, are right up there on the Brighton hall of fame list, we'd say. 
And, amid the warren of winding streets and laneways that make up this unique little area in the heart of Brighton, you will find a gallery that has been a popular Bond Street fixture for 25 years. From 'In the Frame', to 'artrepublic' and now under a new welcoming name... Enter Gallery
To celebrate our 25th anniversary, we expanded the gallery, creating more space to do the thing that matters to us most – seeking out the best new and established talent in the art world to showcase and share their work with you. Our aim has always been to open the door to art in a way that's accessible to everyone, and our art advisors are always happy to welcome you and have a chat about the work that's on the walls, waiting to find a loving new owner.