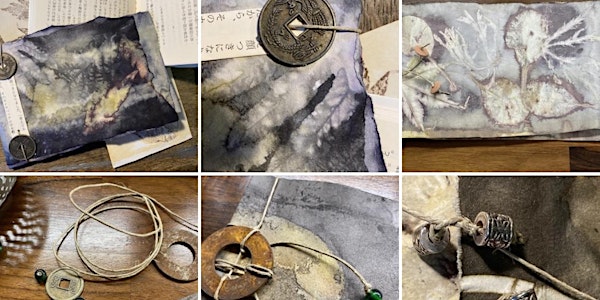 Online on zoom workshop, Knot a hand made book with your Eco Prints
Spend two hours over the zoom platform transforming your paper eco prints into journals using beads and trinkets and string. No needle need
About this event
This is an online workshop over the Zoom platform using the Eco Prints you have been generating on paper in my Eco Printing on paper to transform them into journals in a simple bookbinding technique. We will use string, knots, trinkets and beads to create a stylish binding technique. This is not a traditional Bookbinding technique. For a more traditional approach to bookbinding I suggest you approach my friend Cassandra Barron from Edinburgh
This workshop is suitable for participants who have already followed up my earlier online workshops and it would be a perfect workshop to transform your eco prints...
You will need a broadband fast enough to stream this workshop online on the platform zoom, a lap top or a tablet so you can visualise the screen large enough.
You will receive a material list and some suggestions for thread/trickets and beads... ahead of time. The emphasis is to work with "what you have at home"
You will be taught the basics of this technique but I expect your own paper and creativity will lead your choice for your final knotted design.
This technique is immensely creative and flexible and suits very well young people and beginners. It is great with Eco Printed papers but can work also with other decorated papers.
The concept of this workshop came from the restrictions of Covid19 to meet others and "shop" for material... My aim is to make you revisit what you have at home and make you realise you can create beauty out of the ordinary objects around you.
Date and time
Location
Refund policy