Description
About the talk
There are several essential ingredients required for running a successful conversion rate optimisation programme. A recent Econsultancy research reveals that using multiple methods to optimise your digital assets is highly correlated with increases in conversions and sales
In this month's Bunnytalk, Michael Feiner, Director at analytics and optimisation consultancy AEP Convert, will explain:
what makes a great online optimisation programme (clue: A/B testing is not enough);

who should be in your optimisation team (clue: an analyst and UX designer are essential); and

how analytics and UX interact to improve online conversions.
About the speaker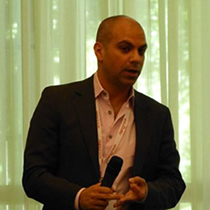 Michael Feiner is the founder and director of digital analytics and optimistion consultancy AEP Convert and his web analytics career goes back to 2001.
He has worked for Nedstat (now part of comScore), Nielsen Online and analytics consultancy Logan Tod (now part of PWC) before setting up AEP Convert in 2007.
In the past seven years Michael has worked with many well known brands including Royal Bank of Scotland, Vodafone, Chelsea FC, More Than, Virgin Money, Travelodge, Selfridges, Kitbag and Lakeland.