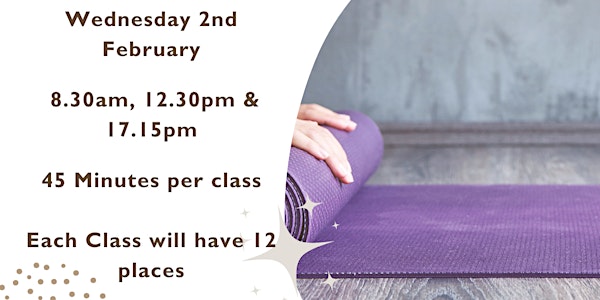 Sarah Kilmartin is a trained Pilates teacher and will be running 3 x 45mins sessions on Wednesday 2nd February. Each class has 12 places.
About this event
Sarah will focus foundation level Pilates, with builds on each exercise for those who are more familiar with Pilates. Sarah uses Body Control Pilates eight principles, focusing on relaxation, concentration, co-ordination, centring, alignment, breathing, stamina and flowing Movements The Body Control Pilates difference – Body Control Pilates.
You'll need to have a mat at home or exercising on carpet will be ok. No other equipment is needed. Wear clothes you can move in comfortably, ideally shorts/leggings/tracksuit bottoms. You will need to have your camera on and your whole body visible to Sarah so she can help you with your exercises to make sure you're doing them properly and won't injure yourself!