Event Information
Refund Policy
Refunds up to 30 days before event
Eventbrite's fee is nonrefundable.
About this Event
5 ONLINE WORKSHOPS FOR PARENTS & CARERS OF YOUNG CHILDREN
These workshops are subsided by Awards For All England meaning all 5 ZOOM sessions will only cost a total of £20! 
TUESDAYS 10am-12pm  -  SEPTEMBER 8, 15, 22, 29 and OCTOBER 6
SPACES ARE LIMITED TO 12 ADULTS (plus accompanying children)
The £20 enrolment includes:
ONLINE SESSIONS WILL BE RECORDED & AVAILABLE FOR ATTENDEES ONLY
The workshop content is for adults but children, pets, partners etc are welcome to be present and you can use the mute button/video off when necessary.
SEPTEMBER 8th: We're not responsible for our children's happiness. 
We explore what positive discipline means and lay down the 2 main foundation stones for the course - how the child's wellbeing is innate and how we create our own experience. We discuss what we can't control and fix and what we are responsible for - taking some of the pressure and stress out of parenting.
SEPTEMBER 15th: Setting confident boundaries without threats and bribes.
We explore the key factors in setting confident boundaries with kindness and firmness and the implications of our own mood states on how we make decisions and communicate, and how our children respond. We will look at why rewards don't work and what to do instead as well as the value of encouragment over praise.
SEPTEMBER 22nd: Brain development, tantrums, power struggles and aggression.
We dive into the toddlers neurological world of intense emotions, why they happen and how we can support the child without needing to distract or interfere. We also explain the real cause of aggression and share practical ideas on how to keep everyone safe.
SEPTEMBER 29th: Safe sleep, bedtimes and crying.
We look at what children's real needs are at sleeptime, why there is a forbidden sleep zone and how different children prepare for sleep differently. We also look at crying as healthy communication and how it supports connection between adult and child.
OCTOBER 6th: Refresh and reflect.
Time to share your experiences and insights in the light of the previous workshops and chance to explore and understand specific challenges with the group. 
A note from us...
Have you noticed how parenting sometimes feels easy, loving and flowing? How sometimes we can handle our children's behaviour really calmly and maturely? And how at other times we lose perspective and our well-meaning intentions to parent gently fly out of the window?
Have you noticed how in the difficult moments the feelings of overwhelm, frustration and guilt seem to dominate?
What if this rollercoaster could become a calmer, more confident relaxed ride? Would you love to have peace of mind and a deeper trust in your instincts to parent in the way that feels right to you?
FAQs
How can I contact the organiser with any questions?
Feel free to email michelle@attachmentparenting.co.uk with any questions.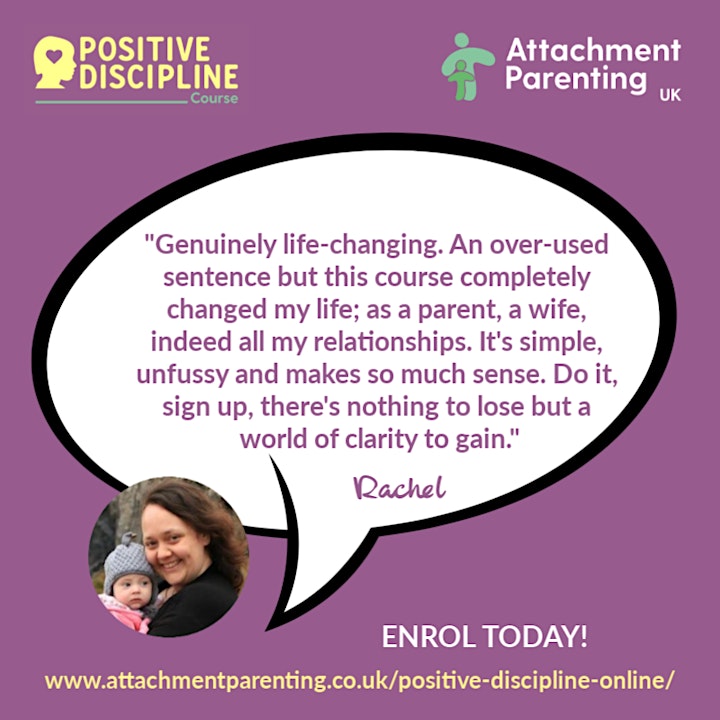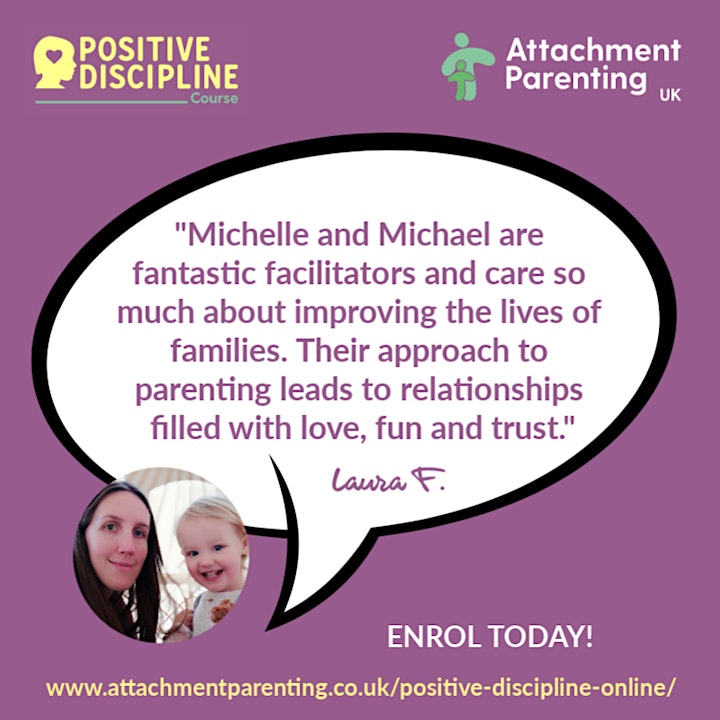 Date and Time
Location
Refund Policy
Refunds up to 30 days before event
Eventbrite's fee is nonrefundable.