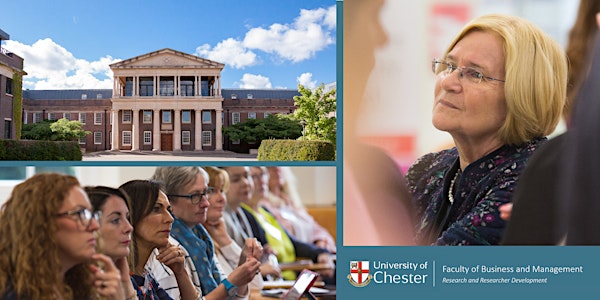 Online Praxis Creating a digital presence for researchers by Dr Alex Fenton
Online Praxis - Creating a digital presence for researchers and students by Dr Alex Fenton
About this event
The BAM Researcher Development Hub | This event is specially designed for research students and members of staff at the University of Chester's Faculty of Business & Management (BAM).
Eligibility: Open to all researchers and interested parties.
A public research seminar - Praxis is the fusion of theory and practice; a rich opportunity to develop and stretch.
This session is part of researcher and research development forming part of the Faculty of Business and Management Doctoral Programmes.
Details of this praxis session are:
Title:  Creating a digital presence for researchers and students
Facilitator: Dr Alex Fenton, CPED, Chester Business School
Abstract:  The session covers the benefits and ways to increase the digital presence for researchers and research students using various tools including Google Scholar, Orcid, ResearchGate, social media and a research website.
Biography: Dr. Alex Fenton is head of Centre for Professional and Economic Development in Chester Business School. He has a background in digital development, digital marketing and has published a wide range of books and international journal articles. He has developed a strong digital presence which has led to excellent research opportunities internationally.
 The format: Arrival followed by an interactive presentation (20-30 mins max) with opportunity to ask questions (20 mins).
Disclaimer: We will try to ensure all events run as advertised, but there may be exceptional circumstances when an event cannot run as advertised. While we will take reasonable action to ensure an equivalent session runs, we accept no liability for any costs incurred as a result.