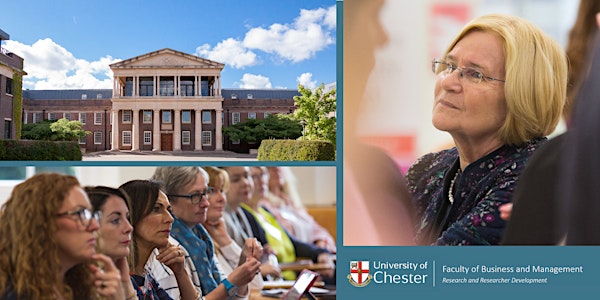 Online Praxis - Sustaining Your Curiosity And Vitality by Prof Peter Shaw
Online Praxis - Sustaining Your Curiosity And Vitality by Prof Peter Shaw
About this event
The BAM Researcher Development Hub | This event is specially designed for research students and members of staff at the University of Chester's Faculty of Business & Management (BAM).
Eligibility: Open to all researchers and interested parties.
A public research seminar - Praxis is the fusion of theory and practice; a rich opportunity to develop and stretch.
This session is part of researcher and research development forming part of the Faculty of Business and Management Doctoral Programmes.
Details of this praxis session are:
Title:  Sustaining Your Curiosity And Vitality
Facilitator: Professor Peter Shaw
Abstract:  How best do you keep curious and energised as you balance your research and other responsibilities? This session will look at how best you can keep learning through observation and engagement. It will draw from the Praesta Insight booklets 'The Four Vs of Leadership: vision, values, value-add and vitality' and 'Leading for the Long Term: creating a sustainable future.' These are available to download from www.praesta.co.uk
Biography: Professor Peter Shaw was a Director General in the UK Government and working in 5 different Government Departments. He has a Doctorate by publication from Chester University. He is a Visiting Professor of Leadership Development at Chester University and 6 other Higher Education institutions in the UK, Australia and Canada. He has written 30 books on aspects of leadership. His latest is 'The Power of Leadership Metaphors.'
 The format: Arrival followed by an interactive presentation (20-30 mins max) with opportunity to ask questions (20 mins).
Disclaimer: We will try to ensure all events run as advertised, but there may be exceptional circumstances when an event cannot run as advertised. While we will take reasonable action to ensure an equivalent session runs, we accept no liability for any costs incurred as a result.