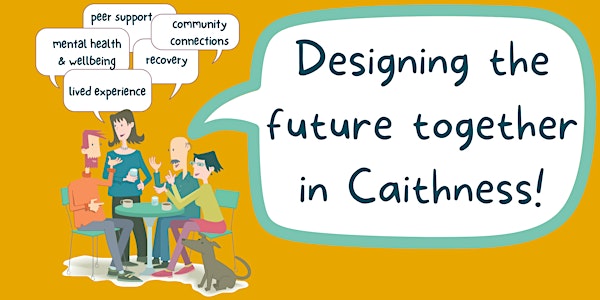 Online Recovery Conversation Cafe with Caithness Cares!
Join us over a cuppa for a conversation café with Caithness Cares, as we explore together what matters to your mental health and wellbeing!
About this event
Do you access, require or provide mental health services in the community?
Join us over a cuppa for an online Recovery Conversation Café with Caithness Cares, as we explore together what matters to your mental health and support NHS Highland to understand what belongs in their new Mental Health & Learning Disability Strategy!
• What is currently best supporting your mental health and wellbeing?
• What could you see making this even better in the future?
• What should be in put in place to make recovery real for you and the people you care about?
• What changes would you like to see happen today?
Joining us will be the NHS Highland leads for community engagement, transformation and strategy. Listening and learning about your key priorities to improve mental health and wellbeing in Caithness's communities.
Booking
Making sure there is enough time to explore all your valuable opinions and ideas, means places are limited at the Caithness Conversation Café. Places will be given on a first come, first serve basis!
Please note this event is for people who live work or volunteer in Caithness.
Online security and wellbeing
We will be using the video conferencing tool Zoom for this event. Your online security and wellbeing are our top priority. We will send out a secure Zoom link and welcome pack ahead of the event.
If you would rather call into this event on your phone (audio access) we can accommodate this - you can request this on the registration form.
Accessibility
Scottish Recovery Network supports #CommunicationForAll and we are working towards becoming fully inclusive. If you have any accessibility or communication needs to support you take part, please let us know.
If you need BSL interpretation or an electronic notetaker we need to know at least 2 weeks in advance of the event date so we can arrange this.
If you have any further questions, contact 0300 323 9956 or info@scottishrecovery.net
Sign Language (BSL) users can contact us directly by using contactSCOTLAND-BSL
Host your own Café!
NHS Highland will be engaging with communities throughout June and July. If you would like to host your own Recovery Conversation Café (off or online) or take part in other ways to shape the new NHS Highland Mental Health Strategy, please contact John via email at -
john.beaton@scottishrecovery.net
Watch our short animation below to find out more about Recovery Conversation Cafés!