Artists Addictive TV give a free online Remix Workshop on how to use free app GarageBand, remixing their new track Ribab Jam.
About this event
THE WORKSHOP:
An introduction to GarageBand's Live Loops function. Participants will be guided through GarageBand's basic functions and shown how to use the app for creating their own remix of Ribab Jam - the latest track by Addictive TV from their global music project Orchestra of Samples. The immediate aim will be for users to have a short track ready by the end of the workshop. The overall aim will be to equip participants with the knowledge needed to be able to dive into GarageBand, use samples and create their own work.
What participants will learn:
• Basic GarageBand functions
• How to import and edit audio
• Set tempo and Key signature
• Basic song structure
• Create stacks of loops
• Perform with Live Loops FX function
• Record/Save a performance
• Record/Save different performances using the same material
Entry level & requirement:
• For beginners & budding producers who haven't used GarageBand
• Will need GarageBand (free app to download on iPad or iPhone).
How will the class be taught:
Online using Zoom video conferencing.
Duration:
90 minutes
*** On Thursday 17th June, join a free online Zoom session to meet artists Addictive TV who will introduce their project Orchestra of Samples and some of the musicians involved from around the world. More info HERE.
Supported by Arts Council England.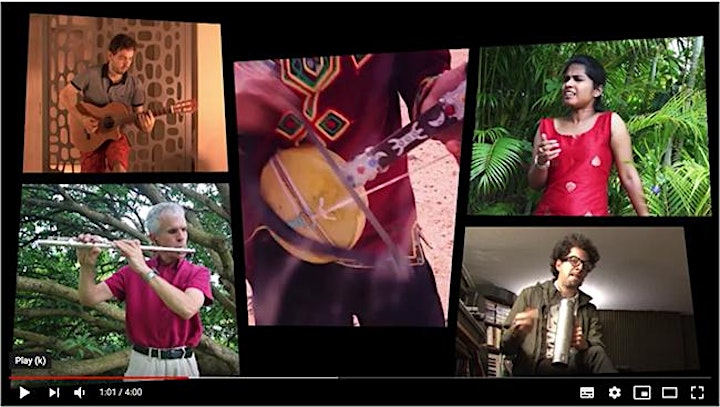 ABOUT ORCHESTRA OF SAMPLES:
Orchestra of Samples is an innovative project by digital artists Addictive TV, based on sampling recording sessions they filmed with nearly 300 musicians around the world to create new music. The project features musicians playing all manner of instruments from traditional to newly invented. A musical journey without borders, the project has been described as "ingenious and compelling" by The Times and "a glimpse into the very essence of music" by Culturedvultures.com.
Ribab Jam is available on streaming platforms from June 11th. More info: https://www.orchestraofsamples.com/releases/ribab-jam/
ABOUT THE TUTOR:
Composer and Addictive TV member Michael Neo is also a qualified music teacher who's previously taught music production using GarageBand. He's written music for a number of theatre productions, including Hoax Theatre's international touring play The Lonely Room, and is also a sound designer and a 3D binaural sound specialist.