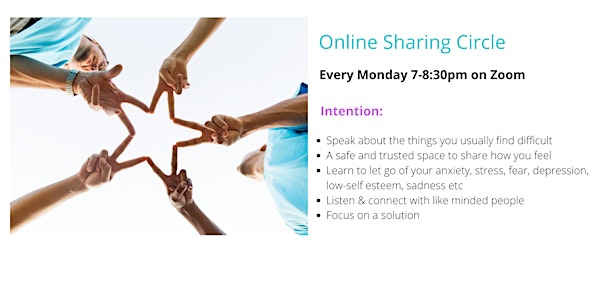 Refund policy
Contact the organiser to request a refund.
Eventbrite's fee is nonrefundable.
Let go of negative emotions and thinking in a supportive & solution focused sharing circle
About this event
Hi all
This is a weekly sharing circle for anyone seeking emotional and mental well-being support & coaching in a safe and trusted space. You are welcome to share how you are feeling and thinking in order to feel better within.
If you are currently struggling with any of the following emotional problems: anxiety, depression, shyness or low confidence/lack of self esteem then this sharing circle will be the perfect group for you.
I help to create a safe and supportive space for anyone attending. The key difference in this group is that I place a strong emphasis on not just talking about your issues but also focusing on the solution. This is achieved through gentle exercises such as meditation and coaching exercises designed to help you let go of your negative emotions and thinking as well as listening to each other and allowing space for whoever wants to share their own experience.
A typical sharing circle session will look like the following:
19:00-19:05 - I will introduce myself and explain the format of the sharing circle
19:05-19:10 - Time to ground and come into the body. We will do a short mindfulness exercise.
19:10-20:00 - The main sharing circle where I will either have one main sharing circle group or depending on the numbers divide people into two groups in the format of breakout rooms. In any case each individual will have time to introduce themselves, share how they are feeling, what is their main issue that they are experiencing and the opportunity to listen to others.
This is your opportunity to share any thoughts or feelings you want to express and get off your chest. You will have others listen attentively which is very powerful and healing.
20:00-20:30 - This will also be an opportunity for group coaching & Q&A's. Anyone is welcome to share their issue in front of the main group. If anyone volunteers to share their issue/problem then I will talk through how I as a Coach would approach the solution to this person's issue/problem which will benefit and offer insight to everyone listening. Otherwise, I will share some light coaching exercises to help you become solution focused and answer any questions.
Registration details:
Once you have paid and registered a zoom link will be emailed out to you
- My contact number: 07549 762674.
I look forward to welcoming you on the day.
Justin