Event Information
Refund Policy
Contact the organiser to request a refund.
Eventbrite's fee is nonrefundable.
About this Event
After the sell-out success and demand of the social media marketing workshops, masterclasses, and 1 to 1's in London, I've created an online version for those of you needing support during these unprecedented times. Yes, for the price of an outfit, you gain world-class social media marketing support that not only gets you closer to your vision but reach your business or career goal with confidence. And all only £249 for a limited time only.
Unless you have connections or a secret stash of cash to spend on social media marketing, building your business or career can be overwhelming to the point you do not pursue your dream job or business.
Having worked with the big brands I have insider knowledge and experience to help you implement the techniques for your own business or train you to do the same for the organisation you work for. Yes, in this course, I not only uncover the secrets of the big brands, but I show you how you can do the same using Facebook, Instagram, Twitter, and Linkedin.
Your Expert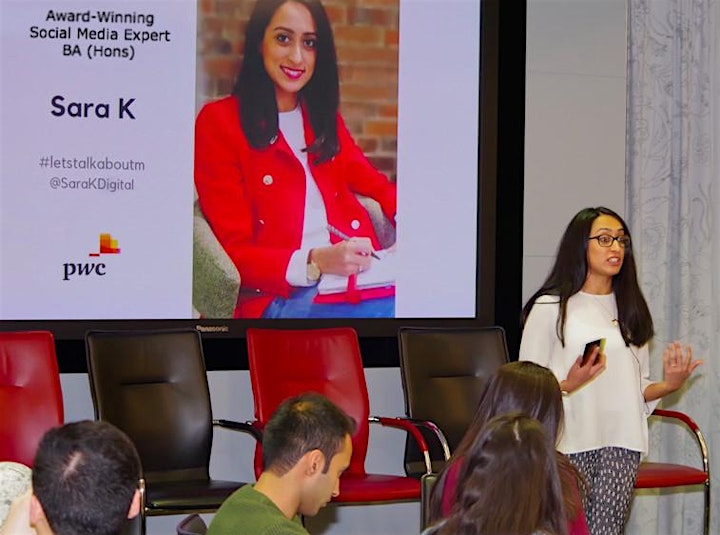 You may not have heard of me as for over a decade I've been working behind the scenes for some of the biggest brands in the world. I'm a British Multi Award-Winning Business Mentor & Qualified Social Media Marketing Practitioner BA (Hons) featured in Huffington Post, BBC, Hello Magazine and spoken at Pure London and Olympia London. I've worked with some of the biggest brands in the world, such as Maserati, with my 15 years of specialist expertise in online marketing, I will support you to grow your social media confidently and save you thousands along the way. Yes, I will share my secret hacks.
I've supported businessmen and women to startup and grow organisations with social media marketing training programs. Clients include Architects, Corporate Directors, Vice Presidents, Managers, CEOs, Surgeons to Luxury Fashion Designers, from Google, Amazon, NHS, Gucci, Deutsche Bank, Vivienne Westwood, Bank of America Merrill Lynch, DKNY, Kurt Geiger and, BBC. As a result of my ventures, I've has reached over 325 individuals from across the globe in 365 days and now I'm here to help you do the same.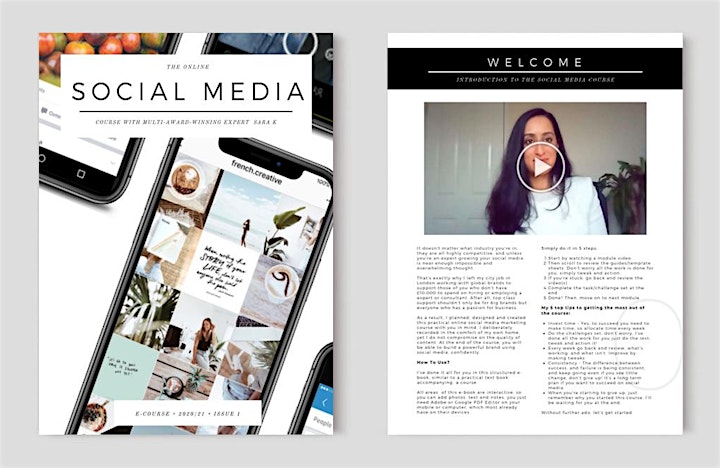 What's Included in the Course?
You get an interactive e-book with a total of 6 modules, including approximately 7.5 hours of videos/tutorials. As it's digital, you can do the course in your own time, at your pace. You also get the following;
A total of 6 modules - Each module is accompanied by an approximately 60-minutes video, and tutorials step-by-step with examples. Including screen sharing examples, as if you were having a 1-to-1 with me.
Includes Practical Guides, Templates, and Checklists. All the work is done for you all you need to do is make tweaks.
Life-Time Access - The online course is updated yearly, so you get the most up to date support.
Once you purchase on Eventbrite, the confirmation page will include details of the link to download the e-book/course. In addition, you'll receive an email with the link.
Course Structure
During the session, I will provide you with a blueprint, and break down what it takes to transform your social media into a powerful brand. It includes the following;
Module 1: Your Social Media Blueprint
I will provide you with a blueprint you can use as a guide, and all you need is a pen. We start by laying the foundations, the blueprint that will give you the edge over your competitors and position yourself on social media to profit
Module 2: Branding Your Social Media
Discover how to best promote yourself/your business on social media. From how to brand/rebrand your business on social media, and how to create branding visuals for social media profile. Social media branding made easy!
Module 3: Social Media Posting Made Easy!
I demonstrate how to easily create professional posts that create credibility and get ahead of your competitors. Including your messaging, by working with you to write in captions and feel more comfortable when posting.
Module 4: Increasing Social Media Engagement
I share tips and techniques to increase followers and engagement, including likes and comments. Learn the art of email communications, convert subscribers into hot leads, and what to do next. Including how to connect and gain the attention of industry experts, and bloggers, with a practical template with captions done for you.
Module 5: Content Marketing: Your 14-Day Plan
I share the content marketing secrets, including how to save you time and hassle with free platforms you can use to create amazing content.
Module 6: Advertising on Social Media
We get started on how to advertise on Facebook or Instagram to have a better chance of gaining sales and campaign ideas to boost brand awareness.
More importantly, I take the stress out of social media, the fear out of failure, and support you to grow your account confidently.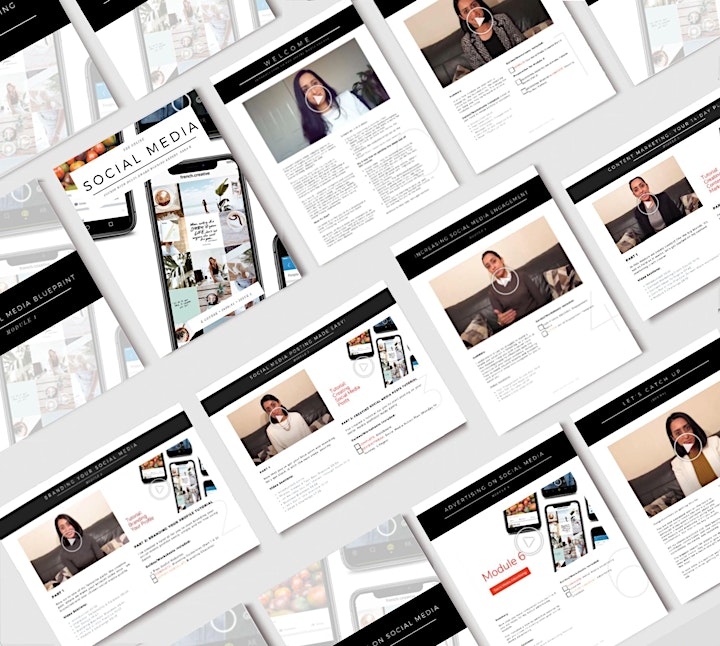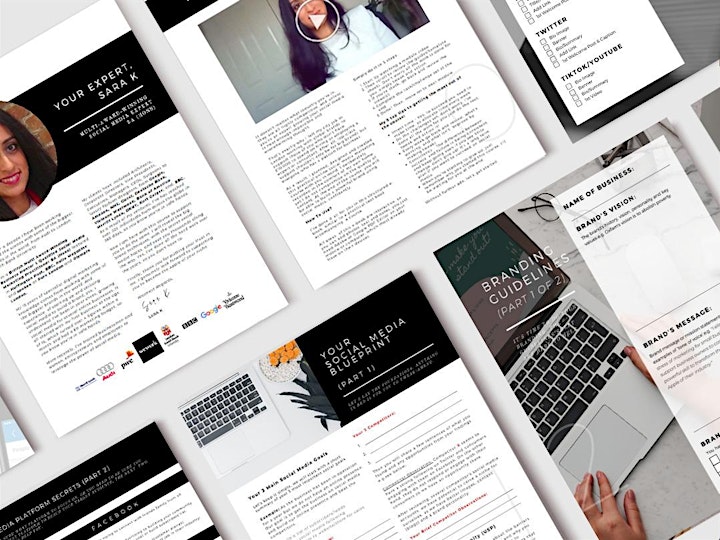 Testimonials
"I went to the Masterclass expecting to have an informative session on Instagram, instead, I received more than I paid for. It was a masterclass, a coaching session rolled in one, and, towards the end, I felt I was talking to a friend who has my best interest at heart. I totally and utterly recommend her! If you use social media, go to one of Sarah's Masterclasses, you will thank me in the end." - Laura Mariani, Corporate Director & The People Alchemist.
"Thank you so much for showing me how to master social media in your masterclass! You showed me how! It's not the number or, followers or likes it's the engagement. Just after the Masterclass, I implemented the blueprint you gave me and I already have clients DM me and book my program. I could not have done it without you! You made something so hard so simple." - Wajeeha Amin, www.wajeehaamin.co.uk.
"I cannot thank Sarah enough for everything she has done to help my new business startup. We're Award-Winning, and earning 6 figures. I couldn't have done it without her! I've seen such a difference with my business already and it's not been long that she helped me to implement what I'd learned - how to get more exposure and engagement!" - Ani, Founder & CEO, www.escape-aesthetics.co.uk
Buy Now
The special offer is for a limited time only, so purchase now. You wouldn't go to an unqualified doctor or specialist, so why do it to your future investment, yourself, and your business?
I genuinely look forward to supporting you to become the Apple of your niche.
FAQ's
How do I edit the file, to fill in the blanks?
Once you've downloaded the e-book, you will see areas with a line, or blanks, if you hoover or click on areas you will be able to edit them. Alternatively, you can always print the file too, and fill it in. Don't forget to save it to your desktop.
The only one you can't edit and need to print is the timeline, simply print, fill it out and keep it handy.
How do we get notified when there is a new version of the course?
I will email all the individuals who purchased the course, which will include a link for the new version to download. I will update the course every year. The next version is due at the end of 2021.
Refund Policy: Why don't you offer refunds?
Due to the digital nature of the course, refunds are not available. Although trust me, it's worth every penny.
If you have any questions or you want to get in touch contact me via email@sarakdigital.com.
Location
Refund Policy
Contact the organiser to request a refund.
Eventbrite's fee is nonrefundable.