Sales Have Ended
Ticket sales have ended
Ticket sales have now ended. To ensure that you are the first to know about future events, you are welcome to subscribe to my newsletter via: www.soundseva.com, Facebook: SoundSeva or Instagram: Sound_Seva.
Event Information
Refund policy
Contact the organiser to request a refund.
Eventbrite's fee is nonrefundable.
Sales Have Ended
Ticket sales have ended
Ticket sales have now ended. To ensure that you are the first to know about future events, you are welcome to subscribe to my newsletter via: www.soundseva.com, Facebook: SoundSeva or Instagram: Sound_Seva.
A Rainforest Heart Song - Expand into Joy and walk lightly upon the Earth into Winter
About this event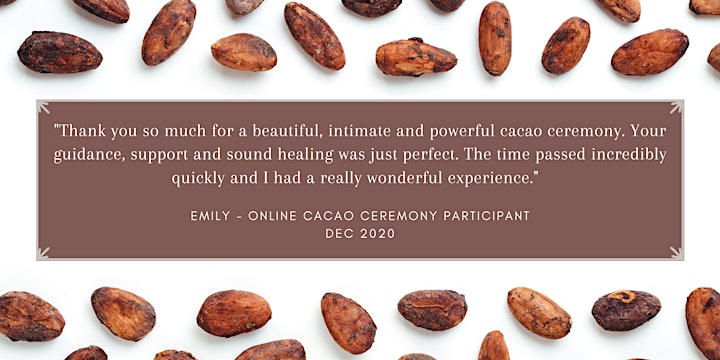 Learn to:
prepare Sacred Cacao and space for ritual and healing.
connect and develop your relationship with Sacred Cacao essence.
expand into your birthright: Joy.
develop connection, discernment and trust in your inner guidance.
mindfully drink and commune with Sacred Cacao.
Winter Solstice
is a time to pause within the balance
to review that which has served its season
to learn the lessons and release them
to expand into the silence and holding of the next cycle
to gather ones light to guide one through winter
to prepare one's temple for the deep introspection of winter
Sacred Cacao
is feminine; therefore, refered to as 'she'. She transmits nurturing bliss, love and divine-connection. A loving midwife of transitions, Sacred Cacao offers wise counsel. Over the past 8 years, I have experienced and witnessed countless transformations through her guidance. She expands the heart and calls us home to Pachamama (Mother Earth), resetting us upon the right path with clarity and presence. See below : 'Cacao...what is she good for?
In this ceremony
we shall harness the bliss-invoking properties of Sacred Cacao to release resistances to being happy. Thus, we expand into 'Joy' and walk lightly upon the Earth towards winter.
All SoundSeva ceremonies are grounded in Amazonian wisdom teachings shared by my Kichwa friends and family of the Amazon rainforest. You are welcome to join us for what will be a deep ceremony of open-hearted connection. See below: 'What to expect'.
Do you need Cacao?
Email me: shashay@soundseva.com with your postal address and for payment details. The price is £10. Please contact me asap to ensure that you receive your Cacao in time. Alternatively, you can come and see me at Bija Garden on 11th December, 11 - 6 p.m. where I will be selling Amazonian jewellery, Cacao, essences and crystals. Please follow @bijagarden on Insta for updates.
You are welcome to join this online ceremony without Cacao and enjoy the meditation and sounds or sit with a tea of your choice: Rose, Mugwort and/or Guayusa are great alternatives.
About Ticketing
Please contact me if you require a concession.
Please read: 'Please Note' & DISCLAIMER before booking (scroll down).
Booking on/after 15 December 2021?
Please email me before booking: shashay@soundseva.com
There are certain preparatory requirements that may affect your ability to participate. Thank you.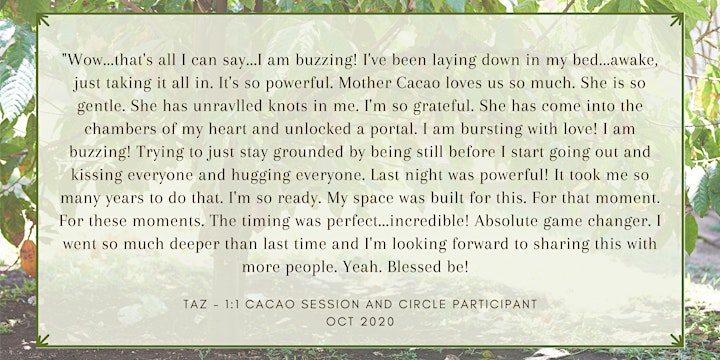 What to expect
Non-denominational prayer/intentions.
This is a healing ceremony. You may experience emotional release as Sacred Cacao gently dissolves resistances.
My voice and instrumental sounds will intuitively soothe and guide your journey.
A group card reading will support your process and will be emailed to you after the event.
3 hours of ceremony ensures a relaxed pace. We may end sooner if so intuited.
You are invited to journal/sketch at key points during the ceremony.
Please Note: As I work intuitively the above may change.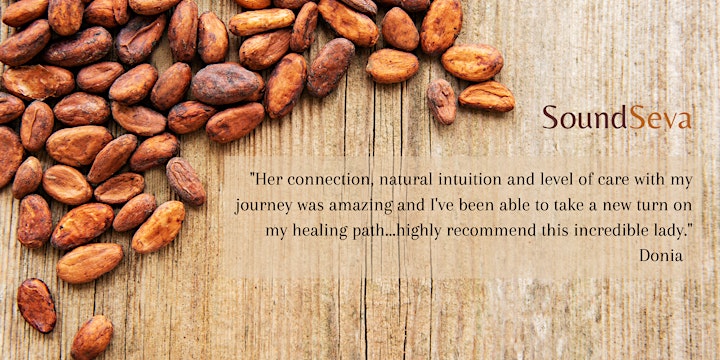 Cacao...what is she good for?
Cacao (raw chocolate) is non-psychoactive and contains essential minerals, B vitamins, vitamin E , flavonoids with anti-oxidant properties and neurotransmitters:
Theobramine and Histamine Arginine (natural Viagra) help the heart and circulation.
Endocannaboid (the body's natural cannabis), Dopamine, Anandamide and Phenylethylamine invoke 'BLISS' and 'LOVE' states.
Also useful for: circulation, memory, menstrual and menopausal issues, energy, blood pressure, inflammation and pain-relief. I can personally vouch for her effectiveness with menstrual cramps!
Cacao also brings:
Enhanced meditation
Clarity
Heart-centering
Creativity
Love and compassion for self and others
Release
Divine alignment
Antidote to Fear
Reconnection
The Mesoamericans referred to Sacred Cacao as 'Medicine of the Gods' as the priests, upon drinking her sacred bitter tea, became divine conduits of wisdom, insight and guidance.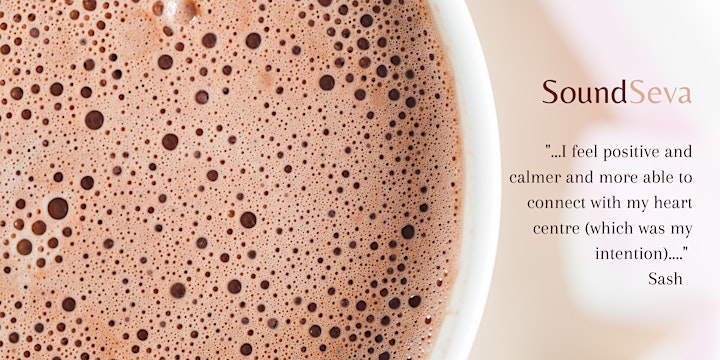 Please note
Advance tickets only.
If you are a group intending to join from the same location, I kindly request that you purchase one ticket per person.
Children up to age 12 are welcome to sit in for FREE.
You will need the latest version of Zoom, a private undisturbed space.
For more information about me, Jasvindar Kaur, see below or visit my website.
If you are booking on or after 16 November 21 please contact me before booking: shashay@soundseva.com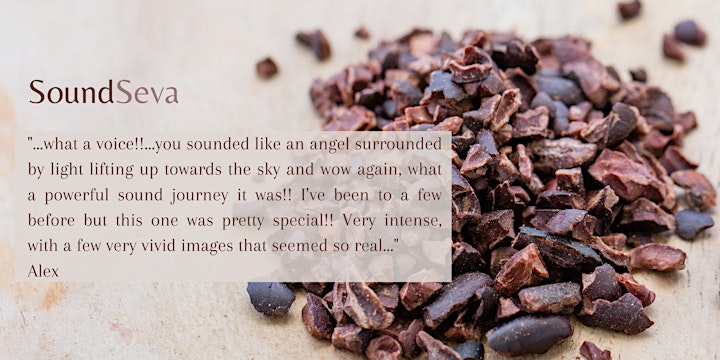 DISCLAIMER
Please contact me before booking if, i) you are pregnant or breastfeeding ii) you know that you will be moving around during the ceremony iii) you are booking on or after 3 days before the event iii) you need to avoid chocolate due to a medical condition; e.g: you're taking seratonin inducing anti-depressants. If, due to a condition and/or other circumstances, you are unsure whether this event is appropriate, please seek medical consultation. You are also welcome to contact me with queries. To receive a refund minus booking fee, please provide a minimum 3 days cancellation notice. Cancellations after 3 day notice period will not be refunded.
Exceptional circumstances will be considered on a case-by-case basis.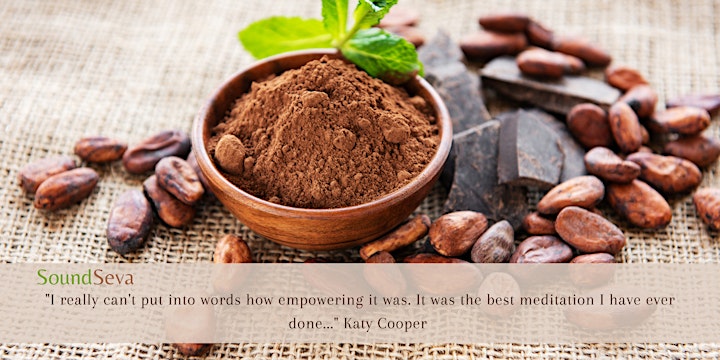 Date and time
Location
Refund policy
Contact the organiser to request a refund.
Eventbrite's fee is nonrefundable.
Organiser of ONLINE Solstice Sacred Cacao Ceremony - Joy & Release
Jasvindar Kaur of SoundSeva facilitates solo and collaborative ceremonies with gentle plant medicine, instrumental sounds, Yoga and Art. She is dedicated to empowering others within a safe and well-held space. She has 30 years of academic and work experience of managing trauma and psycho-social needs alongside her own personal development and spiritual practice. She walks a shamanic path in that she endeavours to walk with the Divine in all ways and is driven by her passion that the world needs each of us to realign with our authentic selves so that we can 'be the change we want to see.' She believes that Mother Nature's transformational gifts can help us with this evolving grace.
All are welcome regardless of beliefs and experience. 
Please see SoundSeva website for more information.