Stories of Eucalyptus trees, from their indigenous wisdom and meanings, to their use in contemporary Western society.
About this Event
SAY MY NAME AND I WILL TELL YOU MY STORY
22 October – 6 November 2020
Artist: Evgenia Emets & Art Curator: Inês Valle, the CERA PROJECT
"When we learn to listen to plants without the need to hear them speak, a language that we have forgotten emerges... This language belongs to plants, and so do the stories..." – Monica Gagliano
The CERA PROJECT, Evgenia Emets and Inês Valle, invites you to join them to explore memories, narratives and stories of Eucalyptus trees, from their indigenous wisdom and meanings, to their use in contemporary Western society. This collaborative project between curator Inês Valle and artist Evgenia Emets, opens with an exhibition at Espaço Espelho d'Água in Portugal and a rich educational programme invites audiences to a series of online conversations with experts from diferent parts of the world.
An art exhibition presents newly commissioned works by the artist Evgenia Emets, curated by Inês Valle, inspired by on-going research about trees and forests, where Evgenia explores the link between nature's biodiversity and human language and culture, narratives around colonisation and decolonisation of nature. This work is rooted in the relationship the artist has developed with the Eucalyptus family during her life in Portugal.
An exhibition that is part of the cultural program VENTO SUL at Espaço Espelho D'Água in October 2020, funded by DGartes and aims to make a contribution to the extended cultural programme within the year of Lisbon Green Capital 2020.
- - - - - - - - - - - - - - - - - - - - - - - - - - - - - - - - - - - - - - - - - - - - - - - - - - - - -
Exhibition Venue / Address :Espaço Espelho D'Água, Avenida Brasília, entre Museu Arte popular e Padrão dos descobrimentos, 1400-038 Lisboa
Online Conversations: Zoom and via Booking
We hope you can join us!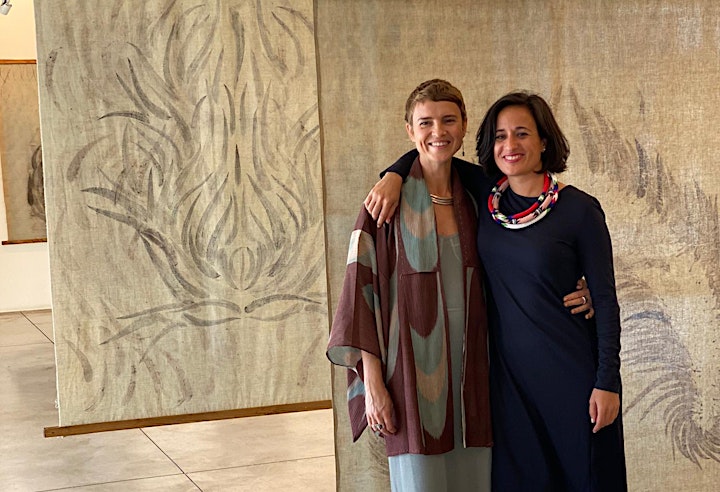 About the artist and the curator: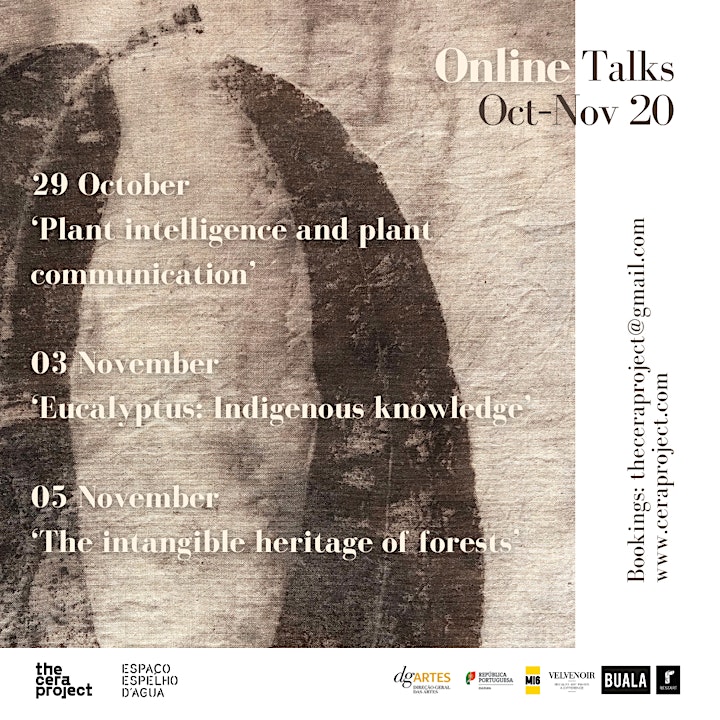 Online Conversation 1 / Booking essential
Plant intelligence and plant communication
29 October, 19h-21h Lisbon / 13h-15h Regina /6h-8h Sydney
'Plant intelligence and plant communication', a hot topic in recent science, changing and challenging the ways we look at plants, offering inspiration and tapping into ancient knowledge verified through modern scientific research. A special edition of Eternal Forest Conversations.
Guest Speakers: Monica Gagliano and Sarah Abbott.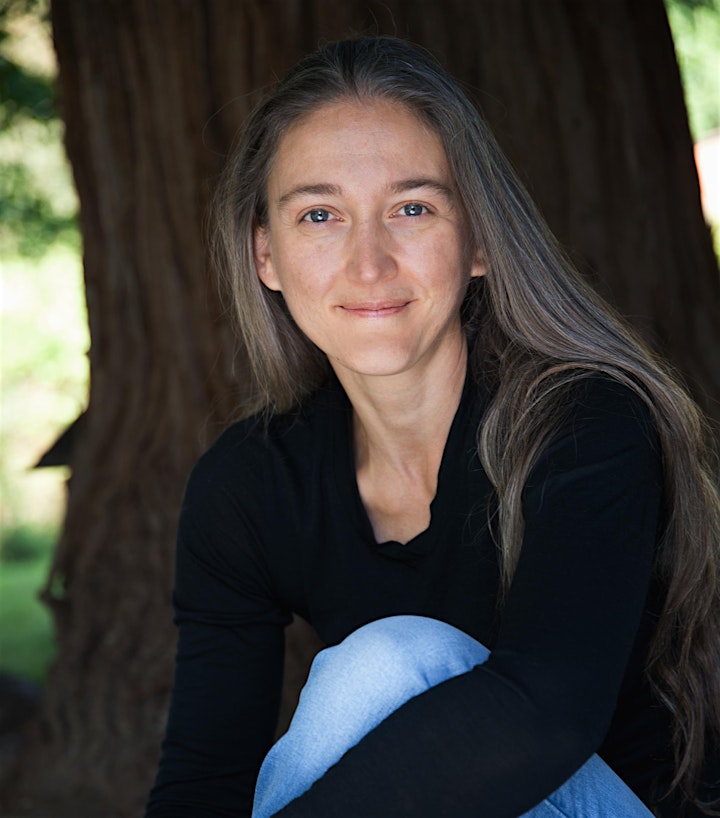 Monica Gagliano is a Research Associate Professor in evolutionary ecology at Southern Cross University where she directs of the Biological Intelligence (BI) Lab funded by the Templeton World Charity Foundation. She has pioneered the brand-new research field of plant bioacoustics, for the first time experimentally demonstrating that plants emit their own 'voices' and detect and respond to the sounds of their environments. Her work has extended the concept of cognition (including perception, learning processes, memory) in plants. By demonstrating experimentally that learning is not the exclusive province of animals, she has re-ignited the discourse on plant subjectivity and ethical and legal standing. Inspired by encounters with Nature and indigenous elders from around the world, she applies a progressive and holistic approach to science – one that is comfortable engaging at the interface between areas as diverse as ecology, physics, law, anthropology, philosophy, literature, music and the arts, and spirituality. By re-kindling a sense of wonder for this beautiful place we call home, she is helping to create a fresh imaginative ecology of mind that can inspire the emergence of truly innovative solutions to human relations with the world we co-inhabit. Her latest book is Thus Spoke the Plant (North Atlantic Books, 2018). www.monicagagliano.com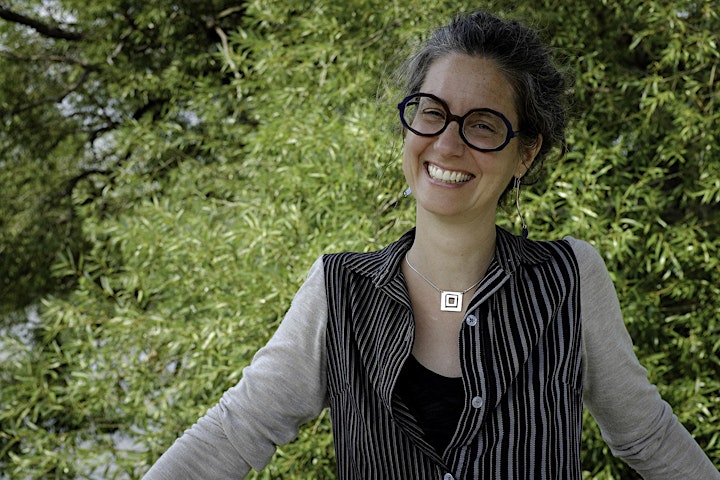 Sarah Abbott is associate professor in the Department of Film at the University of Regina, and a Doctor of Social Sciences candidate (ABD) at Royal Roads University. Her interdisciplinary doctorate explores the sentient relationality of trees through public ethnography, Indigenous research methodologies, plant science, philosophies associated with the nonhuman turn, film, and interspecies communication. Her intertwined research areas also include issues and rights of being for humans and nonhumans, community, environmental health, and the climate crisis. She has been making films for over 20 years across documentary, fiction, experimental, and dance genres. Sarah is a recipient of a Vanier Canada Graduate Scholarship (2014-2017), the Saskatchewan Lieutenant Governor's Arts Award for Arts and Learning (2012), and the City of Regina's Mayor's Arts and Business Award for Innovation in the Arts (2009). http://www.sarahabbott.ca/
Online Conversation 2 / Booking essential
Eucalyptus: Indigenous knowledge
3 November, 10h-12h Lisbon
'Eucalyptus: Indigenous knowledge'. The Eucalyptus tree has been an integral part of Indigenous culture in Australia, in medicines, food, art, everyday objects, as well as being considered a sacred tree in many tribes. How can we look at the Eucalyptus tree differently in Europe, inspired by the Indigenous wisdom and stories?
Guest Speakers: Dr Philip Clarke and a special guest.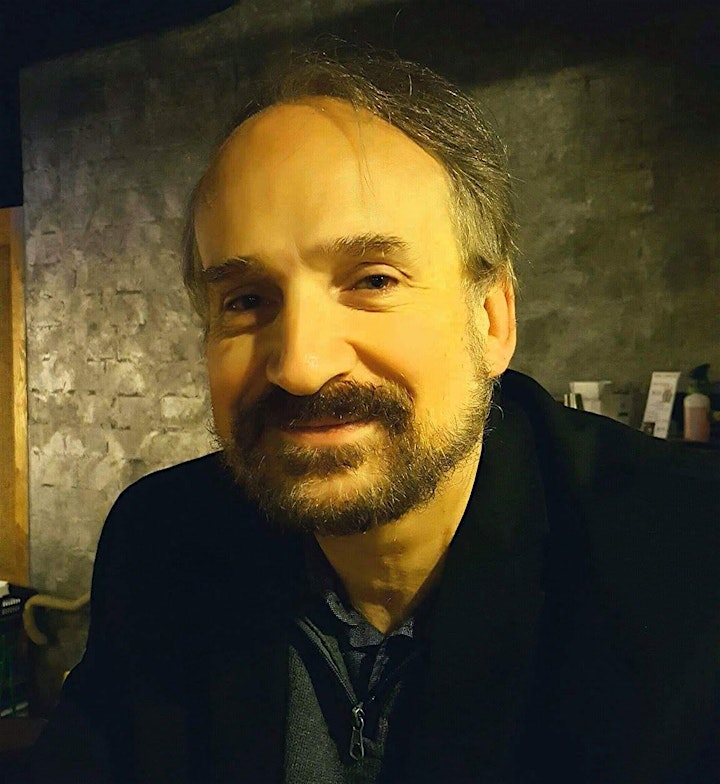 Dr Philip Clarke has an academic background in biology, geography and anthropology. After studying at the University of Adelaide, he started working in the Aboriginal ethnographical collections at the South Australian Museum in 1982. Dr Clarke's initial research interest were chiefly on Aboriginal use of plants as foods, medicines and materials for making artefacts. This eventually broadened out to Aboriginal perception and use of the land, with a particular focus on the cultural geography of southern Australia. This research produced a Doctor of Philosophy thesis and a series of publications on Aboriginal ethnobotany, mythology, Pidgin English and contact history.
During 1998-2000, Dr Clarke's major task was curating the Australian Aboriginal Cultures Gallery Project at the South Australian Museum. He worked as a consultant anthropologist in the Goldfields of Western Australia from 2000-2003, specialising in ethnographic clearance work for mining developments. From 2010, Dr Clarke has taken on a variety of consultancy work (including native title and land rights) with the Northern Land Council and other representative bodies. He has written numerous professional papers and chapters, and has authored six major books on Indigenous use of the environment. Since permanently leaving the Museum in late 2011, Dr Clarke has worked in private practice as a consultant anthropologist. He took up a half time Senior Research Fellowship at Griffith University from February 2012, to study Indigenous adaptation to climate change in southeastern Australia. In February 2013 Dr Clarke was appointed as Adjunct Senior Research Fellowship at Griffith University, while continuing to take on anthropological contracts from government agencies, corporations and Aboriginal organisations. In April 2015, Dr Clarke was made Adjunct Senior Research Fellow at Federation University to pursue research into the ethnosciences and Indigenous Bio-cultural Knowledge (IBCK). In December 2015, he was appointed Honorary Research Associate (Anthropology) at the South Australian Museum. In late 2017, Clarke started working as a Senior Researcher on a project funded by the Orana Foundation that is studying Indigenous food sources and their possible commercialisation. From early 2018, he has been engaged in research funded by the Australian Research Council investigating the early Indigenous relocation of plant species in eastern Australia.
https://www.researchgate.net/profile/Philip_Clarke8/research
Online Conversation 3 / Booking essential
The intangible heritage of forests
5 November, 17h-19h Lisbon
'The intangible heritage of forests'. Since the dawn of agriculture we have started looking at forests from a purely utilitarian perspective. What are we missing and how is the value of forests more important than ever for our society?
Guest Speakers: Ana Maria Monsalve Cuartas and Ana Águas.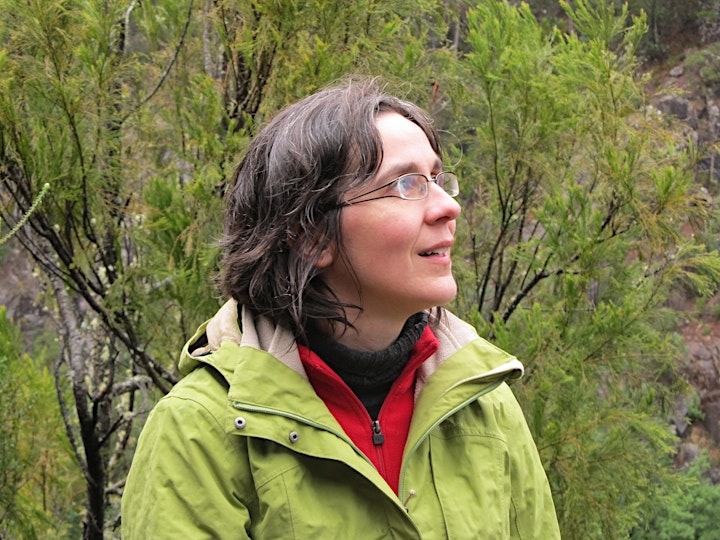 Ana Águas was born in 1977. She is from Monchique, a region in southern Portugal where forests dominate the landscape. Having several foresters in her family, she grew up in close contact with forests and she was always was very curious about them. This curiosity had deep influence on the choices concerning her professional carrier. She studied Biology (degree) and Ecology (MSc) in the University of Coimbra. There, she carried out research on the decline of cork oak forests (montados). Then, she earned a PhD in Forestry Engineering and Natural Resources, from the University of Lisbon. Her PhD thesis was about the development of eucalypt seedlings after wildfires. In parallel with the research activity, she has been teaching Biology and, particularly, Ecology, ever since her graduation. She started to teach at a secondary school as a teacher; then, teached at the University of Coimbra as a tutor; and now she teaches at the Polytechnic Institute of Leiria, as an associate professor.
Centro Ecologia Aplicada, http://www.isa.ulisboa.pt/ceabn/membro/1/51/ana-aguas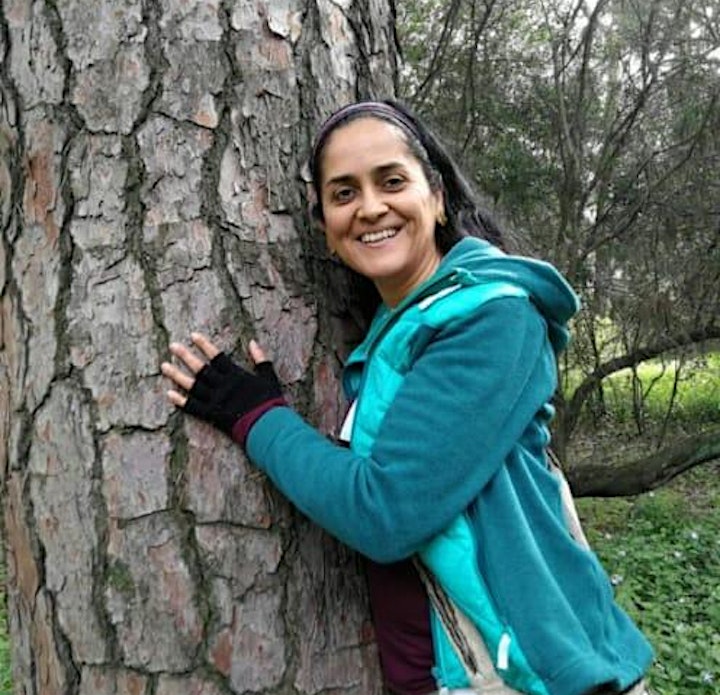 Ana Maria Monsalve Cuartas
Forest Engineer- Landscape Management, Candidate PhD SUSFOR
Colombia Nationality. Forest Engineer. PhD Studies in Forests and Forest Resources , Lisbon University (ISA), Master in Urban-Regional Studies of the National University of Colombia. Master in Landscape Architecture from the Pontificia Catolica University of Chile. Extensive work experience in forest consulting projects, Environmental Impact Diagnosis, Management and Conservation of Watersheds, Landscape Ecology, Forestry and Agroforestry Systems, Natural Resources Inventories, Territorial and Landscape Management Plans; Teaching in Research, Forestry, Landscape Ecology, Flora and Ethnoecology. Direction and jury of thesis in Landscape Design Master Pontificia Bolivariana University.