Join us to train as a volunteer tutor with The Access Project, to support a disadvantaged young person.
About this event
Important information: This is a private event for people who have registered with us via our website. Please only book to attend if you have been invited to do so.
This will be an online interactive training session on Zoom.
The Access Project is a nationwide charity that supports students from disadvantaged backgrounds to access top universities, through a unique combination of tuition and in-school mentoring. We work with students to make good applications, get the grades and transition to university.
Before you attend training:
1. Register: If you haven't already done so, please complete our volunteer sign up form here.
2. Gather three ID documents for a DBS check: We'll support you to apply for a DBS check (a criminal records check) to ensure that all our volunteers are suitable to work closely with children. Prior to training, we will send you instructions on how to complete the first part of the application form and we'll privately verify your ID documents on camera during the session.
3. Complete your safeguarding training online: Upon signing up as a volunteer, you'll receive an email inviting you to complete a short online child safeguarding course. Please follow the instructions and the link in that email. We recommend completing this before attending the training session.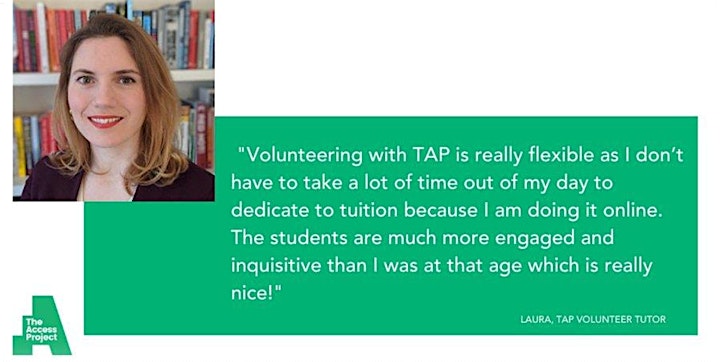 During this training session, we'll cover:
What to expect as a tutor
Tutoring techniques to help your student learn
How to plan your tutoring sessions
Teaching resources, lesson plans and worksheets
How we will support you while you volunteer with us.
Please note as part of the DBS application process, we will also verify your documents during the session.
Please bring the three identification documents you will have added to your online application form with you to the training session. We will have sent full details about completing this process to you prior to training.
At least one document should be a photographic ID document (e.g. passport or driving licence), and at least one document should show your current UK address.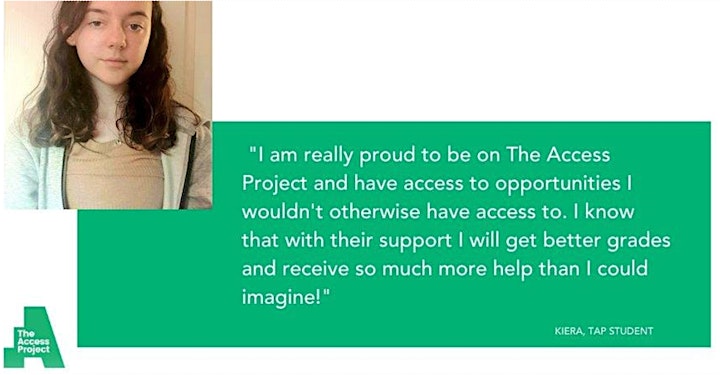 FAQs:
Who will run the training session?
This training session will be run by The Access Project team and has been designed by us to support our volunteers to become great tutors.
What technology do I need to join the session?
We recommend that you join the call using either a computer or laptop.
You can use Zoom from a browser (such as Google Chrome or Safari) and do not need to download the application.
The link will be sent to you via email the day before your session.
This session will be interactive so we ask that you have your webcam on.
I have accessibility needs that mean Zoom is not the best platform for me. What should I do?
Please contact us at volunteering@theaccessproject.org.uk to discuss your accessibility requirements so that we might make alternative arrangements that meet your needs.
I already have a DBS certificate. Can I use this?
If you hold an Enhanced Child Workforce certificate and are registered on the DBS Update service, we can accept this. We will still need to see the original certificate on camera during the session alongside a piece of photo ID and will then confirm it on the Update service for you.
What documents should I bring for my DBS check?
Most people choose to use the following three documents:
Passport (currently valid)
UK driving license (full or provisional)
Letter with proof of your current address such as: bank statement (dated within three months), council tax statement (dated within 12 months), P60 or P45 (dated within 12 months).
For a full list of accepted documentation, please refer here.
For all other FAQs about tutoring with us, please check out our website here.