Online Webinar: Expression of Interest: 5G for Sports - unlocking the full potential

Tuesday, 31 March 2020 from 10:30 to 13:30 (BST)
Event Details
***As a precaution due to coronavirus, the live version of this event will no longer take place. We are working on delivering it as an online webinar and will confirm details as soon as possible.***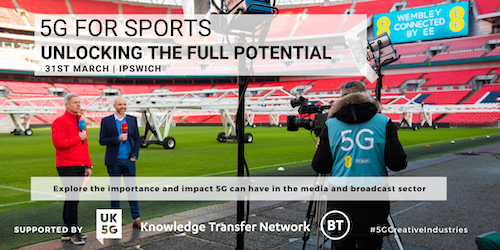 Join UK5G and BT to explore the impact and importance of 5G for the Sports industry. The high-bandwidth low-latency technologies promised by 5G will revolutionise the way we produce, consume and develop sport.  
Join us to understand the current status of 5G and explore the wealth of opportunities it offers to the Sporting industry. We will explore the impact on the end to end ecosystem, from the creative opportunities of 5G remote production through to the immersive opportunities in and out of the stadium
The workshop is ideally designed for anyone in the sports industry with an interest in 5G and the opportunity it holds for the sector. Detailed technology knowledge is not necessary as we will have experts on hand.
Programme:
10:00 - Arrivals and registrations
10:30 - Welcome and Intros
10:45 - Presentation: What is 5G? - Matt Stagg, BT Sport/UK5G
11:15 - Discussion panel and Q&A
12:15 - Refreshment break and Demos
12:45 - Workshop session and feedback
13:45 - Summary and final remarks
14:00 - Networking
15:00 - Session End
Discussion panel speakers:
Claire Harvey - Key Account Manager, Red Bee Media/ UK5G (Moderator)
Alison Hutchins - Lead Product Development Manager, BT Media & Broadcast
Rosenbelle Ganan - Strategy & Operations, Fnatic
Brian Leonard - Head of Engineering – Production and Workflows, IMG
Paul Bojarski - CEO, Sceenic/ UK5G

** Conditions of Registration **
 Places at the event are limited, and we are operating an expression of interest system for this event. You will be informed in due course if you have been allocated a ticket. Venue information will only be provided to those who have been offered a place.
***Statement of Intent*** 
The Knowledge Transfer Network is committed to increasing diversity and advancing equality of opportunity to create a vibrant climate of inclusiveness across the sectors that we serve.
As a responsible business, it is important to us that we represent the diversity of our people and communities, and that we create an inclusive innovation ecosystem in the UK in which everyone can reach their full potential.
It is vital that we monitor and analyse diversity information so that we can ensure that our processes, events and communications are fair, transparent, promote equality of opportunity for all, and do not have an adverse impact on any particular group.
Your cooperation in providing us with accurate data will ensure that we design and apply policies and processes that embrace a diverse and inclusive environment.
Any information provided on registration will be treated as strictly confidential and will be used for statistical purposes only.
No information will be published or used in any way which allows any individual to be identified.
Organiser
The Knowledge Transfer Network is the UK's innovation network. We bring together business, entrepreneurs, academics and funders to develop new products, processes and services.
We can help you develop ideas, expertise and technologies, that have the potential to be world-beating products. Central to what we do is the initiation and building of collaborations.
View our privacy policy here.