Event Information
Refund Policy
Refunds up to 7 days before event
Eventbrite's fee is nonrefundable.
About this Event
We are delighted to invite you to our popular workshop on Treating Chronic Stress (Limited places)  
Certificate of attendance will be issued (up to 2.5 CPD hours). Everyone interested in the subject is welcome. 
How Much Does a Ticket Cost?
Early bird registrations from £19+vat+fee. It will go up to £34+fee+vat if you book late. Group, circumstantial and students discounts are also available starting from £15 per person (subject to places availability).
Your webinar link will be sent to you a couple of days before the webinar.
Permanent recovery from stress and stress-generated physical pains often escape the sufferer for three main reasons:
1.  The root causes of their chronic stress are not always adequately treated or even identified.2.  The memorised stress habits of the brain are not adequately identified or reprogrammed for calm and confidence.
Please see the full details of the course below.
Your learning outcomes for this training:
How to transform chronic stress and stress-induced pains using the S.T.R.E.S.S model recovery steps.

The neuro-physiology of stress and recovery

Using the Stress Cycle to unravel the deep-seated roots of chronic stress 

Understand the region of the brain implicated in chronic stress and how to re-balance it

Learn about how to modulate vital hormones for cortisol reduction and achronic stress transformation

Stress and the subconscious and how their interaction can help transform stress

How to break the compulsive worry habit that perpetuates chronic stress

How to avoid the exhaustion stage where the body gives up on rself-regulation and healing

The neuroscience of thoughts, feelings and emotions on chronic stress transformation
 Other focuses for the webinar:
How to avoid the typical mistakes made in treating chronic stress

The pitfalls to watch out for when helping with work-related stress among employees and business leaders.How to help clients with past traumas without triggering overwhelming negative emotions which often result in major relapses

How to manage major relapses
For Professionals, as Well as Sufferers...
This course attracts both professionals, individuals and sufferers who are interested in mental health, continuing professional development, and effective anxiety recovery techniques.
Professionals: The models and techniques you will learn in this workshop is integrative and are now being used around the world in more than 30 countries by mental health professionals, counsellors, therapists, support workers, coaches, and other agencies who care about the mental wellbeing of their communities. Many UK therapists, mental health nurses, health professionals and counsellors who have been through this course in the past have found it very useful to their work and personal development. You can read some of their testimonials below. The course is quality-checked by the National Counselling Society and can count towards your CPD requirements. CPD certificate will be issued on the day.
Sufferers/Helpers: If you are a sufferer or a helper of a sufferer, you can also register for this course. As an ex-anxiety sufferer myself, the course is designed not only to help the professionals sharpen their skills but also to enable sufferers to get their hands on a simple but effective recovery model to achieve personal transformation. You will learn about the steps that helped me transform my anxiety disorder, allowing me to start helping others around the world achieve similar life-changing transformation. The course environment is relaxed and reassuring, and you will be able to share your story with me if you want to, and ask questions.
4 Noted Benefits of Using the S.T.R.E.S.S Model
The following benefits have been gathered from both the sufferers and professionals who have used the S.T.R.E.S.S. model either as a self-help tool or as a model for helping clients:
Health and fitness. The S.T.R.E.S.S Model helps restore the body to function as intended. Emotional stress and anxiety messes up the nervous system, increases emotional fatigue and degenerates the body quickly. By using the S.T.R.E.S.S model steps, you'll achieve heightened emotional well-being, a higher level of energy, creativity, and greater life satisfaction. A sufferer who recently went through the course wrote the following feedback, "Very good, informative, eye and mind opening. I wish I had known all that 20 years ago. It would have made my life much easier and successful." Also, since stress often speeds up body degeneration, looking a lot younger has also been noted among regular users of the S.T.R.E.S.S model steps. The S.T.R.E.S.S model steps can also be adapted to bring about natural weight loss by transforming the emotional and mental pathways that reinforce weight-gain in the brain.
Personal transformation. The S.T.R.E.S.S model takes you or your client to a new, higher level regarding emotional wellbeing, work, relationship and makes you a different person in many ways. We become what we think about all the time. Once your thought-life has been transformed, life transformation is inevitable. A course attendee shared this testimonial  recently. "I have been through a lot of stress in my life - personal and professional, And it is now taking its toll on my life. This course is a life safer. Got so much out of it. I can now look forward to happiness, peace and loads of inspirational ways of coping with stress."
Personal Growth, Influence and Recognition. If you are a therapist in practice, most clients that will come to you are more likely to have received two or more therapy interventions in the past. They have come to you to see if you offer anything different and long-lasting from what they have experienced in the past. Mastering The S.T.R.E.S.S model sets you apart from the pack by offering your clients a simple system that offers transformation and long-lasting effect than they have experienced in the past. This builds credibility, recognition and expands your practice. Every happy client often tells at least 3 other prospects about his/her experience. This then leads to more appointments for you. Your clients will value and respect you more for your helpful insight and attention to details. All of these benefits come as a result of your desire for personal growth to explore the S.T.R.E.S.S model. "The course was extremely helpful and informative. Interesting, excellent and enjoyable. It enables me to help so many adults and children within the support groups I run," J. Morgan, Parent Rep and Support Group Facilitator
It saves money and increases practice turn-over. Many sufferers who have gone through the S.T.R.E.S.S model course wished they had attended the course many years ago, as this would have saved them not just a lot of money but also time and a lot of emotional and physical pain. As a therapist in practice, we know that word of mouth is the most effective advertising tool especially for therapists in practice. This can translate to more organic referrals from transformed and happy clients, leading to the increase in your turn-over as a practitioner.
TESTIMONIALS: What Previous Attendees Are Saying:
"Excellent day with really useful tools Excellent for professional and personal use." Nicola T., Advanced Nurse Practitioner
"Very interesting. I have learnt a lot. More people need to be more self-aware regarding stress." Rebecca K., GP
"Excellent content, simple to understand delivery. It was very informative and interesting. Sam H., Sufferer
"Really positive sessions. Very appropriate to my work role and also on a personal level." Many thanks." — Louise T., Training Co-ordinator"Relaxed, lovely character - came across warm and comfortable. A well presented course with a good combination of case studies and personal experiences of the tutor as an ex-anxiety sufferer." Maria F., Counsellor/ Project Worker"I have enjoyed the course and found it very interesting. the tutor and the information presented kept you interested throughout." Chloe S., GP Receptionist."Very well delivered in a manner that made me comfortable. Easy to understand." - Maggie T., Reiki Practitioner"very interesting and thought provoking. I will be practising the techniques learnt today." Anonymous, Parent"I was very pleased with the knowledge I gained. The model was easy to understand and the way in which it was delivered was good." Nicola A., Specialist DV/SV Counsellor"A very enlightened and inspiring course with clear usable techniques that can be used immediately." — Kathryn L., Counsellor "Insightful Info. Wale is a lovely teacher, with great delivery. Easy to understand. Wonderful personal transformation and self-discovery about myself too." Angela G., psychotherapist"Interesting and informative. A useful model that I can integrate into my practice. The tutor was relaxed, friendly -  definitely a people person!" Vikki W., EMDR Therapist"Very interesting. Explored areas that I was interested in for work and personal life and i will use these techniques in my life." Eileen T., Occupational Health Advisor"Very interesting. The course material was delivered in easy to understand steps. I can imagine that Wale is an excellent practitioner. I think the techniques will be easy for me to practise with myself and others." — Alison D., Occupational Health Advisor
"It was useful and enjoyable. Great integration of tools e.g, CBT, Biology of belief, Body-Mind Work etc. Great integration of theories for practical application. Wale made the event fun and relaxed."  A. Hunt, Counsellor/ Project Co-ordinator
"Fascinating, simple model that everyone should know." H. Andrejewski, Inclusive Support Specialist"Great delivery, down to earth, answering questions well, easy to understand and apply." Anne F., Hypnotherapist"It was a brilliant workshop. Lots of information to think about. Very helpful. Hayley W., Sufferer
"Great workshop. Leaving feeling revitalised with some useful tools to think about." -- Ellen M., Company Director
"Thank you for a very enjoyable afternoon on introducing me to a new technique which is easily applicable and effective." --Marie W-R., Mental Health Worker & Counsellor
"Very helpful to find out tools and examples and to discuss with the group around the table, and Wale Oladipo created a very calm and relaxing easy atmosphere - presented very well." -- J. Welton --Handy Man, Property Developer, Artist, Father
"This was well attending. I have 20 years experience as a counsellor and found something new to take away..." -- F. Owen, Volunteer Counsellor with SRASAC
"A succinct introduction to a model that can be easily understood and applied. You don't need to be a therapist to understand it." — Sufferer, Anonymous
"I really enjoyed the workshop. It was delivered in a clear understandable format and I will definitely use the model. Thank you. Julia H., Psychotherapist
"The day was easy to absorb and broken into appropriate sections. It offered positive hope."  Delia M., Drama-therapist and Counsellor
"An intensive workshop with a good level of information." Anne S., Clinical Hypnotherapist and Reiki Practitioner
"Excellent course, Wale is an engaging speaker, giving examples throughout the afternoon." Allison P., Hypnotherapist
"Relaxed, informative, and kept checking in with everyone which is good practice. Chilled! It was great insight further into my own knowledge and understanding. Thumbs up!! — Paul G,. Converge  Student
"I enjoyed the day. The course was very informative. Good sessions and was relevant. " Georgina K., Counsellor
"Excellent presentation style and good value. Interesting, inspiring and do-able. Down to earth presentation style." Hilary B., Converge Administrator
"Good course. Knowledgeable and easy to understand tutor." - Anonymous
"Excellent course. Well presented. I would recommend this for both personal and professional development. Liz H., Hypnotherapist 
"An approach that is extremely practical and useable. Accessible information for all." Psychotherapist
"Great course - well structured, clear with a great tutor. "  Trainee Psychotherapist
" A great refresher workshop for the therapeutic intervention I provide in my clinical area. A hunger to develop a deeper understanding." S. Doyle, Community Psychiatric Nurse
"Thoroughly enjoyed this course. It has encouraged me to continue in my path to my personal goal." K. Blake, Employment Consultant/Life & Career Coach
"Clarity of thoughts and layout. Good to see key knowledge applied systematically." Anonymous, Counsellor
"Useful and easy to follow - transferable skills. Delivery was excellent - always good to do activities and humour is always a nice touch." L. Cook, Trainee counsellor
"This course has helped me to normalise my intrusive thoughts. I would recommend this workshop to others." J. D, Sufferer
"Inspiring and motivational. The 5 building blocks will be hugely helpful. Really resonated with the topics and subjects. Really feel that I can apply the model straight away with clients." T. Sharpe, Trainee Integrative Counsellor
"Useful tool for working with traumatised clients." L. Allen, Brain Injury Case manager - Children and Young People
"Insightful. Informative. Enjoyable and very applicable to my work. S. Collins, Doctor of Chiropractic & Master of Psychology
"A wealth of knowledge and interactive tools which can be applied with ease with one self/family/clients." L. Sharpe, Metaphysical teacher/Mindfulness
"Positive and motivating. Information in a simplistic form. A good use of a mix of tools from a range of relevant therapies." S. Roberts, Clinical Complementary Therapist
"Very interesting and I will be applying this work in my counselling role." K. Cofax, Trainee Counsellor
"Enjoyed learning from a structured model in order to work with anxiety and negative intrusive thoughts." L. Turner, Trainee Integrative Counsellor
"Very useful content for client work. I would recommend this workshop to others." M. Mottram, Student Counsellor
"I have enjoyed the workshop and getting to know others." M. Donne, Hypnotherapist
"Enjoyed the course itself. Met several people who gave me invaluable information." Anonymous, Sufferer
"Very informative. Learned some new things and it has reinforced things that maybe I wasn't open to but am now! A. Taylor, Sufferer.
"I have enjoyed  Treating Intrusive Thoughts Course. It will be good to use on myself and others." N. Pennistone, Hypnotherapist.
"Good understanding of intrusive thoughts. Will be able to apply the knowledge gained on rewiring my brain (love it)." K.Mellar, Sufferer
"Very informative for a first step into this area. Good clear course and good participation. Excellent style of teaching." Y. Singleton, Occupational Therapist, Hoarding Specialist
"Excellent - very informative." J. Dowdeswell, Occupational Therapist
"As a therapist, I have learnt a new format of technique for people with fear-based conditions. Workshop easy to follow and apply." N. Shanti, Clinical Hypnotherapist/Trainer
The information was extremely helpful. Thank you." --  Angela Wilson, NHS III Clinical Lead
"You cannot teach what you have not experienced and that is why Wale is so good, because he speaks from experience..." -- Karen Davies, Occupational therapist in Community mental Health
"I enjoy it and learnt some useful techniques to use with my clients. Wale is laid back and explained things well." - Hannah Kane, Children's Occupational Therapist
"Informative and useful practical tips. A good course with a lot covered in a short time." -- Louise Oliver, Hypnotherapist
"Enjoyed the presenter's style and charisma and content." --Rachel Gray, Counsellor
"Very useable. I will be using this for clients." D. Harley, Systemic Therapist - Family Institute
"Friendly, relatable, funny tutor, confidence delivery. Practical tips and approaches. Very pleased with the course overall. Gained practical knowledge. Will recommend to others." A. Baglow, Bereavement Support Worker/ Associate Counsellor
"Very encouraging, very articulate, funny, confident, passionate. Good use of diagrams. Style of teaching was very encouraging and motivating. Good use of group work exercises rattan than just sticking to powerpoint. Relaxing environment." Anonymous, Counsellor
"Very interesting. Very informative. Well presented. Wale is passionate about his subject and this is conveyed in this presentation."  D. Davies, Registered Mental Health Nurse
"Good information that can be used with clients. Good delivery of course." J. Davies, Counsellor
"Informative. Trainer delivered course at a nice pace. K. O'Connor, Counsellor
"Easy to use intervention model. I liked how this works with the structures of thoughts and not the content, so that client does not have to go into details over content if they don't want to or do not feel ready to. Having studied Humanistic-Existential Counselling more recently could make a  lot of connection with this course." E. Ross, Counsellor
"Sense of humour - well run." P. Mitra, Counsellor
"Lovely facilitator. Used real examples and some humour." H.Russo, Volunteer Counsellor
"Good introductory workshop. Would be interested to pursue further. Clear teaching." J. Hooper, Counsellor
"Very useful model. I can use this personally and with clients. A lot of people need to learn that they have this power. L. Fletcher, Trainee Counsellor
"Useful for clients. Excellent presentation. Steps were broken down into meaningful bite-size pieces." J. Smith, Counsellor
"A very good useful technology, making accessible to humanity. It aligns with my thinking. Sharing the good work in the highest content to make an improved human social world. The more the better." Martin, Systemic-Centered Counsellor
" Liked the style of presentation." L. Barkley, Counsellor
"For specific use with anxiety-related disorders. Something that I can incorporate into elements of the work that I do." Anonymous, Psychotherapist
"Interesting and something that I can consider using with clients who are determined by their thoughts. Helps understand how thoughts affect our physical and psychological health." Anonymous, Counsellor
Video Testimonials:
Watch video testimonials from some of the recent attendees below:
WHAT TO DO NEXT 
All you need to do is to register your ticket to attend this event now.  The event is expected to be oversubscribed as there are very limited spaces. 
Discover the simple and effective model (The S.T.R.E.S.S. Model) to transform anxiety-related disorders which many professionals and sufferers are already using to effect positive and long-lasting changes in themselves and others...
The S.T.R.E.S.S model works for children, teenagers, adults, as well as the elderly, and you can start using the recovery steps immediately the course is over (In fact, some people experience noticeable positive transformation during the course of the workshop itself)...
Already being used in over 30 countries around the world by therapists, coaches, teachers, carers, social workers, company executives, athletes and various individuals, the model does not only transform chronic stress disorder, it also eliminates irrational fears ( that breed anxiety and depression), transforms limiting beliefs ( which often contribute to low-self esteem ad underachievement), and builds self-confidence to achieve goals in spite of obstacles and limitations... 
Why don't you come and judge for yourself? 
If you feel this course can benefit you or any of your family members, friends or colleagues, why don't you let them know about the event and give it a try?
Those who have attended the event in the past always said that they were glad they made the investment even though they were a little bit unsure at the start (See previous attendees feedback below).
IS THIS GOING TO BE A HARD SELL?
We practise authenticity because that is one of our highest values. MindBody Breakthrough does not use hard selling tactics because manipulation eventually leads to failures and stress at some point down the line. 
If you enjoy the day and think that any of our materials, online courses or future workshops can be beneficial to you personally or to your work, then we can discuss options once you have completed this full day. We just want you to come and enjoy the day, acquire additional helpful skills and make new friends.
Spot allocation is on a first-come-served basis due to limited availability. If you are planning to attend please reserve your spot now.
I look forward to seeing you there,
Best regards
Wale Oladipo
Lead Coach & Therapist, Mind Body Breakthrough
Introduction:
Stress is a major problem in our societies today. Children, teenagers, parents, employees, managers, as well as many business leaders are experiencing aggravated stress like never before in their various endeavours. While the negative effects of stress in human remain unquestionable, many people especially employees and organisations are still very reluctant to  openly acknowledge that they have problems with stress management. This may be due to the fear of being labeled as incompetent and unable to cope with the pressures that come with work. When stress is not dealt with straightaway but allowed to persist for too long, it can grow and become chronic, with huge destructive effects on the individual involved, the team members and even the entire business. Early intervention that identifies and heals the real root-causes of stress has been proven to be the best strategy for improving the wellbeing of people living with stress and boosting the overall effectiveness and productivity of the affected organisations. At MindBody Breakthrough, our focus is not just to help people manage stress, but most importantly to assist them in fully eliminating the underlying root-causes of stress. This course is therefore different from other stress management courses that offer coping strategies mainly. We go deeper to diagnose and totally defuse stress within the psyche using the cutting-edge S.T.R.E.S.S model. It is therefore my hope that you will find this programme very valuable to your work and life, helping you to further grow in stress-free living, while investing your expertise into a stress-free society.
To your well-being and success,Wale OladipoMindBody Breakthrough
More Testimonials:
"Great presenter, very knowledgeable and liked. He used real-life stories. I liked his approach to therapy. Great use of unconscious part of the mind for change." — Julie R., Hypnotherapist/ Counsellor, EMRD" Very useful, insightful. The speaker was able to use true examples to assist understandings and participation." — Dawn M., Trainee Life Coach"A very informative and inspirational session which I have already taken so much from it. And I know in the next few hours, weeks and days I will benefit more from." —- Julia S., Teacher (attended as a sufferer)"Insightful. I would recommend this course. The practical aspects of the course provided the most insight into how the FEAR model can work." Fay M., Pastoral Provision Manager - Education"Well delivered approachable, knowledgeable, humour." Kelly R., Counsellor"Wale was fab - really knowledgeable and experienced. Also engaging and interesting." Melanie C., Families and Children Manager"Very good course. I learnt something new that really helped" — Anonymous, Staff Nurse"I love Wale's relaxed style of teaching - Very appropriate for the subject. He is very professional and personable. Thank you. " — Julie P., Counsellor/ Psychotherapist/ Trainer"Very well prepared, confident and able to deliver course calmly even when faced with difficult questions." — Anonymous, Counsellor"Confidently presented. Approach the subject in a very personable manner. Well done!" — Linda S., Counsellor"Great teaching style and good to get us all involved. Lots of information and real life situations." — Charlotte J., Student"Very informative and it has good rationale behind it. My son came with me and to see him showing an interest and understanding gave me hope." Michelle T., Student Mental Health Nurse"Good insight to apply. Another method for treating anxiety/intrusive thoughts for people who I know will get to meet when I become self-employed hypnotherapist." — Tina B., Student Hypnotherapist"Very good. Well spoken. Spoke to me personally to help me understand my situation a bit." — Jordon K., Job Seeker"Excellent course, excellent tutor. Very informative and Knowledgeable. Refreshing, informative, fun and professional." Lorraine R., Clinical Hypnotherapist
Course Accreditation:
This course is quality-checked by the National Counselling Society.
The National Counselling Society's register has been accredited by the Professional Standards Authority under its Accredited Registers programme.
Accreditation offers practitioners working in counselling a means of demonstrating their personal commitment to meeting high standards by joining The National Counselling Society or another accredited register.
Accreditation means that The National Counselling Society has met the Authority's demanding standards in the following areas: training, setting standards, governance, quality of information provided, professionalism in handling complaints and education.
Terms and Conditions
Cancellation:
Cancellation charges are applied in all cases. We regret that this has to be done. All bookings involve administrative costs and it is difficult to fill vacant spaces as a result of late cancellations.
Cancellation charges are applied based on when the written cancellation notice is received. See the following refund rates:
Over 2 weeks' cancellation notice: Full refund

1-week cancellation notice: 50% refund

Less than 7 days cancellation notice: No refund unless in exceptional circumstances, for which a medical certificate may be requested.


Alternatively, a substitute delegate can be named at any time before the course. There will be no extra surcharge for making a substitution.
No refund will be payable for non-attendance or if no prior notice of cancellation is given.
The refund will be issued after the course.
Pictures/Videos:
Please be aware that the presentation (the power point and the tutor) may be photographed or filmed for educational, quality or promotional purpose. MindBody Breakthrough takes confidentiality very seriously and aims to use any films or photos that may be taken according to the strict terms and conditions on live events. For case study clips, permission will be sought from individuals involved before the clip of that matter is used.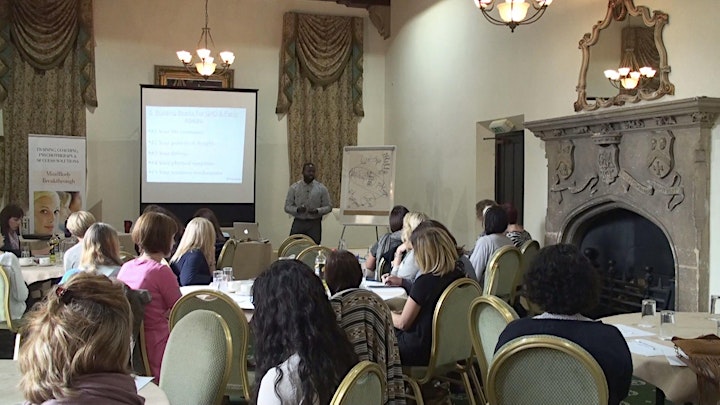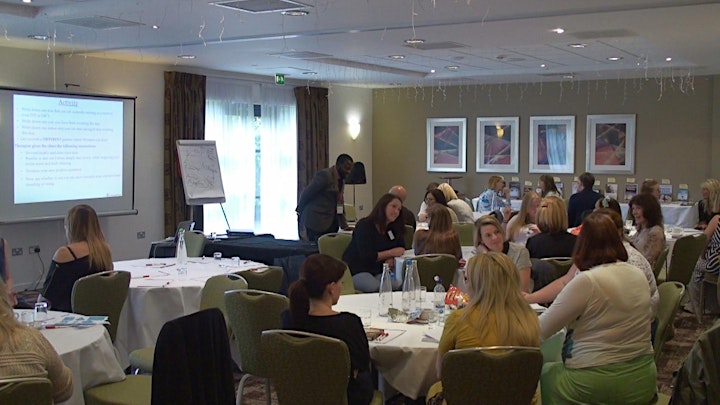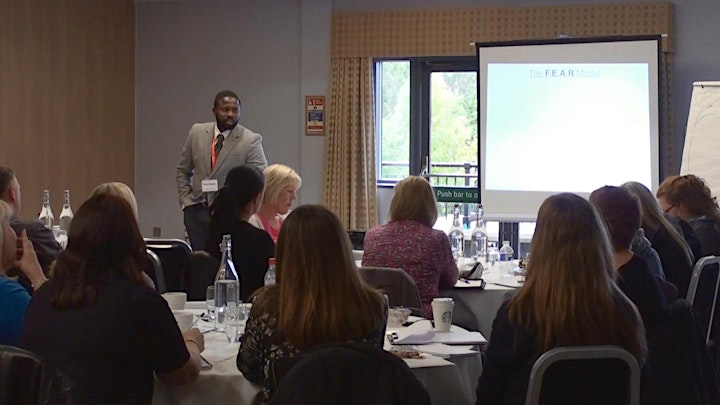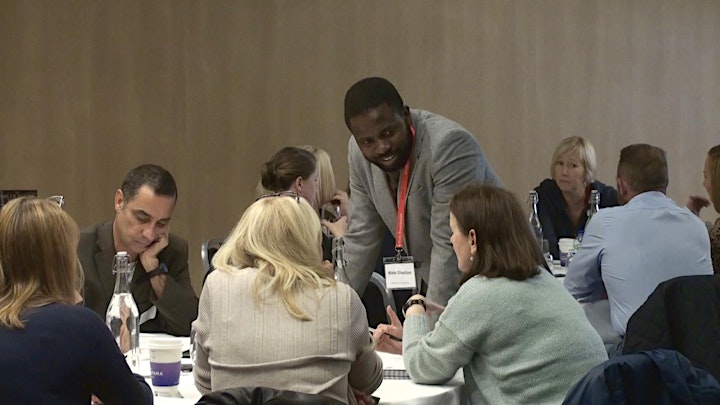 Date and Time
Location
[Online Webinar]MindBody Breakthrough
15 Queen Square
Leeds
LS2 8AJ
United Kingdom
Refund Policy
Refunds up to 7 days before event
Eventbrite's fee is nonrefundable.