Online Webinar: Treating Intrusive Thoughts and the Inner Critical Voice (A...
Event Information
Refund Policy
Refunds up to 7 days before event
Eventbrite's fee is nonrefundable.
Online Webinar: We are delighted to invite you to our popular webinar on Treating Intrusive Thoughts and the Inner Critical Voice.
About this Event
Choose your prefered date and go ahead to get your ticket. A few days before the webinar date, we will send you a link via your email to join the webinar.
Everyone interested in the subject is welcome on the webinar (certificate of attendance will be issued (up to 2.5 CPD hours) on request).
Your learning outcomes for this training:
Using brain science, understand the neurophysiology of anxiety; why you feel the way you feel and how to feel more positive and in control of your mind

Learn about the regions of the brain implicated in intrusive thoughts and the innner critical voice

Understand how to dislodge the old anxiety wiring in the brain and rewire the brain for calm and confidence

Understand the eight major types of inner critics that sustain anxiety disorders, sabotaging the overall results of therapy.

Understand how to retrain and recaliberate the fear and anxiety centre in the brain for a greater level of calm

Learn effective steps to shrink the inner critics

Understand how to free traumatic fozen energy of toxic shame, fear and guilt that perpetuates the inner critic attacks
 Other focuses for the day:
• How to avoid the typical mistakes made in treating anxiety-related disorders.
• How to help clients with past traumas without triggering overwhelming negative emotions which often result in major relapses.
• How to manage major relapses.
How Much Does a Ticket Cost?
Early bird registrations from £23+vat+fee. It will go up to £46+vat+fee if you book late. Group and circumstances discounts are also available starting from £18+vat+fee per person (subject to webinar places availability).  Click the tickets button on the top right to see the prices.
Permanent recovery from anxiety-related disorders often escape the sufferer for three main reasons:
1.  The root causes of anxiety disorders are not always adequately treated or even identified.
2.  The perpetuating intrusive thoughts and inner critical voice which sustain the anxiety disorder are not effectively dealt with.
3.  The brain wiring that constantly reinforces the habits of anxiety and worry are often overlooked and left un-dislodged.
Please see the full details of the course below.
Bonus Take-Away Recovery Materials:
power-relaxation exercises recording to facilitate recovery.

Handout that summarises key recovery concepts.
For Professionals, as Well as Sufferers...
This course attracts both professionals and sufferers who are interested in mental health, continuing professional development, and effective anxiety recovery techniques.
Professionals: The models and techniques you will learn in this workshop is integrative and are now being used around the world in more than 30 countries by mental health professionals, counsellors, therapists, support workers, coaches, and other agencies who care about the mental wellbeing of their communities. Many UK therapists, mental health nurses, health professionals and counsellors who have been through this course in the past have found it very useful to their work and personal development. You can read some of their testimonials below. The course is quality-checked by the National Counselling Society and can count towards your CPD requirements. CPD certificate will be issued on the day.
Sufferers: If you are a sufferer, you can also register for this course. As an ex-anxiety sufferer myself, the course is designed not only to help the professionals sharpen their skills but also to enable sufferers to get their hands on a simple but effective recovery model to achieve personal transformation. You will learn about the steps that helped me transform my anxiety disorder, allowing me to start helping others around the world achieve similar life-changing transformation. The course environment is relaxed and reassuring, and you will be able to share your story with me if you want to, and ask questions.
What Attendees Are Saying
"Thank you so much for this webinar.  I have learnt a lot about neurobiology and neurochemistry, which will certainly  inform my work with clients.  Also the dietary side of increasing serotonin.  Wale is very knowledgeable, but able to convey the material in a way which even a lay person like myself can understand!  I will take away the encouragement to use self compassion, for myself and for my clients." Christine C., Counsellor, Supervisor & Trainer (20/7/20)
"I found the course informative and will be able to use the information in my practice immediately. "Nancy M., Wellbeing Clinical Manager (20/7/20)
"The style, delivery and knowledge of the trainer was excellent. Detailed handouts and added bonus of the meditations with scripts. Refreshing to hear the holistic importance and how the brain misfunctions after trauma which can be from dna or when in the womb. Will support me to adapt and flow more smoothly to each client's individual need. It was online so I was comfortable at home and finding I am able to participate in more trainings then pre-Covid as no costs of time off or for having to pay for dog sitters, no wage loss, plus no added costs for travel/accommodation/snacks - win win!" Kay E. Emotional & Chronic Pain Therapist (20/7/20)
I thoroughly enjoyed the course and found it very interesting. I am looking forward to playing it back once I receive the recording so as to go over everything. Really recommended course, thanks so much Wale." Samantha K., Psychologist (20/7/20)
"This course is very helpful and complements many other courses I have attended with Wale. I'm sure many of us at some point or another in our lives have experienced the 'inner critic' and I would definitely recommend this on both a personal and professional basis. I love how an holistic approach is viewed and adapted which is so important. I found the vagus nerve exercise particularly useful as I work with many young people and teenagers with ADHD, Autism, and trauma related. Thank you Wale for sharing your experience and information which is so helpful." Diane M. (2/7/20)
"I must admit to preferring the course being online as it was more convenient and the fact that I could go back and re-listen suited me." Jackie R., Birth and Postnatal Doula (2/7/20)
"Fantastic event. Very well researched and very well delivered." Paula S., Psychospiritual Soul Mechanic (2/7/20)
"Thank you for the Treating Intrusive Thoughts webinar this evening, it was fascinating and I learned so many new things on the relationship between feelings and the brain as well as the issues around food and seratonin. Lots to think about!" Joanne H. (2/7/20)
"Thoroughly appreciated level of information and delivery." Beryl V., Teacher & Workshop Facilitator (2/7/20)
"I have really enjoyed our session today. It has given me ideas of how to work more effectively with my clients due to my own understanding. I can use the 8 critics to help them understand themselves and therefore facilitating therapeutic change. Also highlighted my own awareness of early life issues and how these have in the past led to anger and isolation. Also my own inner critical voice and how at times this can get out of hand and how my diet can affect and have an impact on this." Sam B. Counsellor (2/7/20)
"Wale is very good at what he does and made the webinar very interesting and a joy to watch." Sharon M. (22/6/20)
"I would highly recommend this seminar to other counsellors and I feel that I have grown myself by taking part today and will be able to integrate into my practice. I am a person-centered integrative counsellor working under the banner of a local church. (I believe that this particular theory/teaching is also very much in keeping with my own personal Christian faith.)" Karen B., Counsellor (27/5/20)
"Really enjoyed the course, relevant contents and was delivered well." Thank you Mary R., Counsellor (27/5/20)
Introduction:
Regardless of the therapeutic approach that you adopt, and the quality of work you put in as a therapist, if the treatment of the two notorious sabotaging agents (intrusive thoughts and the inner critical voice) are not included in your therapy sessions, chances are the positive changes in your clients will be short-lived.
Whether you specialise in treating OCD, panic attacks, depression, PSTD, phobias, eating disorder, GAD, or any other anxiety-related disorder, and using various modalities, such as, CBT, EFT,  client-centred, psychoanalytic, mindfulness, and other therapy techniques, this course aims to provide you with invaluable therapy skills to further make a positive impact in the lives of your clients, ensuring that their recovery is long-lasting.
Intrusive thoughts and the inner critical voice are not only the most powerful breeders and sustainers of anxiety disorders, but also the most brutal outlets of anxiety that mastermind relapses in anxiety patients during their sessions or after they finish their therapy sessions. 
Recent studies show that more than 80% of anxiety patients who have gone through therapy are not better-off after two years than their counterparts who have not received any therapy.
The reason is that almost every anxiety disorder is accompanied by intrusive thoughts or the inner critical voice which continues to generate unwanted negative thoughts, images, and unpleasant ideas that are upsetting, distressing, and causing more anxiety for the clients. And it is this obsessive and disruptive thinking that eventually cancels out the good work of the therapists.
Compulsive intrusive thoughts and the inner critical voice cannot be eliminated by asking patients to think more positively, or by hypnotic auto-suggestions alone, or even by equipping them with distraction techniques. This is why intrusive thoughts and the inner critical voice outlast many therapy sessions.
Why? This is because apart from the fact that these inner critics are compulsive, they are also established personalities within the psyche, having their own emotions, feelings and carrying out specific protective roles of preventing the clients from bigger "subconscious threats".  This course will introduce you to the useful tools that you can start using immediately.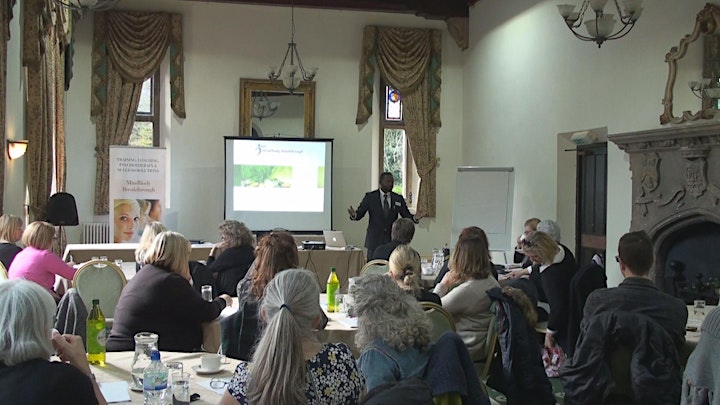 Why don't you come and judge for yourself? 
If you feel this course can benefit you or any of your family members, friends or colleagues, why don't you let them know about the event and give it a try? 
Those who have attended the event in the past always said that they were glad they made the investment even though they were a little bit unsure at the start (See previous attendees feedback below).
WHAT TO DO NEXT 
All you need to do is to register your ticket to attend this event now.  The event is expected to be oversubscribed as there are very limited spaces. So book your seat now to avoid disappointment. Please only register if you are sure that you will be able to attend this event. We really want every ticket taken to be used on the day. Thank you for your co-operation.
WHY IS THE EVENT SUBSIDISED AND WHAT'S THE CATCH?
The first reason this course is subsidised is networking. Relationships are very important. In a live event like this, there is ample opportunity to connect with like-minded people, share experiences, get motivated and discover what is working for others. I have been able to meet and connect with some amazing people in events such as this one.
The second reason why this is a subsidised event is the feedback that we get from our attendees. This is extremely useful. It helps us improve our courses and get better in serving others.
IS THIS GOING TO BE A HARD SELL?
We practise authenticity because that is one of our highest values. MindBody Breakthrough does not use hard selling tactics because manipulation eventually leads to failures and stress at some point down the line. 
If you enjoy the day and think that any of our materials, online courses or future workshops can be beneficial to you personally or to your work, then we can discuss options once you have completed this full day. We just want you to come and enjoy the day, acquire additional helpful skills and make new friends.
Spot allocation is on a first-come-served basis due to limited availability. If you are planning to attend please reserve your spot now.
A certificate of attendance will be issued.
I look forward to seeing you there,
Best regards,
Wale Oladipo
Director & Lead Trainer Mind Body Breakthrough
Terms and Conditions
Cancellation:
Cancellation charges are applied in all cases. We regret that this has to be done. All bookings involve administrative costs and it is difficult to fill vacant spaces as a result of late cancellations.
Cancellation charges are applied based on when the written cancellation notice is received. See the following refund rates:
Over 2 weeks' cancellation notice: Full refund

1-week cancellation notice: 50% refund

Less than 7 days cancellation notice: No refund unless in exceptional circumstances, for which a medical certificate may be requested.


Alternatively, a substitute delegate can be named at any time before the course. There will be no extra surcharge for making a substitution.
No refund will be payable for non-attendance or if no prior notice of cancellation is given.
The refund will be issued after the course.
Pictures/Videos:
Please be aware that from time to time the presentation (online or offline) may be photographed or filmed for educational, quality or promotional purpose (this happens occassionally). MindBody Breakthrough takes confidentiality very seriously and aims to use any films or photos that may be taken according to the strict terms and conditions on live events. For case study clips, permission will be sought from individuals involved before the clip of that matter is used.
(Webinar)Course Recording Provided to Attendees:
The course recording provided at the end of the webinar must never be shared with others who have not registered for the course themselves. The terms of usage is restricted to the person who has legally registered for and attended the course. Therefore sharing our course (webinar) recording to non-attendees is strictly prohibited. We recommend that all interested individuals should register and attend the course themselves.
Date and Time
Location
Refund Policy
Refunds up to 7 days before event
Eventbrite's fee is nonrefundable.