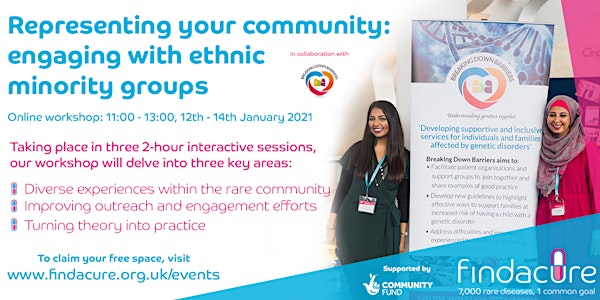 Online workshop | Representing your community: engaging ethnic minorities
Sales Have Ended
Registrations are closed
Registration for this workshop is now full and a waiting list has been enabled. If you have registered and are no longer able to attend, please contact maryrose@findacure.org.uk.
Please note, this event is for rare disease patients, carers or patient group representatives only.
About this event
Findacure is delighted to announce its next online workshop, which will guide patient groups through improving engagement with ethnic minority groups to better represent and serve their respective rare disease communities. 
Hosted in collaboration with Breaking Down Barriers, our first event of 2021 will delve into three key topics;  exploring diverse experiences in the rare disease community, improving outreach and engagement efforts, and putting theory into practice.
The workshop will take place across three 2-hour interactive sessions. Attendees will gain the most benefit by attending all three days of the workshop, however you can also sign up for each session independently.
As spaces are limited, we politely request that only one member from each organisation registers to attend.
Day one: exploring diverse experiences within the rare community - 11:00am - 1:00pm, Tuesday 12th January
Day one of our workshop will focus on understanding the range of experiences that individuals may have within the rare community and how these may differ from our own.
There will be a particular focus on understanding how to frame discussions around diversity and ethnicity and being able to address your own preconceptions around the subject.
Day two: improving outreach and engagement efforts - 11:00am - 1:00pm, Wednesday 13th January
Day two will focus upon how patient organisations can begin to identify patients in diverse communities that could benefit from support and being part of the community. With a particular focus upon how to adapt outreach to different groups and individuals and how to take practical steps to engage and communicate effectively.
Day three: putting theory to work - 11:00am - 1:00pm, Thursday 14th January
Day three will focus upon hearing the experiences of rare patient organisations as they put the theory into practice, including outreach programmes and using social media.
The event will take place via Zoom and details will be sent to attendees upon registration.
If you have any questions, please contact maryrose@findacure.org.uk.