Untuk saat ini Ibadah Onsite dibuka dengan tempat terbatas, dan hanya untuk Leaders.
About this event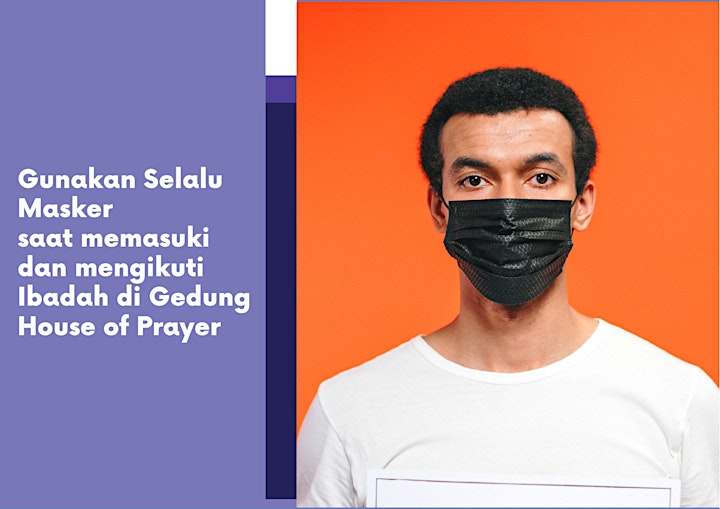 Demi menjaga keamanan dan mematuhi protokol kesahatan yang ada, jemaat diharapkan mendaftarkan diri sesuai dengan data pribadi, lengkap dengan nomor telpon, dan alamat email yang sesuai. serta sesuai peraturan pemerintah terkait penanganan pandemi, Seluruh jemaat serta pelayan yang bertugas wajib melakukan Scan QRCODE melalui aplikasi PEDULI LINDUNGI sebagai syarat utama sebelum memasuki area Gedung Gereja House of Prayer dan Pastikan handphone Sdr/i sudah terpasang aplikasi PEDULI LINDUNGI.
Anda diharapkan untuk tetap tinggal di rumah jika Anda tidak sehat, jika memungkinkan, jaga jarak fisik dari orang yang tidak ada dalam keluarga atau rumah tangga Anda saat beribadah. Praktikkan kebersihan tangan dan pernapasan yang baik. Hindari sapaan fisik seperti jabat tangan atau berpelukkan saat bertemuJika Anda pernah mengunjungi hotspot yang diidentifikasi oleh Pemerintah Indonesia atau telah bepergian dan belum melakukan vaksin.
kami dengan hormat meminta Anda untuk mengikuti petunjuk kesehatan terkini yang diberikan kepada Anda dan tidak menghadiri Ibadah Hop Church di Gedung Gereja akhir pekan ini dan tetap dapat mengikuti Ibadah secara online.
Penggunaan MASKER wajib di tempat ibadah, termasuk dalam kegiatan pujian penyembahan, dan kami menghimbau Anda untuk tidak melepas masker selama berada di wilayah Gedung Gereja House of Prayer.
Saat ini Ibadah Sekolah Minggu belum tersedia onsite. Anak-anak silahkan bergabung dalam ibadah online di Little Kings Youtube Channel.
Kita semua perlu menggunakan kebijaksanaan dan mengikuti pedoman untuk melindungi orang-orang di sekitar kita.
Mohon pengertiannya jika anda berada di usia dibawah 12 Tahun dan atau belum mendapatkan Vaksinasi, kami menyarankan anda untuk bisa mengikuti ibadah secara ONLINE. Ibadah online masih tersedia di akun YouTube HOPChurchID.
Terima kasih telah mengikuti himbauan ini.
Keamanan dan kesejahteraan Anda adalah prioritas utama kami
Jesus Bless You
Organiser of Onsite Sunday Service - HOP Church ( Limited Seat )