Description
ONYE OZI (THE MESSENGER)
(12A (tbc), Igbo with English subtitles)

WORLD PREMIERE SCREENING
STARRING - OKEY BAKASSI, NGOZI IGWEBIKE, STEPHEN, MORIATY, ANTHONY ACLET, ADESUA ATUANYA & D'KACHY OBI-EMELONYE DIRECTOR - OBI EMELONYE
PRODUCERS - OBI EMELONYE & NGOZI IDEH
PRODUCERS - THE NOLLYWOOD FACTORY : NOLLYWOOD MOVIES : MNET AFRICA : SCREEN NATION PICTURES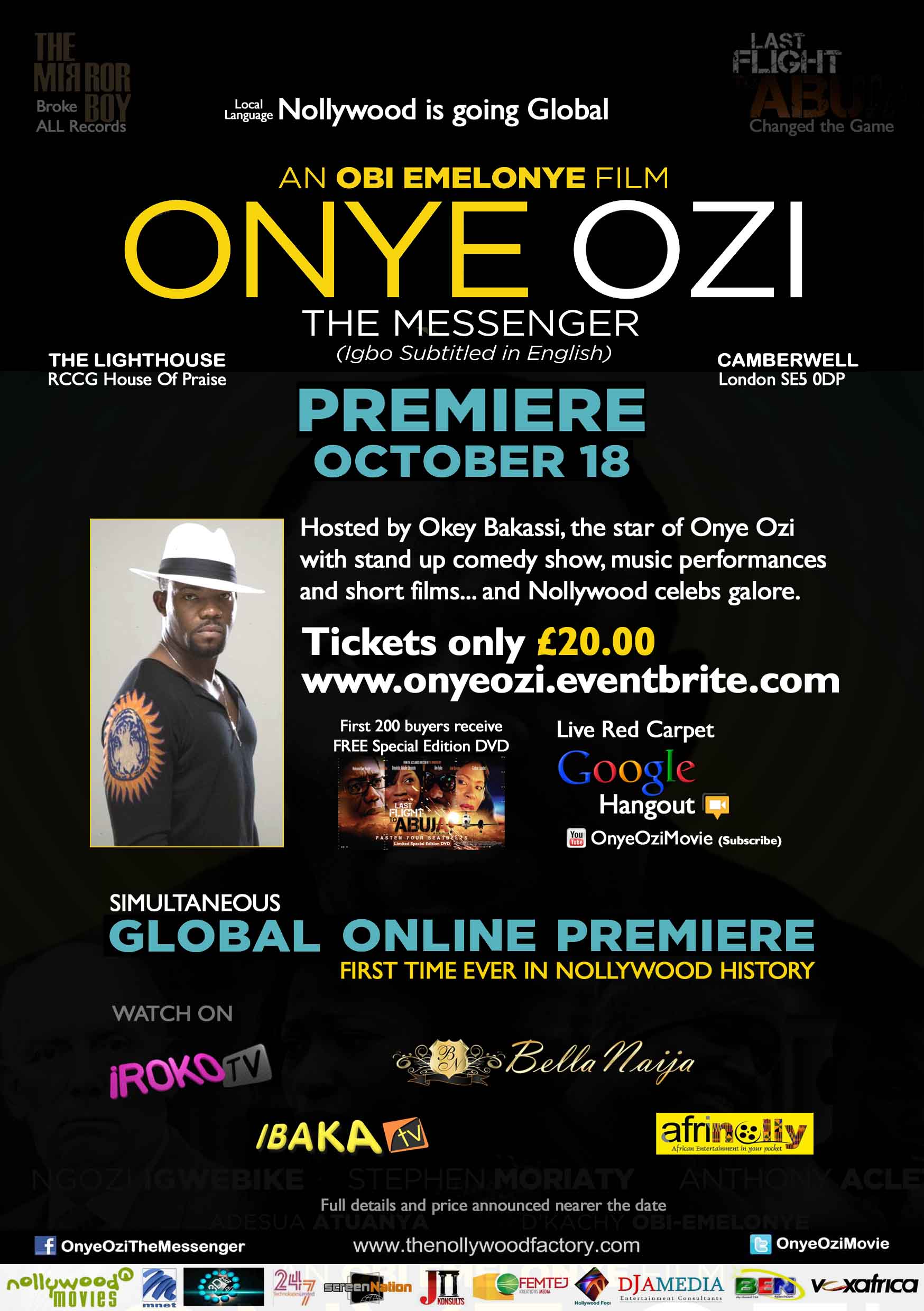 HOSTED BY OKEY BAKASSI with a stand up comedy show, music performances and short films.
Doors open at 6.30pm for Red Carpet Reception, with a Stand Up performance by the film's star at 8pm, followed by the Premiere Screening including Q&A with the stars and filmmakers commencing at 8.30pm sharp. Film Ends at 10pm and Event Ends at 12.00am
Hot African food, Popcorn, Ice Cream and non alcoholic refreshments for sale throughout the night.
NOLLYWOOD VIP GUESTS - JOHN BENJAMIN & MANY OTHERS TBC
EXPECT BIG FUN & FANTASTIC MOVIE ENTERTAINMENT
++++++++++ NO ENTRY after 9.00pm ++++++++++
But thats not all...
THE FIRST 200 TICKET BUYERS RECEIVE A FREE SIGNED
LAST FLIGHT TO ABUJA SPECIAL EDITION DVD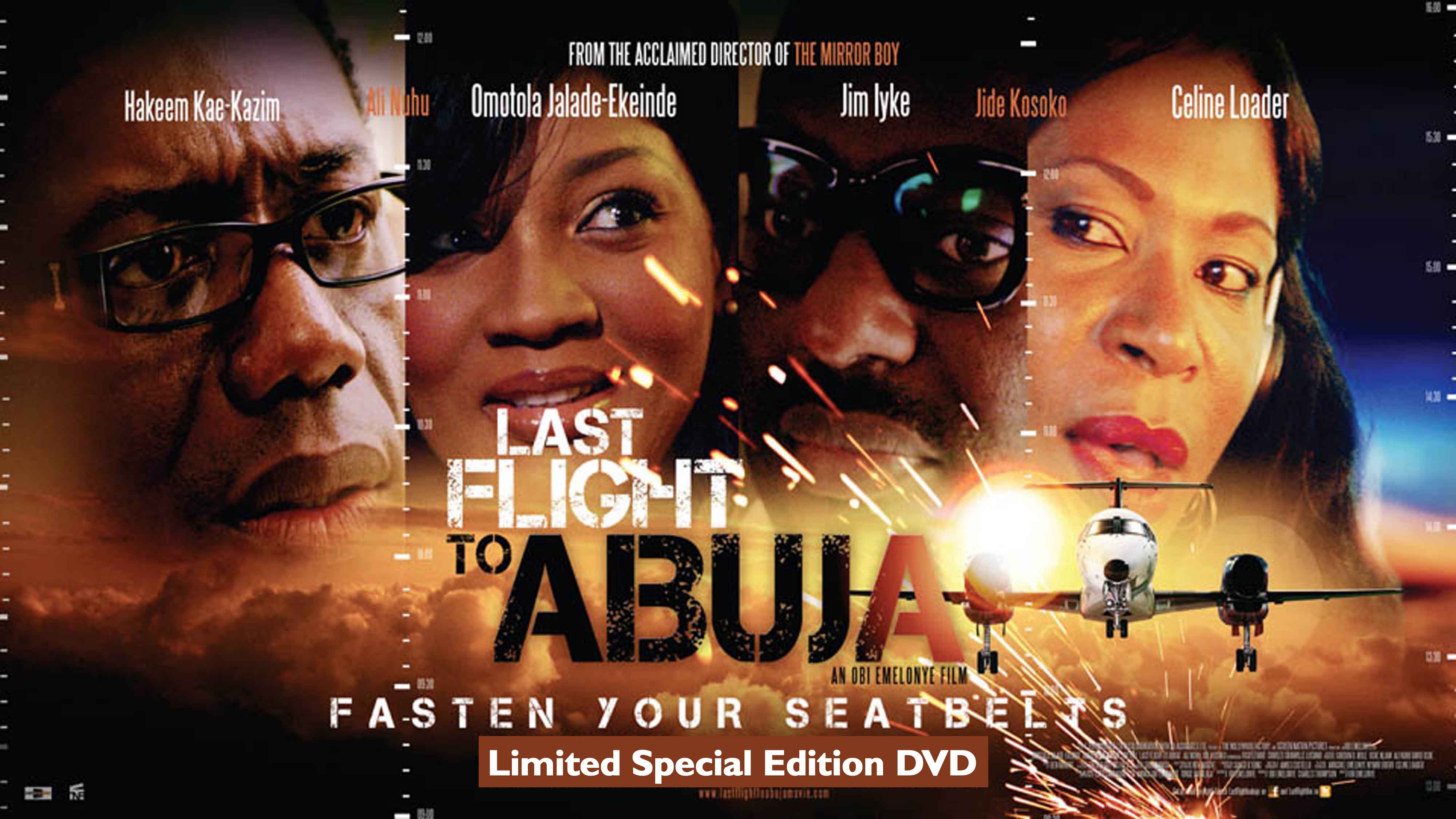 Due to the overwhelming pre-demand, the World Premiere Guestlist is
STRICTLY LIMITED to the FIRST 500 for all available seating packages.
+++++++++ NO TICKETS ON THE DOOR!! +++++++++
++++++++++ GLOBAL ONLINE PREMIERE +++++++++
Details to be confirmed closer to the date on exclusive partner sites Bella Naija, Afrinolly, iRoko TV, Ibaka TV and more, where you can watch both the live Red Carpet activity and then stream the Film Premiere from anywhere in the world on any mobile device at exactly the same time the film will premiere in London. Wow!! Costs only £2 for one night only and more once the film is released.
You definitely do not want to miss this. Brought to you by Screen Nation Media
++++++ A NOLLYWOOD GLOBAL PREMIERE FIRST!! ++++++
Nobody does a Nollywood premiere better than The Nollywood Factory and Screen Nation Media so you know what to expect! First the Empire Leicester Square, then The Troxy and now Lighthouse and the Online world will witness African London swagga at the world premiere of this latest Nollywood movie by Obi Emelonye. The Mirror Boy set a new standard, Last Flight to Abuja changed the game and now Onye Ozi, will take Igbo Nollywood to a global audience. Remember what the last premiere was like, well this one is going to take things to a whole new level.
Dont take our word for it, come and see for yourself!
Come hit the Red Carpet and be part of this unique occasion with top film, television & music stars, directors and producers alike, whilst mingling freely with familiar faces from the worlds of African fashion, media, sport & business. Live or Online this will be another exciting premiere event and if you were at the last premiere then you will know that this will be a truly memorable night and the whole Onye Ozi team looks forward to welcoming you to a glamorous fun filled Igbo Nollywood night of entertainment!
Dress Code: 2013 Naija 'Fine Lady & Fine Guy' Swagga
See you there and God Bless!
Onye Ozi Team
TWITTER: www.twitter.com/OnyeOziMovie FOLLOW US
FACEBOOK: www.facebook.com/OnyeOziTheMessenger LIKE US
YOUTUBE: www.youtube.com/OnyeOziMovie SUBSCRIBE FOR LIVE RED CARPET HANGOUT
PARTNERS:
Nollywood Movies : M-Net Africa : 24/7 Technologies : 3D Associates : Screen Nation Media : Google : Afrinolly : iRoko TV : Bella Naija : Ibaka TV : J2 Konsuts : Femtej Kreations : Nollywood Focus : BEN TV : Vox Africa : ABN TV : SOAS : Nideh PR : The Lighthouse : More TBC
-------
-------
INFO
07741 281 650 (text only)
INVITATIONS
Priority for World Premiere Guestlist is strictly for paying guests World Premiere Guestlist closes 12AM SAT 12TH OCT or by capacity
PLEASE NOTE:
To ensure you do not miss the deadline please be sure to respond to this invitation as soon as possible. All Obi Emelonye film premieres sell out well before the premiere date and you dont want to be one of those left standing outside. Please dont let that be you!!
-------
-------
END