Open Call to East Meets West Design Week 2021 provides budget busting entry opportunity for artists and creatives worldwide to take part ...
About this event
East Meets West Design Week 2021 is back with an offering of early bird entry rates to help balance the impact of the corona virus on the arts worldwide with affordable solutions to enable participation.
In what will be its third edition, the bi-annual event will run from 19-27 September during what is increasingly likely to be the return of one of the most celebrated months for art, design, fashion and the performing arts, across the creative sectors and arts industries since Covid-19.
East Meets West Design Week' shines a spotlight on designers of ceramics, interiors, fashion wear, textiles, products, furniture, illustrations, photographers and sculptors leaving much scope for the inclusion of the contemporary and visual arts.
The consumer focused event treats online viewers and buyers numbering hundreds of thousands worldwide to an offering of artistic utopia. Whether for the purposes of investment, trade, wellbeing or the love of crafts, this is an art festival whose social impact is a dissemination of Art & Design in its broadest context enhanced with access to installation art.
For nine days East Meets West Design Week puts a digital spotlight on the myriad of artists, designers and emerging talents across the global art market.
Organisers, (the) Museum of Cultural Arts said:
"Covid-19 has had a tremendous impact on the arts and creatives industries with many across the multi-disciplinary arts being heavily impacted.
For 2021 we've remained focused on providing opportunities for exposure and sales to new markets and audiences through the access and opportunities 'East Meets West Design Week' provides, which is reflected in the pricing structure. which will remain based solely on discounted costs of administration throughout 2020.
With consumers understanding the benefits of purchasing and enjoying art to benefit their health and wellbeing and the increase of virtual audiences due the corona virus, organisers predict a good year for the artists and designers taking part".
Throughout the nine days visitors and trade professionals, can expect to be treated to a packed programme of activities; educational and interactive workshops, master classes, film screenings, talks and guest speakers from across the arts spectrum.
To respond to the open call artists and members of the public respectively, can register or subscribe to be part of this phenomenal celebration of artistic genius taking place across the internet in September 2021 by visiting: www.eastmeetswestdesignweek.com
Early bird registration: Emerging Talents: £10.10 | Artists/Designers/Creatives: £20.20 | Experts: £40.40 | Listings: £50.50
Terms of Engagement: 
Participants:
Can provide up to three images for selection, and:
A short biography (280 words) or press ready copy, formatted to one side of A4 on an MS Word document.
Keep all sales.
Are responsible for all sales, deliveries and dealings pertinent to selling their products and/or services.
Can submit short films or promotional videos footage as an alternative method of entry.
Must have active links to your website, and/or social media.
Other:
At the point of registration entrants agree to the following conditions: 
You agree to waiver the £10.00 Visitor registration fee against their first sale.
Full responsibility for all aspects of their transactions with customers at any point  during and, or following East Meets West Design Week 2021, and/or resulting from promotion of the event website/s, links and media.
All entries are subject to selection. 
The organisers can refuse the right to entry.
The organiser's decision is final.
We very much look forward to receiving your entries and to working with you.
East Meets West Design Week 2021 | Administration.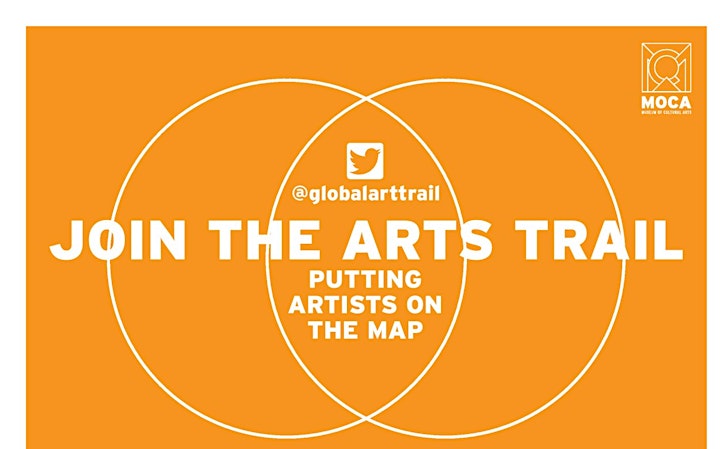 Date and time
Location
Refund policy
Organiser of OPEN CALL! EAST MEETS WEST DESIGN WEEK 2021
MoCA UK provides a platform for artists to exhibit, sell and converse about art to new audiences.
MoCA UK seeks opportunities for artists to show and sell their works in new markets by making art accesible digitally, and, or through supply to retailers, at special events and direct sales.
MoCA UK brings art and artists together through a creative medium that encourages cross collaboration to birth initiatives, target lovers of art and the arts and has an overarching remit towards making artists sustainable.
MoCA UK' commercial remit positions the works of artists on their portfolio for private or public sales utilising new technologies.