Open Data, Javiera Atenas (1-2pm)
Location
University College London
Malet Place Eng 1.20
London
WC1H 0BW
United Kingdom
Sales Have Ended
Registrations are closed
Due to the nature of digifest - venues may change - we would like to give anyone the opportunity to participate and may try and change venues to accommodate levels of interest. Therefore please be responsible about making unused tickets available. It is easy to manage your bookings - just log into Eventbrite - go to the My Tickets tab for your account and cancel, book or join a wait list for sessions. If we are not able to accommodate levels of interest we want to live web stream sessions - of you can not get tickets why not volunteer then you will get to see the session and help make it happen - help others watch on the share live web streaming sites we want to be running throughout the festival. Many thanks The digifest team
Description
Open Data
This one hour workshop will introduce you to the legal, social and technical aspects of open data. The session will focus in open government data to support active citizens in understanding how tax payers money is spent by central and local governments, aiming to support the development transparency policies and legislations by showcasing examples of good practices in the use of open data and to demonstrate how citizens and organisations can enable universal and active participation in politics and community projects.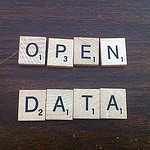 ---
About the session host
Javiera Atenas is a Teaching and Learning Technologist for STEaPP at UCL. She is a researcher and advocate for Open Access, Open Educational Practices and Open Educational Resources. Javiera is a PhD candidate and Associate Lecturer on digital knowledge and information management for Museums, Universitat de Barcelona.
---
Participate on Twitter
Interested but can't make it to the session? Tweet your thoughts and opinions to @ucldigifest with hashtag #dfuber and populate the discussion online!
---
Filming, photography and recording
Participants are encouraged to take photographs, film clips and recordings of sessions and distribute these via social media. In addition the event organisers will be capturing the event and distributing photographs and film clips via the event website and other public channels. By attending a digifest event you consent to photographs and film clips being used in this way. Please inform the event organisers at each session if you do not wish to be recorded and we will endeavour to ensure this. For queries, please contact ele@ucl.ac.uk.