Event Information
Location
International Open Data Conference
IFEMA
North Convention Center, room F
Description


On behalf of the Open Data Institute and OD4D Network, we invite you to the Open Data Leaders' Summit, a half day pre event to the International Open Data Conference for government officials in open data. The 2016 Open Data Leaders' Summit will be focused on strategies for achieving impact.
We are pleased to announce that we have confirmed the following keynote speeches
Sanjay Pradhan, CEO, Open Government Partnership

Naser Faruqui, Director Technology and Innovation, IDRC
Objectives
The Open Data Leaders Summit will bring together leaders of government open data initiatives to learn from each other, and discuss strategies for achieving impact.
Equip government officials with strategies for using networks to successfully implement open data initiatives
Encourage innovative thinking about the role of leadership in the delivery of open data programmes in government

Enable direct exchange between high level members of government, who hold responsibility for open data in their country, city or region.
Please RSVP by 3 October 2016.
Logistics
The Open Data Leaders' Summit will be held at the IFEMA Centre in Madrid
Date: Wednesday 5 October 2016
Time: 09.30 - 13.30
Venue: Room F, IFEMA Centre, Madrid

Agenda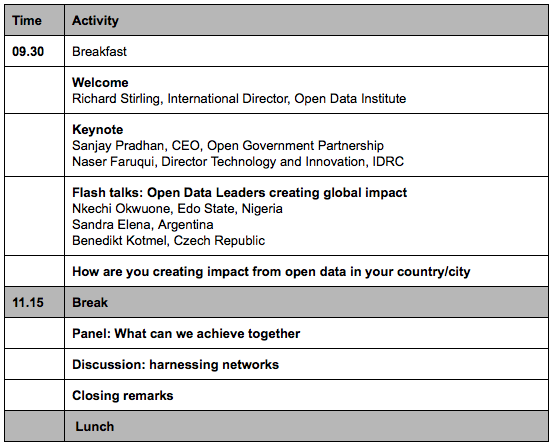 Date and time
Location
International Open Data Conference
IFEMA
North Convention Center, room F
Organiser of Open Data Leaders' Summit, IODC, 2016