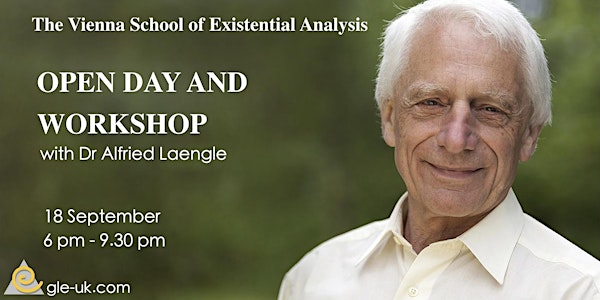 Open Day and Workshop with Dr. Alfried Laengle: Existential Analysis
Event Information
Location
Birkbeck University of London
Torrington Square, Bloomsbury, London
WC1E 7JL
London
WC1E
United Kingdom
Refund policy
Contact the organiser to request a refund.
Eventbrite's fee is nonrefundable.
We're excited to invite you to an Open Day and Workshop with Dr. Alfried Längle, the famous Austrian existential psychotherapist
About this event
These events intended for the wide public as well as for those interested in studying Existential Analysis further. The programme suits all professionals who regularly interact with people, such as psychologists, physicians, social workers, counsellors, coaches and others.
You will have the opportunity to meet Dr. Längle in person and get a solid idea of ​​what existential analysis is and how it works.
OPEN DAY:  18:00-19:30
 There will be an Open Day by Dr. Längle who will talk about four motivations that move a person. It will also raise the issue of the conditions under which a person can live in harmony with himself. Additionally, there will be given an information on the prerequisites and the steps of the existential analysis training.
WORKSHOP:  19:30-21.30
Second part consists of a workshop which will showcase examples of the educational process and a Q&A session with attendees.
The price is £5.
Existential Analysis is a very personal and dialogical approach to psychotherapy based on the phenomenological method. It focuses on the aspect of freedom in the human being and its aim is to create conditions in which a person can live with inner consent and fulfilment. As it deals with the whole person and not the symptoms, it is a method that can be applied to all kinds of psychological problems and disorders.
The GLE International training programme was created by Dr Alfried Laengle in 1991 and is based on the work with Viktor Frankl and his independent research. Today, this training course is highly successful in North America, South America, Russia and across Europe.
DR. ALFRIED LAENGLE
Alfried LÄNGLE, M.D., Ph.D., Dr. h.c.mult., professor and honorary professor, was born in 1951 in Austria where he still lives. He studied medicine and psychology at the Universities of Innsbruck, Rome, Toulouse and Vienna. After years of hospital work in general medicine and psychiatry and in an outpatient department of social psychiatry he started a private practice in psychotherapy, general medicine and clinical psychology in Vienna (since 1982).
At the same time, he came into close collaboration with Viktor Frankl (1983-1991). He assisted Frankls lectures at the university for years and worked together with him in many relevant fields of Logotherapy. He is the founder and president (1983-2017) of the International Society for Logotherapy and Existential Analysis (Vienna www.existenzanalyse.org ), whose honorary president was Viktor Frankl until 1990. By this date, Frankl resigned from his honorary presidency because of Längle's new developments in the field of existential analysis (methods, implication of existential self-experience in the training seminars, rejecting the exclusive use of the meaning paradigm in psychotherapy and enlarging its theoretical basis, implementation of biographical work).
The Open Day and Workshop's detailed agenda can be found at www.gle-uk.com
We're looking forward to seeing you and answering all your questions! Moreover, we're looking forward to welcoming you to the four-year program on existential analysis and logotherapy starting on Sep 20. Learn more
Date and time
Location
Birkbeck University of London
Torrington Square, Bloomsbury, London
WC1E 7JL
London
WC1E
United Kingdom
Refund policy
Contact the organiser to request a refund.
Eventbrite's fee is nonrefundable.