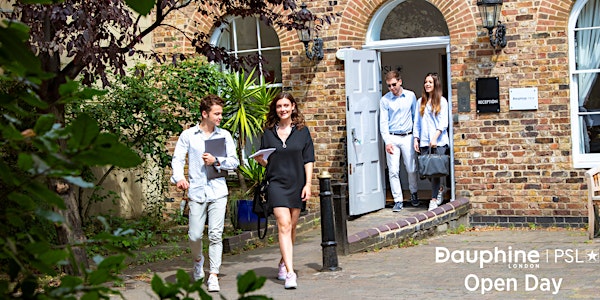 OPEN DAY of Université Paris Dauphine – PSL, London campus
Event Information
Location
Université Paris-Dauphine, London campus
46-52 Pentonville Road
London
N1 9HF
United Kingdom
Open days give you the opportunity to find out more about our Bachelor's in Economics and Management degree offered on our campus!
About this event
See everything we have to offer! Speak to current students, academic staff, and get a feel for our university by having a tour, it's the best way to find out what it's really like to study with us at Université Paris Dauphine - PSL, London campus!
You will have the chance to:
Speak to the Undergraduate Programmes Director and other key staff on our campus
Have your questions answered about the course and specific modules you're interested in
Attend a taster lecture in Economics
Explore campus with a campus tour led by our Student Ambassadors
Find out more about our vibrant student life, the Dauphine London Student Union and its Student Societies
Agenda*:
10:00-1:30pm
10:00am onwards campus opening (welcome coffee)
10:30am presentation given by Academic staff
11 -1:30pm campus tours led by Student Ambassadors / mock lecture in Introduction to Economics
*Agenda is subject to change. A confirmed timetable will be sent to you prior to the event.
Date and time
Location
Université Paris-Dauphine, London campus
46-52 Pentonville Road
London
N1 9HF
United Kingdom