Description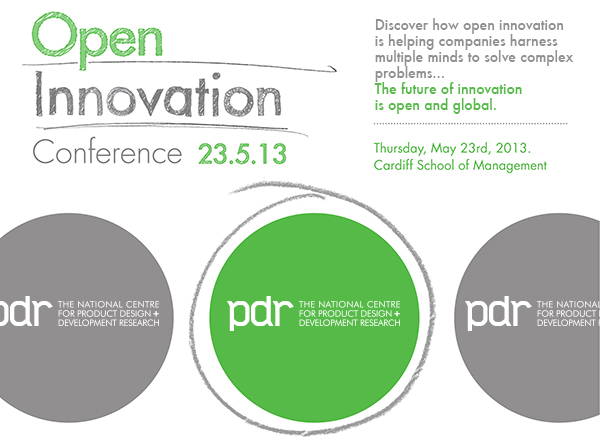 Following the success of the Personalised Innovation Conference 2012 at the Cardiff School of Management, PDR is very proud to announce the next conference in this series.
The Open Innovation Conference will demonstrate how open innovation encourages you to break free from an internal R&D perspective to embrace external expertise and know-how to develop breakthrough technologies, products and services.
Open Innovation is all about using multiple minds to solve complex problems. PDR is has a proven track record of integrating multi-faceted approaches to solving design, development and service problems in our work with SMEs, large businesses and other organisations. Whatever you know about open innovation and its potential value for your business, join the discussion at this forward–looking event.
Speakers from the diverse worlds of defence through to hackathons will describe how their organisations are embracing Open Innovation.

Louise Mothersole – General Dynamics UK Ltd, EDGE® UK
Louise is the Senior Programme Manager of EDGE® UK, a revolutionary concept and state-of-the-art facility providing a range of partners with access to virtual and physical collaboration environments.
Gordon Macrae – Incub (Gripple)
Gordon is the Special Projects Manager of Incub, and a discoverer of exceptional ideas – from any market – bringing them through to the global market quickly using a collaborative open innovation approach.
Chris Young – Welsh Government
Chris is Commercialisation Senior Manager and will talk about how the Welsh Government is supporting open innovation and the potential opportunities for manufacturing/technology companies in this exciting area.
Peter Longdon – Tata Steel Europe
Peter is Manager of New Technology and Innovation at TaTa Steel and is responsible for Tata Steel's external search for new technologies which have potential in their product development portfolio.
Stef Lewandowski – Makeshift
Stef is the founder of Makeshift, a company that collaboratively and rapidly hacks digital products that 'give a leg up to the little guy'.
David Simoes-Brown – 100%Open
David is a co-founder of 100%Open and has helped diverse clients from Cancer Research UK to Unilever and Virgin Atlantic to innovate their messages, brands and products.

Open innovation can be different to every company. Learn about different approaches to open innovation and leave this conference knowing what projects, people, places and activities will benefit from an open innovation approach: harness the power of multiple minds in order to solve complex problems facing your business.
This event is for businesses that are looking to develop new products and services. It will be particularly relevant, although not limited to, those working within the areas of: manufacturing; design; technology; usability; medical products and services.
Representatives from the Welsh Government (WG), funding bodies, TSB/ KTNs are also welcome to attend.

*Doors open at 8:30 for coffee and networking; event starts at 9:00*
Registration is now open. If you have any questions please do not hesitate to contact us:
Chris Brooker at cbrooker@pdronline.co.uk or call +44 (0)2920 416 681
Peter Dorrington at pdorrington@pdronline.co.uk or call +44 (0)2920 417 233
Organizer of Open Innovation