Description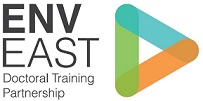 EnvEast greatly values the contribution of all its partners and the researchers working within its institutes. Therefore, we are hosting a 'sandpit' event in order to discuss plans for our NERC DTP2 bid for renewed funding. If successful, our bid will secure funding for a new ARIES DTP (Advanced Research and Innovation in Environmental Science) for studentships commencing between 2019 and 2023. Existing EnvEast partners from UEA, Kent and Essex, are delighted to extend their partnership to include Plymouth University and the Earth Sciences Department of the Royal Holloway London University for the ARIES bid.

This sandpit will provide all delegates with the chance to contribute to the discussions, which will in turn inform the bid for DTP2. The agenda will be as follows:

0930: ARRIVAL, REGISRATION & REFRESHMENTS

1000: Professor Kevin Hiscock
Welcome by the Head of School of Environmental Sciences, UEA
1000: OVERVIEW OF DTP2 PROPOSAL
Introduced by Professor Bill Sturges, Director EnvEast DTP
1020: Q&A
Panel discussion with members of the EnvEast DTP2 Writing Team from UEA, Essex, Kent and Plymouth.
1040: INDUSTRY CHALLENGES AND EVIDENCE NEEDS: STUDENTSHIP DEVELOPMENT
Delegates will split into groups to consider 'hot' topics submitted by research-users following the EnvEast Partner Sandpit Event in December 2017. Each group will give consideration to the evidence needs and industry challenges in one of the DTP2 thematic research areas (listed below), working collaboratively to develop a tangible studentship project.

Ecology and Biodiversity

Marine, Atmospheric & Climate Science

Geosciences, Resource and Environmental Risk

Environmental Genomics and Microbiology

Agri-environments and Water
In response to research-user feedback, all groups will consider if and how key cross-cutting themes can be incorporated:
1) Interaction with social sciences; 2) Data management & analysis
1150: OPEN GROUP DISCUSSION
Groups to provide verbal feedback of their discussions, any arising studentship proposal(s) and open discussion will consider any cross-thematic synergies arising from proposed studentship projects.
1230: LUNCH & NETWORKING
1315: SKILLS: TRAINING PRIORITIES & OPPORTUNITIES FOR ENVEAST 2
Delegates will split into groups to consider cross-disciplinary skills and identify training priorities and opportunities for EnvEast 2. Delegates will receive a document summarising seven cross-disciplinary skills identified as a priority in the 2012 NERC 'Most Wanted II' report, and recently identified as skills gaps by a cross-sectoral range of environmental stakeholders at the EnvEast Partner Sandpit event held in Cambridge on 12th December 2017.
Modelling

Multidisciplinarity

Data Management

Numeracy

Business, Management & Communication

Fieldwork

Risk & Uncertainty
1415: GROUP FEEDBACK & DISCUSSION
Groups to provide brief verbal feedback of their discussions and training recommendations for DTP2.
1445: REFRESHMENTS & NETWORKING

Delegates will be welcome to continue discussions and networking, and will have the opportunity to discuss any matters arising with a member of the EnvEast team. This will be an informal and open session, providing an opportunity to continue defining research and training needs.
1530: CLOSE
---