Description
Ignite Your Creativity In The City Retreat...
Saturday 10am - 5pm 21st September 2013
This bespoke creative making and thinking day has been specially made for those of you who find it hard even to retreat away from the city for a weekend.
Picture yourself slipping away for the day to a magical place hidden in the East of London - that really is a hidden gem...
One step through the front door into the creative making hub you will feel inspire, welcomed and at home.
Investment
£80 (waged)
£60 concessions (full time student/low income)
£45 - SHE Choir & Oh Comely** reader offer
** bring a current edition with you!
We deliberately keep the group size intimate to no more than 12 places*
Secure your place by sending your deposit NOW
£30 deposit - your remaining fee due on the day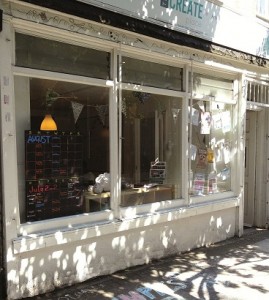 Venue
The Create Place, 29 Old Ford Road, Bethnal Green, London E2 9PJ
What will you being doing?
Together during the day you will re-ignite your unique version & vision of creativity in this special hub space created to champion all forms of creativity in the heart of bustling East London.
You will be encouraged and supported to play with making your own personal road map, hand folding and filling your personal guide book and experiment with your unique creative ways to think and make creatively on your own or in groups.
The session runs promptly from;
10am - 5pm Saturday 21st September 2013
Investment of your time 7 hours over a Saturday £80 / £60
We deliberately keep the group size intimate to no more than 12 places*
For your gift to yourself you will receive;
Benefits - based on feedback from previous retreaters
Feeling myself in free flow and connection within an extraordinary group

The reconnection I had with my own sense of play

The feelings of great joy from creative making especially my handmade book

Being in the group helped me to see I can do what I creatively love to do and that what was missing was the 'community' of creative explorers to do this with me

Re-connection to fun whilst being grounded and connected at the same time

How important being in a trusting and supportive atmosphere brings about pure creativity, love, warmth and this helped my creative process no end

To know in myself I am on my right path

To have re-discovered that place within me where creativity lives - to have re-discovered my creative engine
Features
Personal creative coaching and mentoring from Anna B. Sexton on both days

Work with guest creative professionals - Penny Stanford - hand made book maker & fine art printer

All creative materials

Morning tea & coffee and pastries

Afternoon tea
* one place on the day is gifted to those of you who feel a calling to join in & right now it's not doable to join please email anna@opentocreate.com for more details of how to apply
Call Anna B. Sexton 07941 655 856 to let us know your needs
or email anna@opentocreate.com
Join in with the conversation via Open To Create... dedicated events page
Organiser of Open To Create... presents Ignite Your Creativity retreat day in the City
"Growing robust, healthy & sustainable creative humans"
Open To Create... hosts Dinner & Drawing, Get Lost Artist Walks and Retreats that are fun, accessible and social.
Our events are hand-made with love, creativity and quirky twists...
At Open To Create... we believe that  You don't have to be an artist to be creative!
Our events are designed to enhance your Everyday Creativity.
Open To Create... is a social enterprise offering Unique and Creative Events, Festivals, Creativity Coaching, Entrepreneur Training and Team Away Days for individuals, organisations and communities.
Please contact Anna B Sexton to find out more about our events and other ways that we can support you to be more creative at home, work and in everyday life.
Contact: Anna B. Sexton
Email: anna@opentocreate.com
Telephone: 07941 655 856
Join our creative community online:
Facebook: /opentocreate
Twitter: @opentocreate
Instagram: @opentocreate_