Annual invocation and ritual to Mami Osun honouring her love, healing waters, nurture and divine abundance
About this event
You're invited to join the annual river ritual in London, coinciding with the week-long Oshogba Festival in Yorubaland (Nigeria), which starts on 15th August. As always our focus in honouring Mami Osun is for love to manifest, for healing to fully vibrate and to experience abundance in all areas of our lives. We celebrate Mami Osun to channel all things sweet and smooth like the flow of her favoured honey and cool waters.
We join hearts and voices to summon the magnificent power of this most sensuous, generous and nurturing Orisa. We bring our full offerings of all her special food to thank her for always sweetening our lives, despite the discontents and upheavals we experience. You will join others in the spirit of Ubuntu, coming together in love, thanksgiving, peace and joy, and be charmed by the empowering vibrations of communal ritual.
About Osun and her healing waters - river force
Osun is the Orisa (and mother) of sweet, fresh waters. She is a source of well being. As one of many forces of nature in the Yoruba Ifa tradition, she represents healing, nurturing, creativity among many other impressions. She is also increasingly one of the most revered Orisa in the pantheon in the African diaspora.
Nurturers, as Mami Osun represents, can be both sweet and comforting and strong disciplinarians. She can therefore take up serious causes on our behalf - fighting those unwanted energies that unsettle us from time to time. You will know what these are personally for you.  Rivers, Osun's symbol, either flow gently and sweetly or can be rapid and raging.  But waters are ever cleansing, renewing and bringing life, healing and abundance. 
What to bring (your offerings to Osun )
These are all symbolic, representing abundance, love, prosperity, mysteries (as in the secret way water is in the coconut), beauty, fertility, creativity and so on. 
- 1 coconut (dry one)
- green plantain - half (if you have or can get one - peeled and cut it into dices)
- buy a small piece of yam (get locally - but don't worry if you cant. If you can, you need to peel and cut into dices - ideally - roast it a bit in the oven - you can probably do it the night before?
- brown sugar (not loads - some of what you have already at home)
- boiled sweets (at the river, you remove the wrappers)
- sweet biscuits
- popcorn (uncooked kernels)
- a cheap £1 shop mirror (a small one)
- tiny bit of white cloth (or paper)
- bottle of drink (small one - like Grace or one of those makes)
- fruits (light coloured - eg honeydew melons, tangerines, bananas)
- honey
- coins - not pounds
- 20ps/ 10s and 5s
- if you have cowrie shells
- bring a few/five (but don't worry if you don't)
- herbs (mixture/any greenery/healing ones or ones for flavouring)
- flowers - white/yellow
- incense- small perfume/fragrance oil (get a sample bottle from somewhere?)
- a tray to place your offering on (this won't go into the river unless it's biodegradable) - it's to place the offering on before it goes into the river.
Anything that expreses your creativity, sensuality, fertility.
- your lunch/snacks to eat after in the park (Optional)
ALSO
- Music making items - bells, shack shack (maracas), flutes, what you have can make music, drums- Write your desires/aspirations on a piece of paper (fold very small, which can go as part of your offering)
What we will do
This is a light-hearted experience of deep significance, and is not meant to be complicated but ultimately express readiness and willingness to be part of shared ritual experience in the honour of the goddess of love! We gather in her name - walk towards a spot where we can lay our offerings. We sing, make music and experience the Love Vibration of Mami Osun. If you want to leave after the ritual you can, otherwise you can join us in the park to relax and enjoy late lunch,(weather permitting).
What to wear
We wear white for purity, peace and unity. In the diaspora, yellow and white are used for Mami Osun. However, this is usually white in Yoruba. It's up to you whether you do either or both, main thing is to be comfortable in what you wear. The looseness of clothing reflects the free flow of river, free flow and welcome of the gentleness the river source. Certainly wear comfortable shoes for small walk to the main ritual area. We can go into the water, so you might want to bring something to put on your feet to allow this.
OBSERVE SOCIAL DISTANCE according to current guidelines.
Prepare before the day
Find a little space (time) to commune with yourself and decide your personal objective for being part of the ritual.You can look up Osun and what she's about. The sources online are generally okay. (We are deliberately avoiding being prescriptiveness to allow you to intuit for yourself.) Part of the process is your self-initiated readiness to be open and allow spirit to guide you. Avoid discussing what you plan to do with those who just wont appreciate it. But do let your brother/sister who is interested know and bring them too! 
Where to meet?
We meet outside the Sainsbury's/Marks and Spencers in Colliers Wood.
To get there: By tube: Northern Line to Colliers Wood. Walk ahead as you come out of the station. You will be on the opposite side of Holiday Inn. Go past the white tower building, past Burger King, and you'll come beside a river from where you can see the Sainsbury's.By Car: you can put in the Sainsburys in Colliers Wood. As it's a Sunday you can park on side Streets off the road, opposite or next to the Sainsbury's or on the yellow lines on the other side of the road.
From there we will walk towards the location of the ritual. The walk altogether is about 20-30 minutes , where MORDEN PARK is. If you're late (try not to be!) and we've set off, follow the footpath along the river next to the Sainsbury's. When the path ends, you'll come to a road, go through an arch to cross the road, keep following that path. You'll eventually come to another road, cross that and keep walking till you find us. Follow the folks in white or listen for music. Please observe guidelines about social distancing, as this will be your responsibility and should you wish to wear a mask as required.
We will keep you informed nearer the time should there be any changes.
REMEMBER to Dress up if you want, don't be modest - if you want to show off your OSUN in dress and style - go for it! For example, she also represents beauty - one of her symbols being the fan. Express yourself but be comfortable.
Learn a tune to the Goddess and share with the group, if you like too.
CONTACT: michelleyaa@waywivewordz.com for more information about the day.
See you then... and please share the flyer/link
Photo Credits: top two below Adele Gonsalves.
Please consider signing this petition: https://www.change.org/p/uk-government-legalise-african-indigenous-spirituality
UPDATED: here are some instructions for a smooth flow, on the day, if you're booking on Saturday/Sunday:
Mami Osun greetings of love to you...
A week to go before our Opening to Spirit Osun River Ritual. We are so looking forward to celebrating the spirit of love, joy, abundance, peace with you. To ensure these energies are enhanced, this is to update you about the day.
We are connecting with the Osogbo festival which begins on 15th August: this is last year's in Osogbo: https://www.youtube.com/watch?v=Q4_X5XO62sA - check out the adornments etc...
Remember to wear white, yellow - bright colours; and adorn yourself as decoratively as you wish to harness the energy of love, beauty, sensuality, health, abundance/prosperity (cowries, flowers etc).
Bring you abundant offerings (see earlier Event details); bring music. If you have a portable speaker, please bring this.
Note: you are responsible for yourself and anyone you come with, especially children, and of course your belongings (be safe)
Note: this is a public space - we must respect it and all those who are also using the park. If anyone is 'interested' in what we are doing, please respect this interest and communicate with Mami Osun's sweet honeyness.
Create: Mama Osun is about creativity, joy, love, fertility - try to reflect these vibrations in the days leading up to the ritual. The imagination, creativity etc are also part of her force/energy - you will be creating a beautiful offering in her honour on this day. It will represent your self-love, abundance, joy, creativity and health/wellbeing. If you can dance, dance, if you can sing, now is time to sing, if you can do any form of art, do it now... if you can play drum, bring your drum and drum...any musical instrument enhances spirit energy. Vibes on these chants https://www.youtube.com/watch?v=uv8B8r5H528&t=11s
Help each other: if you have attended before and see others who might not be aware of the process, please assist each other.
collectivism: Some of your offering will be used to add to a collective/communal basket/tray. Please add this as you see fit.
Join us in calling on the rain to hold back so our ritual can be blessed but not drenched! You have the power to realise this...focus on this throughout the week!
Social distance: observe this as required and as fitting!
The river water is shallow - if you want to go into it, you may, but please be careful, have appropriate shoes to do so...perhaps bring extras! Wear comfy shoes as we have to walk about 20 mins to the location...this is following the river and chanting to Mami...
Bring lots of music-making items, your songs, etc to play as we walk to the location.
MEET UP
Please arrive by 1 pm outside the Sainsbury's M&S in Colliers Wood. There is free parking around this location and in the Sainsbury's car park for 4 only hours. Address:1 Merton High St, London SW19 1DD: you can arrive early enough to buy your offerings here or at the nearby Aldi's (Priory Retail park, London SW19 2PP)
You can also get to Morden Hall Park - and park in this vicinity - as we will be heading there from Colliers Wood meet up: Morden Hall Rd, London, Morden SM4 5JD. Once there, look for the large Palm Fly and head to an opening about 2 mins walk from there.
You can look out for white pieces of cloths along the way from Colliers Wood Sainbury's - if you arrive later than 1.30pm as we should be moving off by this time.
IMAGES:
As we are trying to rePresent African Spiritual systems from our perspective, we welcome photos/videos. If you don't want to be pictured please avoid cameras/phones as we will share these on our social media. We encourage you to share yours too. Please do not share pictures of children if they are not yours!
We welcome the opportunity to promote the ritual with images taken on the day, and trust you give consent by attending.
If you have any questions do contact us.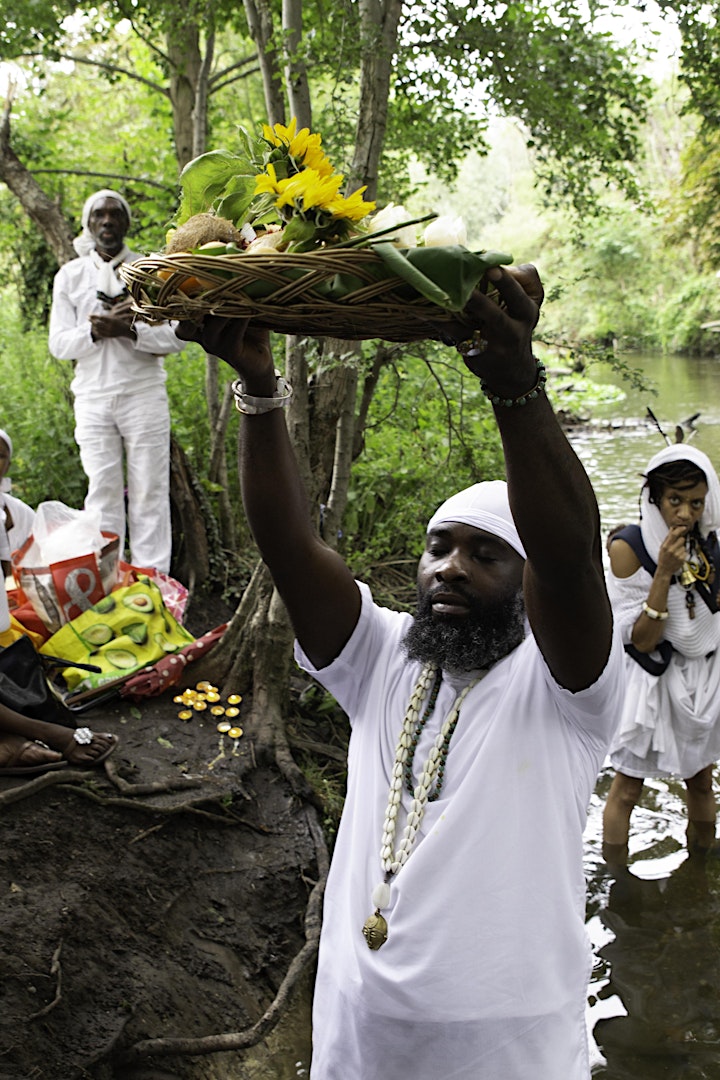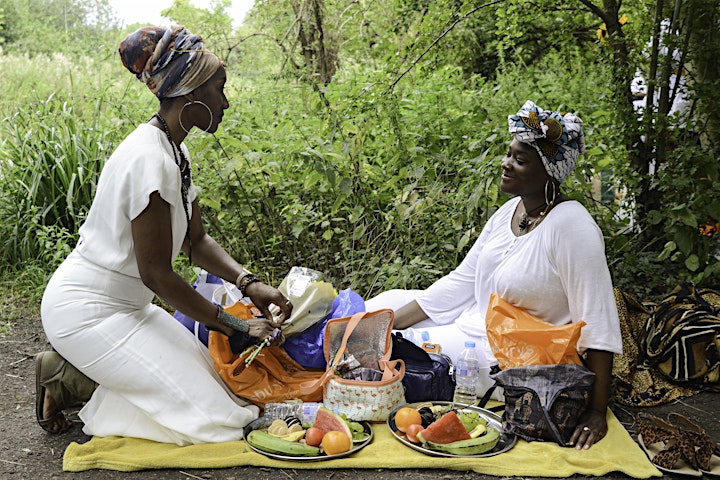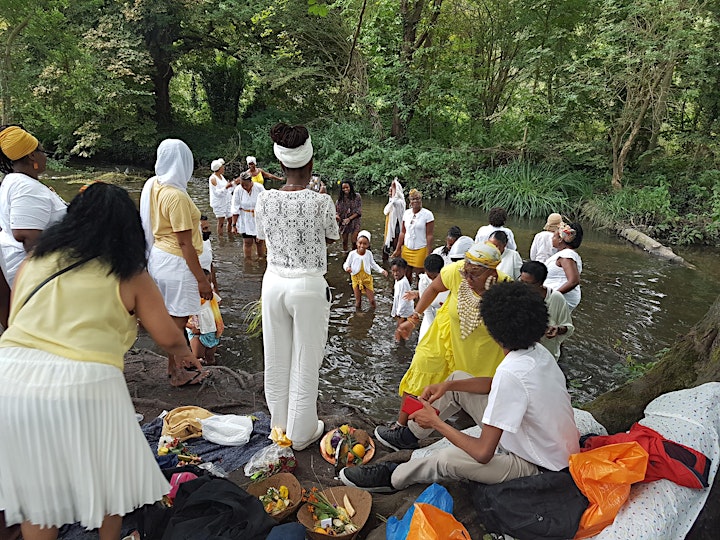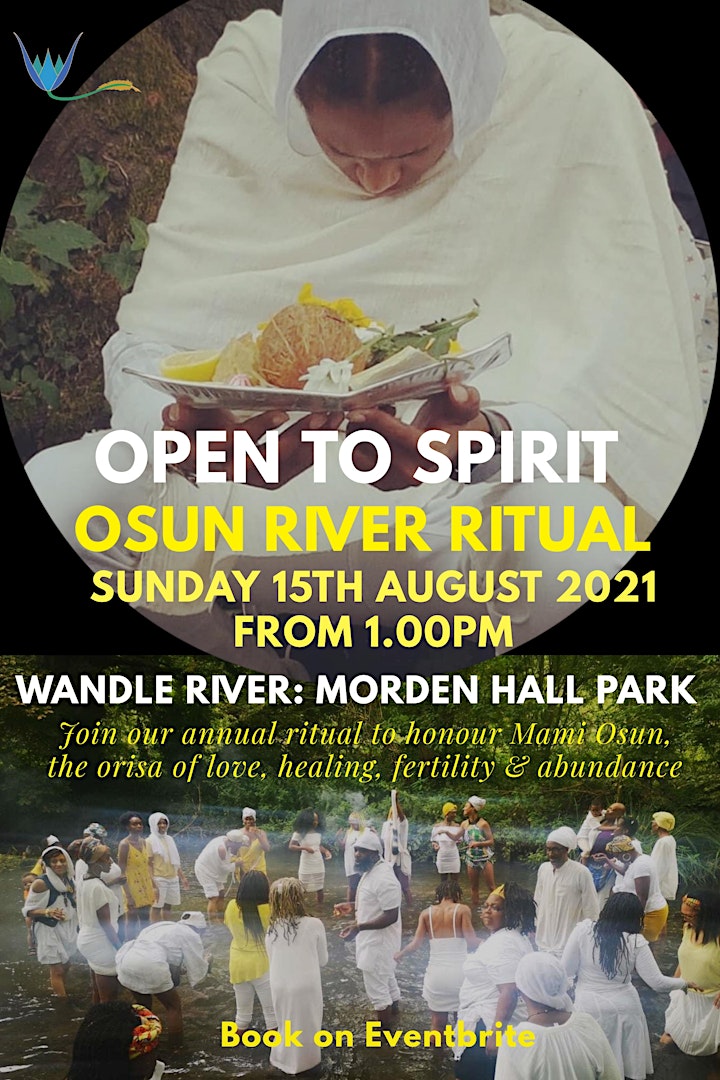 Organiser of Open to Spirit Osun River Ritual
Way Wive Wordz specialises in a range of writing and educational initiatives:  publishing, editing and tuition. 
We provide a platform for new, undiscovered, underrepresented voices to make their creative mark in the world of writing. Words are a gift to the world. When expressed with consideration and uniqueness they have a remarkable power to transform lives. Through intimate engagement with this power we feel it's possible to achieve personal success in all areas of life. We take aspiration seriously and pride ourselves in recognising and nurturing talent. 
See Website for details: www.waywivewordz.com