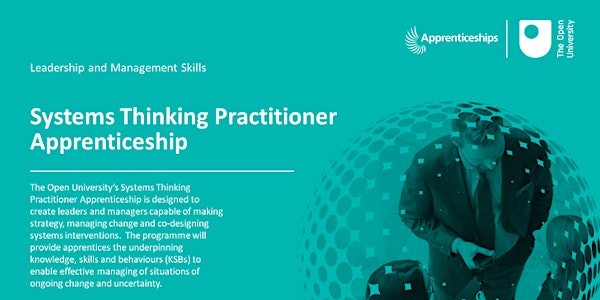 Open University Systems Thinking Practitioner Information Webinar
An opportunity to find out more about the Systems Thinking Practitioner Apprenticeship
About this event
This webinar is to provide information on the Systems Thinking Practitioner Apprenticeship - what it is, how it is delivered and information about the requirements of the apprenticeship. You will find out what the commitment and expectations are, should you start this programme of study.
Date scheduled currently for Open University staff:
Tuesday, 8th February from 10:00 - 11:30
The IAG webinar is a mandatory part of the apprenticeship application process, should you wish to apply for the Systems Thinking Practitioner Apprenticeship Programme.
Please note, you will not be able to access the webinar directly through Eventbrite. Once we have received your date request through Eventbrite, we will email a separate Microsoft Teams calendar invite.