OPEN YOUR EYES - COURAGE TO BEGIN TASTER SESSION
About this Event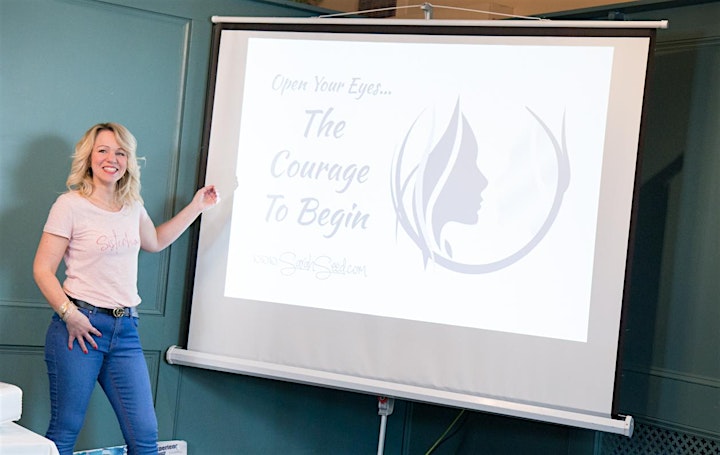 As a sensitive woman, are you...
Feeling constantly overwhelmed with the demands of life?
Do you struggle with procrastination and end up feeling unmotivated?
Would you love clarity and direction to help you focus on what to address first?
Are you tired of constantly overthinking everything, and feeling too sensitive to the demands and needs of others?
Are you easily drained and end up feeling exhausted a lot of the time?
Life feels like a never ending cycle of dealing with challenges and curveballs which leave you feeling like things will never change.
You have whispers of a dream, or a big dream, yet feel restless and uncertain
You are seeking real meaning and purpose in life but no idea where to start?
If this is you, join us at my FREE online LIVE coaching session on Wednesday 27th January at 10am UK time.
Years ago, all of the above was how I felt every day.
I used to hate it when I felt a sadness and restlessness that I couldn't explain to others, like something was missing in my life, but I couldn't work out what it was.
AFTER HITTING ROCK BOTTOM, I MADE A PROMISE TO MYSELF:
I refused to settle or live a life half lived, I spent too many years people pleasing, living life for others or seeking others approval and yet it felt so scary listening to my inner truth.
I was tired of everyone telling me how I SHOULD live my life, how to raise my kids, how to have the perfect home, how I had to be the perfect partner, how to be a working Mum, what job I should do, how I should spend my time and who with.
I was exhausted living up to an identity that I didn't even know was truly me, labels and the constant comparison and I finally decided it was enough.
I wanted to live a life I truly loved and that felt right for me and I wanted to be true to myself no matter what.
Despite spending huge amounts of time, money and energy reading books, attending courses and retreats and anything else I could find, I still came out the other side really none the wiser and still not knowing who I really was.
I felt like I was on an endless treadmill to be more, achieve more and have more and please everyone around me, desperately seeking approval and yet felt so empty.
I was left feeling restless, dissatisfied, and questioning – IS THIS IT?
All of this left me feeling guilty.
UNTIL MY BIGGEST LIGHT BULB MOMENT EVER where everything started to change for me!
I then discovered the real reasons for why I felt so lost, stuck, restless and overwhelmed as a sensitive woman, and it completely turned my life around as it's not what we often think it is.
As a result of my own personal breakthroughs around this and coaching so many other women to free themselves from this hideous cycle, I'm super passionate now about opening women's eyes to the real TRUTH and to making it easy for them to move beyond it.
When you get to the bottom of what's been holding you back and learn how to move forward in a whole new way, you get to:
♥ Create clear boundaries, say No when needed, and lovingly yet firmly stand in your truth even when your children, your partner or friends might feel disappointed.
♥ Look at yourself in the mirror and learn to like, accept and love what you see, creating a deep connection with yourself which in turn creates more connection with those we cherish.
♥ Make all your choices and decisions in life from a place of clarity and courage rather than fear, doubt or confusion.
♥ Stop self-sabotaging and procrastinating in all areas of your life including health and work and feel purposeful and focused.
♥ Ditch any imposter syndrome and develop the courage and freedom to be all of who you are here to be so you feel purposeful and passionate about your life.
♥ Ditch that 'never enough' feeling as a mum, a friend, a lover, in work or business and develop strong self esteem.
If you are ready to discover how to reclaim YOU and your life, join me and other like minded women for the 'OPEN YOUR EYES – THE COURAGE TO BEGIN!' TASTER SESSION ONLINE EVENT ON Wednesday 26th Jnauary from 10am 11.30am.
This is a FREE life changing online event where you will learn the following:
* The ROOT CAUSE and the REAL REASON for feeling lost, stuck, frustrated, overwhelmed, procrastinating, doubtful, stressed, guilty and never enough
* The first SECRET we MUST OPEN OUR EYES too overcome this negative vicious cycle
* Why we really proctastinate and the only way you will truly ever motivate yourself.
* Where and how to start the process of changing how you feel about yourself and life.
AND SO MUCH MORE...
One of the biggest questions I get asked is 'Where and how do I even begin!' –
Right here, with this AND you will also leave knowing what to implement moving forward.
This is a chance to learn how you can be helped continually with challenging any limiting beliefs, overthinking and fears.
You will finally realise why Coaching by an experienced Mentor really is the lynchpin for motivation and focus.
Come and join other like minded sensitive women who are ready to ditch the guilt and reclaim themselves.
'Understanding what was really at the core of my procrastination, feeling lost and stuck was mindblowing. I learnt more in a couple of hours with Sarah, than I have done with years of therapy and counselling, so powerful' - Caroline
'I feel inspired, energised and in awe of Sarah's passion to help women live the life they want. Sarah is inspirational and I hung on every word. I felt lost and struggling with challenges before and now after hearing Sarah speak feel I have real strategies to start implementing. Her journey resonated so much with me and I am in complete awe of her strength and self belief. Sarah is incredible' – Lisa
'Wow, I finally get it! As a Sensitive soul this allowed me to tune into my feelings and then also get clarity and focus on what needed to change. Loved it and feel forever grateful- Claire
'A life changing event for me which well and truly opened my eyes! Thank you so much Sarah for giving so generously and freely' - Katy
And now, its your turn to understand the real reason you feel the way you do and how to start to change your story and create a life you love.
Simply book your FREE ticket to reserve your space
With Love and Courage
Sarah x