Location
ONEROOM Gallery
9 French Place
London
E1 6JB
United Kingdom
An exhibition featuring sensorial provocations by young artists, in conversation with design interventions about death.
About this event
Death has always been a subject that intrigued humanity because of how uncertain it is despite being so present in our lives, religions, different cultures, and in our daily news. Inevitably we are all going to die, yet, death is always perceived as something merely negative, something to be scared of, and as a traumatic experience when we experience it with someone we love.
As the Spanish writer Rosa Montero said, "Not everything is horrible in death, even if it seems a lie" and that is precisely what this exhibition is about. Breaking down what death means and exploring a new alternative to approach it emotionally.*
Interventions on the topics:
Allowing ourselves and others to feel, Understanding death, Celebrating life and Beyond Death.
In conversation with pieces from artisits:
Mae Chan, Sculpture
Shirui Yang, Sound
Marco Ferraro, Smell
Pierre Engelhard and Nicola Perikhanyan, Audiovisual.
_
About the Designer and Curator
Aura Murillo is a Mexican artist and designer currently developing her practice at the Royal College of Art and Imperial College London as part of the Global Innovation Design programme.
She has developed projects in Mexico, Copenhagen, Barcelona, Italy, Japan, Thailand, Taiwan, and now for the first time she is exhibiting simultaneously in London and Singapore.
Her work focuses on the intersection between art and design with a strong focus on reflecting on social topics and human behavior.
With an overwhelming firsthand experience of the death of her father, the opportunity to explore death and to question her perceptions led her to design the interventions and to invite young artists to question their own experiences with it. MORTEM then extends to the audience as an exploration, halfway between personal memory and collective experience with an open exhibition full of emotions, intimacy, and complicity.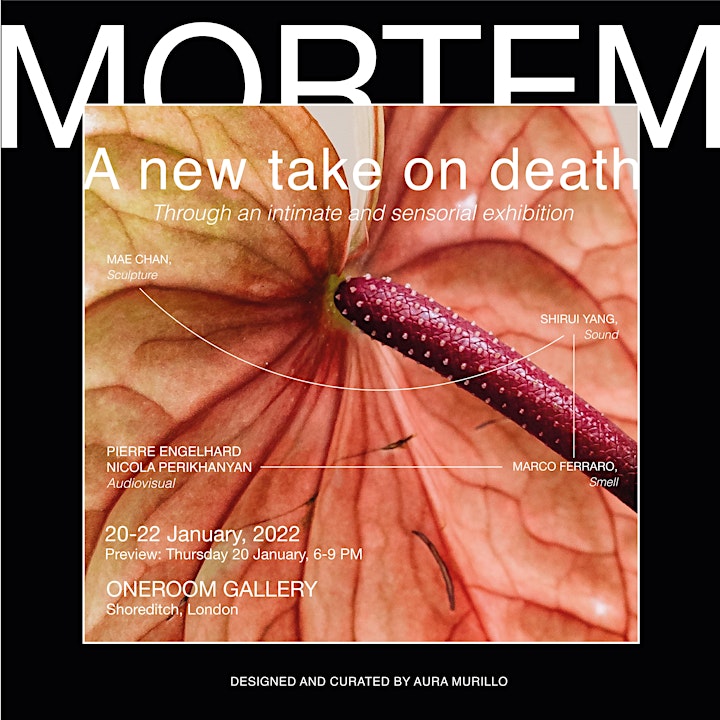 *This exhibition deals with sensitive subjects, particularly how we perceive death and grief. It may bring up strong emotions, discretion is advised.
Following current COVID guidelines, please register your attendance before the event and wear a face mask during the exhibition.