Location
Studio Voltaire
1A Nelsons Row
London
SW4 7JR
United Kingdom
Join us for the opening previews of Every Ocean Hughes ' One Big Bag' and Zakiya McKenzie, 'Testimonies on the History of Jamaica'
About this event
Please note that booking is essential, and admittance to the preview will be on evidence of a negative lateral flow test within the preceding 48 hours.
Please book a slot for the following times:
2–3.30pm
3.30–5pm
5–6.30pm
6.30–8pm
One Big Bag
One Big Bag centres on a Millennial death doula and the items in her 'mobile corpse kit'. The immersive film installation asks vital practical, political and poetic questions contributing to a necessary and growing debate around end–of–life practices.
With a matter–of–fact demeanour and intense physicality, the death doula's monologue guides viewers into the largely uncharted waters of 'corpse care'. She performs her work with everyday items manipulated to profound use – caring for the newly dead as well as loved ones left behind. In the immersive installation these sometimes mundane items – cotton swabs, water bowls, ceremonial bells, snacks and painkillers – are suspended from the gallery's vaulted ceiling. Each item is hung at the specific height it is used in relation to the body, allowing the audience to inhabit her work.
Hughes considers her subject from an explicitly queer perspective, exploring new references, vocabularies and aesthetics with which to reorient our approach to surviving and dying. Speaking to ritual, social and political questions about end of life practices, Hughes scrutinises the wider inequalities of the death industry including the economic burden of funerals, racism in medical care and funeral practices, and the bureaucratic barriers which effect queer communities and curtail individual agency in death.
Threaded with humour, grief, unknowing and a desire for justice, Hughes' work encourages us to turn towards that which we strive so hard to avoid.
One Big Bag is co–commissioned by Studio Voltaire, London and Institute of Contemporary Art, Los Angeles. With additional support provided by Whitney Museum of American Art and Arts Council England.
Studio Voltaire's opening programmes have received support from Cockayne Grants for the Arts (The London Community Foundation).
One Big Bag is commissioned alongside Desperate Living, Studio Voltaire's ongoing programme which brings artists, public organisations and informal groups together to test out new and experimental forms of collaborative programming, knowledge sharing and production, explored through the lens of LGBTQIA+ healthcare.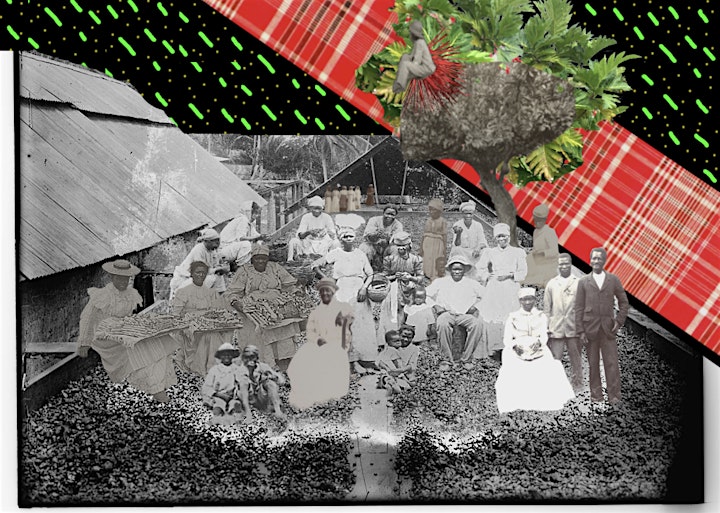 Testimonies on the History of Jamaica
From October–December 2021, McKenzie was in residence at Studio Voltaire. During this period, she explored what happened to the environment of Jamaica during British colonisation of the island, beginning in the 17th century.
As a starting point, McKenzie has studied a number of natural resources and places in Jamaica – in particular the Lignum vitae tree and the summit of Catherines Peak in Saint Andrew Parish. The artist has sought to create first–person responses questioning how these vital resources were incorporated into the culture of England's empire.
In a new sound work, characters from the Court of Caribbean Reconciliation in McKenzie's debut pamphlet, Testimonies on the History of Jamaica Volume 1 (Rough Trade Books) are played by members of the Jamaican–based Equiknoxx Music collective. Characters from her Elegy for Lignum Vitae essay in The Wild Isles: Best of British and Irish Nature Writing (Head of Zeus, 2021) also make an appearance to give witness before the crowd. The display also includes accompanying photo and video collages comprising material found in digital archives on the Caribbean.