Open Technology for Sustainability Day at COP26 | #openukcop26
About this event
Keynoted by Lord Maude
Open Technology is critical to sustainable technology
This event is sponsored by Red Hat and Federated Hermes.
OpenUK Sustainability and Open Technology Day on 11 November takes a hybrid format live streamed directly from the Federated Hermes Skypark Fringe Village, Glasgow.
Schedule and Additional Speakers TBC due to COP and Pandemic arrangements.
Content
Opening:
Amanda Brock, CEO OpenUK and Special Guests
Keynotes:
Lord Maude of Horsham
Second Keynote TBC
Launch of the OpenUK Consortium Data Centre Blueprint:
Video Launch
Introduction by Moderator:Cristian Parrino, Chief Sustainability Officer OpenUK
Panel:
Amanda Brock, CEO, OpenUK
Leanne Kemp, Everledger
Lucy Yu, Centre for Net Zero
Max Schulze, CEO, Sustainable Digital Infrastructure Alliance
Open Collaboration Opening Sustainability led by Red Hat:
Introduction by Moderator :Grainne Hamilton, Co-Founder, InterChange
Panel:
Catherine Stihler, CEO, Creative CommonsKeith Bergelt, CEO Open Invention Network
Keith Bergelt, CEO, Open Invention Network
Salem Avan, Director, United Nations
Chris Baynham Hughes, Red Hat
Lunch - Demonstrations from the Learning Dome and video content
Opening Up the Energy Sector:
Introduction by Moderator: Gavin Starks, CEO, Icebreaker one
Panel:
Helen Crooks, Head of Data, OFGEM
Special Guests TBC
OpenUK - building the Sustainable Open Future for the UK:
Introduction by Moderator: Matthew Barker, President and Founder JetStack and OpenUK Entrepreneur in Residence
Panel:
Amanda Brock, CEO, OpenUK
Dr Jennifer Barth, Director of Research Smoothmedia
Liz Rice, Chief Open Source Officer, Isovalent and Chair CNCF Technical Oversight Committee
Lowena Hull, Second Year Student Cambridge and OpenUK Kids Course Creative Director
Will Page, Economist and Author
Thanks and Gratitude: May Cheung, Chief of Staff, OpenUK
Wrap Up and Review of the Day
Amanda Brock, CEO, OpenUK
OpenUK is the UK's organisation for the Business of Open Technology and has a purpose of Developing UK leadership and International Collaboration in Open Technology for Sustainability, being open source software, open hardware and open data.
The goal of the Day is to demonstrate to Governments, public and private sectors that Open Technology is a key enabler of sustainability - ecologically, socially and economically. Critical to this is UK skills development in technology and in particular Open Technology. The UK is Europe's leading contributor to open source software and a world leader in open data and open hardware.
The event will host over 150 in-person attendees from Open, the public sector, Governments and business who will share with our online participants sharing:
Keynotes including Lord Maude of Horsham, the Hon Francis Maude, former Cabinet Minister and instigator of the UK's current policies on open technology;
OpenUK's Blueprint for a net zero data centre of the future built on open technology which will be housed and developed as an international collaboration with the Eclipse Foundation, post COP26;
Opening up the Energy Sector led by Laura Sandys, leader of UK Government's Energy Digitalisation Task Force and Gavin Starks, Founder of IceBreaker One;
A Red Hat led workshop on how learning from open source can facilitate collaboration to build diverse, equitable and sustainable technology;
OpenUK Founder Forum and Entrepreneur in Residence and OpenUK State of Open: The UK in 2021 Report updates.
Update from the Learning Dome and an opportunity to see demonstrations of interactive, micro:bit based technologies and content to enhance digital learning and open technology skills and engagement for young people.
Learning partners include the micro:bit Foundation, MonkMakes and OKDO. OpenUK will showcase its Open Kids Camps sponsored by Red Hat. Participants in the Camp use a digital glove inspired by MiMu to undertake coding exercises using MakeCode, Python and Java whilst learning about open source software and the sustainable development goals. In 2021 OpenUK will give away 5,000 digital gloves sponsored by Nominet and the Open Data Institute, 1,200 of these being distributed complete with micro:bits for the benefit of digitally excluded young people. OpenUK Learning Dome content will not be live streamed but will be shared post event.
Uptime Punks
Hosted by Paul Hammer & Tim Schorno.
Uptime Punks will be podcasting from the event on the day.
Find out more and listen in at Spotify.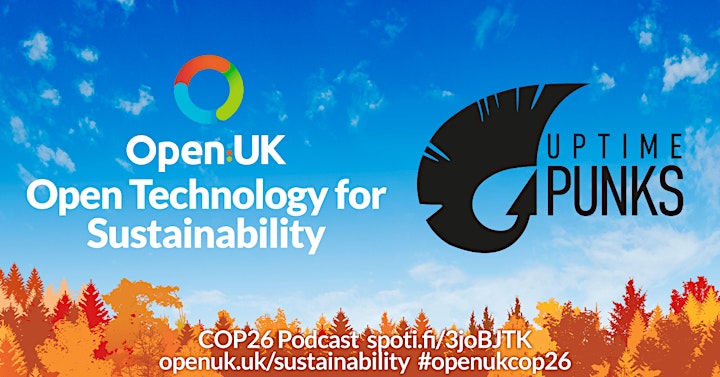 Attendance at this event is subject to the following OpenUK policies:-