The London Ambulance Service FC will battle it out against the London Fire Brigade FC in the inaugural Operation Braidwood Charity Shield.
About this event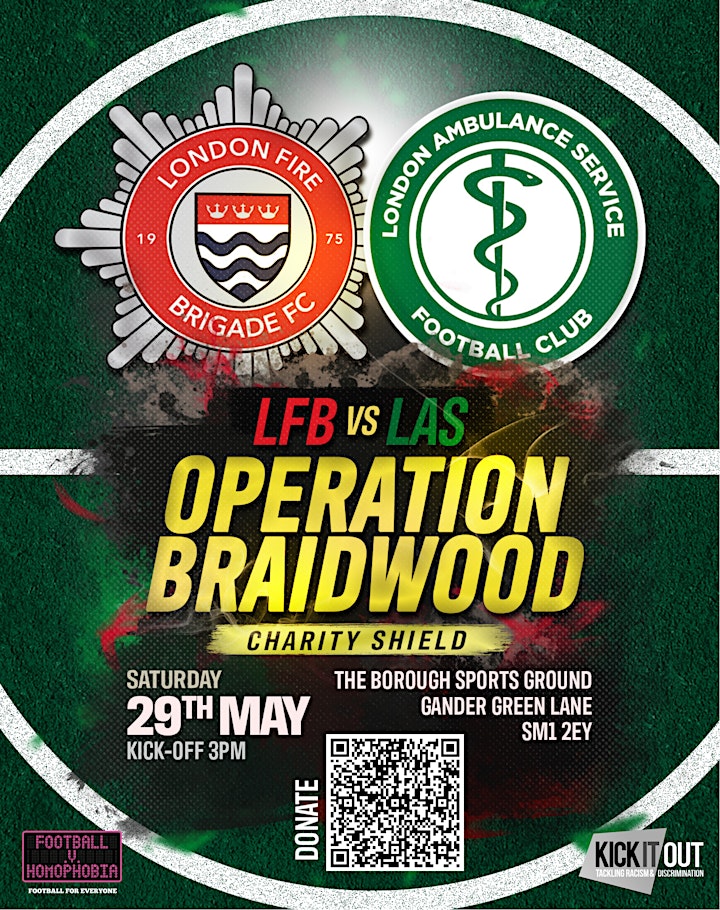 During the Covid-19 Pandemic, the London Fire Brigade stepped up to help support their colleagues in the London Ambulance Service providing medical care to Londoners. In recognition of this partnership, the LAS Football Club and LFB Football Club will battle it out on May 29th 2021 for the inaugural Operation Braidwood Charity Shield at the Sutton United FC ground Gander Green Lane.
Operation Braidwood, which saw firefighters driving ambulances to assist London Ambulance Service and responding to Covid-19 deaths in the community, is the most significant collaboration project London has ever seen.
It has involved the largest deployment of firefighters outside the London Fire Brigade and is the longest sustained operation the Brigade has seen since the Second World War. Around 500 staff who were part of it will be presented with specially commissioned commemorative coins and certificates.
The whole organisation adapted to new ways of working while continuing to provide a 24/7 emergency service to one of the largest cities in the world. The Brigade helped deliver 20 million pieces of PPE, firefighters drove ambulances to more than 110,000 incidents and staff also delivered food and medicine to vulnerable people.
Among the calls attended by the 450 firefighters who drove ambulances as part of the Ambulance Driver Assist (ADA) programme, there were:
• 9,851 cardiac arrests
• 944 pregnancy-related incidents
• More than 56,000 patients taken to hospital
• Over 9,000 Covid-specific calls
• In excess of 6,300 patients with breathing problems
All funds raised will be split equally between The Ambulance Staff Charity and The Firefighters Charity.
The Ambulance Staff Charity is dedicated to supporting the UK's lifesaving ambulance community. TASC are passionate about caring for the mental, physical and financial wellbeing of those who care for us. Because they care, we care.
The Fire Fighters Charity offers specialist lifelong support for members of the UK fire services community, empowering individuals to achieve mental, physical and social wellbeing throughout their lives. They provide independent, personalised support to thousands of people each year, and they're not all firefighters. The charity exists to support all fire and rescue service personnel, whatever their role in the service. They are also there for all those who have retired, as well as for spouses and dependants.