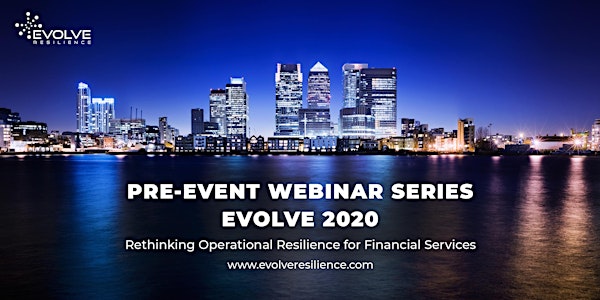 OPERATIONAL RISK, GOVERNANCE AND BUSINESS CONTINUITY BEST PRACTICES
The 3rd webinar in the EVOLVE 2020 series: Rethinking Operational Resilience for Financial Services - leading up to a full event in October
About this event
In response to recent global developments, as well as from a basic best practice point of view, financial sector firms need to continuously refine their crisis and incident management, business continuity and disaster recovery plans, improving and adapting them as needed. EVOLVE 2020: Rethinking Operational Resilience for Financial Services has been put together to help the industry to attain these objectives whilst at the same time offering a platform for key practitioners to share ideas and concerns. This virtual event series comprises a set of topical operational resilience related webinars taking place over the summer, culminating in a unique, 3-day comprehensively researched virtual event on October 5th, 6th & 7th.
The series will enable C-suite executives and senior managers to benefit from real life case studies which will help them understand how operational resilience is, now more than ever, an evolutionary process hinging on industry cooperation, inter-jurisdictional and international dialogue and mutual support. This will allow industry leaders to embed resilience thinking into their strategies and change management frameworks, so as to protect and sustain their core business services as we adjust and adapt to the "new normal".
ABOUT THIS WEBINAR: OPERATIONAL RISK, GOVERNANCE AND BUSINESS CONTINUITY BEST PRACTICES
The Schedule
Moderator's opening address
Meeting expectations of best practice governance: developing an effective oversight function to meet best practice and retain effective accountability
Understanding operational risks.
Building credible oversight understanding models that ensure effective risk management.
Retaining effective accountability and responsibility to tackle operational resilience.
Assessing the most effective strategies to improve conduct, culture and customer experience: conduct risk as the first line of defence.
(15 minutes)
Panel discussion
Developing a strong Risk Culture: ensuring effective operational resilience and risk management practices in a rapidly evolving regulatory and technological landscape
Delivering effective resilience and continuity of business services by assuming operational disruptions will arise.
Preparation, recovery, communications, governance: the assumption that disruption will happen to be used to inform strategy, planning and resourcing.
Managing the regulators' expectations about emerging technologies (Cloud) and emerging threats and the current existing threats.
Managing remote teams: avoiding fraud and maintain high-performance when managing remote teams.
Integrating operational resilience and operational risk.
Understanding the impact of integration and diversity on risk: culture or conduct? Who should be primarily responsible for the implementation of risk culture?
Prevent an increase in the level of fraud during an incident.
Culture and leadership are key: understanding the impact of integration and diversity on risk.
Safeguarding the delivery of business services by using stress testing into operational resilience.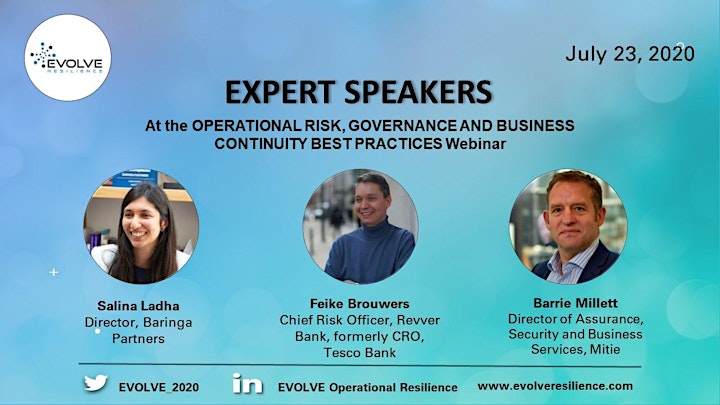 Presentation from panel members
Salina Ladha, Director, Baringa Partners
Feike Brouwers, Chief Risk Officer, Revver Bank, formerly CRO, Tesco Bank
Barrie Millett, Director of Assurance, Security and Business Services, Mitie
Senior Representative, Regulated Financial Institution
(60 minutes)
Q&A from the audience
Moderator's closing remarks