Join Mars Maths, Isla Flood, Hollie Barnes, Emma Bell and Sammy White (EdTech50) as we chat all things FE, functional skills and more.
About this event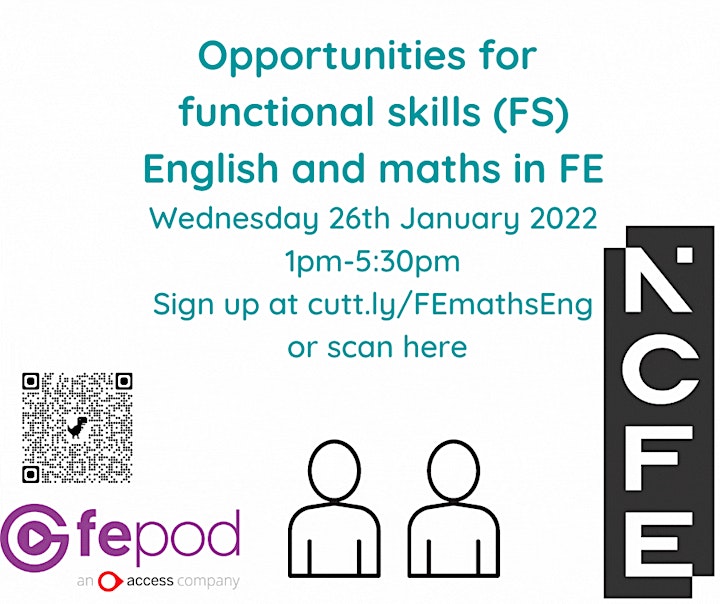 Mars Maths, Isla Flood, Hollie Barnes, Emma Bell & Sammy White share their top tips for teaching FE English and maths.
With thanks to our sponsors NCFE and fepod.
You can learn more about NCFE here on their website.
We're NCFE: an educational charity and leader in vocational and technical learning. We combine over 170 years of education experience with deep insight, working with a network of expert collaborators to galvanise the technical and vocational education sector around the greatest learning needs and to shape smarter solutions. In doing this, we're working for a fairer education system for all learners to power inclusivity and choice.
In 1848, we were born from the belief that no learner was left behind. Today, we're taking up that cause with fresh energy.
We provide Functional Skills qualifications that provide an alternative route to students for English and maths, from entry level 1 to level 2. Our Functional Skills come with 6 day results turnaround for all our on demand assessments, including paper-based, online and remote invigilated assessments.
Our Core Maths qualification is ideal for students who have achieved a Grade 4 or above in GCSE mathematics and would like to do a maths qualification that supports them in everyday applications of maths. This level 3 certificate supports post-16 students, particularly those affected by loss of learning in the past 2 years, with the development of their maths knowledge which will allow them to improve their achievement in other subjects and enable them to progress to further academic or vocational education, or employment.
We also offer bite-sized English and maths solutions allow you to build a flexible learning programme that can be used as intervention, confidence building and as alternative qualifications. These qualifications are ideal for SEND, ESOL and disengaged learners who will benefit from content that's practical in nature and come without the need for a final assessment. You can mix and match these from a huge range of units.
You can learn more about fepod on their website here. fepod helps learners achieve the qualifications they need. Our award-winning content, developed and written with tutors and lecturers, is designed to support users at every stage of their learning journey.
Mars Maths (marsmaths.com) will be talking about how she tackles functional skills maths with her students and will give a rapid rundown of her quick wins
Isla (Learn English Online) will share ESOL, and functional skills English experiences of teaching and her top tips for engaging students.
Hollie (FE Swap Shop) will live record for E&M Booth podcast with Isla on the day as they try to out score each other with number of tips shared, who will win?
Emma (MEI maths) will join us for our panel discussion about functional skills maths in FE. Read more about Emma here.
Sammy (WhatTheTrigMath) was named in the EdTech50 2021, she will bring EdTech top tips for creating engaging material for FS students.
We will also be joined by our sponsors ho will be sharing how they can help you, your students and college success in functional skills in FE.
We are planning a panel discussion too, where you can ask your questions and get the most from the day too, check out cutt.ly/FEmathsEng to ask your questions ahead of time.
All the sessions will be recorded, so grab a ticket and make sure you grab a brew to join us on the day. We can't wait to learn with you.
Organiser of Opportunities for FS (Functional Skills) English and Maths in FE