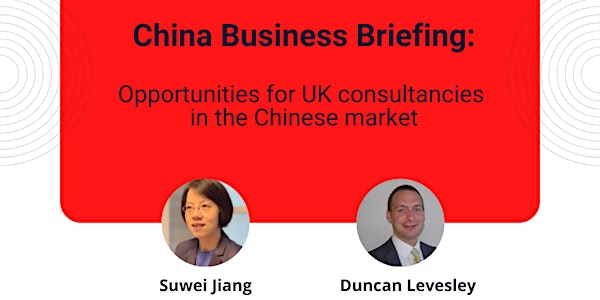 Opportunities for UK consultancies in the Chinese market
Opportunities for UK consultancies in the Chinese market
About this event
Confucius Institute for Business London is delighted to host the Webinar "Opportunities for UK consultancies in the Chinese market"
This webinar is replacing our regular public lecture events China Business Briefings, usually hosted at LSE, as part of our Chinese Language and Culture for Business Executive Programme.
What are the current opportunities for UK consultants in, and working with China?
What are some of the trends that the industry is seeing? Where are the future opportunities?
What does China's consulting landscape look like? Is competition largely driven by domestic or international firms?
Our guest speakers will share their extensive experience in the field:
Suwei Jiang: Suwei is the Lead Partner of China Business Group and Senior China Advisor in PwC UK. She also leads the PwC China Business Network and 'Power Your Trade' services across Europe. Suwei is an audit and deals partner by background and has been dealing with all aspects of China inbound and outbound businesses across sectors in the UK and across Europe for the past 15 years. She is an experienced practitioner in delivering market access, M&A transactions, capital markets and financing projects, and advisory engagements for private and public sector clients both in the UK and in China.
Duncan Levesley: Duncan has been working with China for over 15 years, and is Grant Thornton UK LLP's lead on trade with China. He has advised a wide variety of clients on their strategy for internationalising their operations and expanding overseas, and is also responsible for running a major Department for International Trade business support programme for companies expanding in China. He is a Chartered Accountant, and holds a Masters in Chinese Language, Business and International Relations.