Description
Opportunity Arabia – Oil and Beyond will be returning on Wednesday 30 October as the must attend occasion of the annual UK-Saudi Arabia bilateral calendar events this year.
Now in its 15th year, Opportunity Arabia - Oil and Beyond, brings together government and business leaders to help promote trade and raise awareness of business opportunities to the Kingdom through presentations and panel discussions. The conference offers insights into the progress of 'Vision 2030' with the aim of identifying current and future business trends.
Our speakers, Saudi and British, will be leaders and experts in the fields of business and government and will be offering their invaluable advice and market knowledge on how best to succeed in Saudi Arabia.
The conference is relevant to those who are familiar and those who are less familiar with Saudi Arabia. It will aim primarily to raise the awareness of the huge and growing business prospects in the Kingdom and to introduce the options available to UK Plc. The Saudi market is not an easy one and establishing a presence takes time and determination. But the rewards are great. Pathfinder Trade and Invest, your conference parent, is there, through its extensive experience of Middle East markets, to give a helping hand and any follow-up required.
Topics and Panel Discussions include:
Mega Projects


Infrastructure

Transport and Transportation

Financial Services

Renewables

Education & Training

Economic Update

Vision 2030

Expert Advice on suceeding in the Kingdom (pitfalls, callenges and triumph)

Case Study

The Future of Oil beyond fuel

Tourism, Sport and Leisure

The role of women under Vision 2030
Conference Chairman: Sir Alan Munro – Former UK Ambassador to Saudi Arabia
Conference Moderator: Vic Annells, Executive Director, Mansion House & Central Criminal Court at City of London Corporation and former Head of UKTI Saudi Arabia
Current confirmed speakers - more names to be announced soon!
Baroness Symons of Vernham Dean

Omar A. Bahlaiwa, President - Optimum Business Consulting Bureau

Stephen Bennett, Chairman - Inspirational Development Group (IDG)

Stuart d'Souza, CEO - Arabian Enterprise Incubators

Hoda Helaissi - Shoura Council Member

Nadia Bakhurji, Founder and Design Principle - NBA Design

Dr Mark Thompson, Assistant Professor of Middle East Studies - King Fahad University for Petroleum and Minerals (KFUPM)

Gavin Ames, Executive Vice President - Zamil Opterations and Maintenance Company Ltd

Antoine Mattar, Director - Consolidated Contractors Group (CCC)

Sanjay Tanwani, Development Director - ATKINS

Dr Martyn McLachlan, Reader in the Department of Materials - Imperial College London
Keep up to date with further confirmed speakers and topics at Opportunity Arabia Conference - October 2019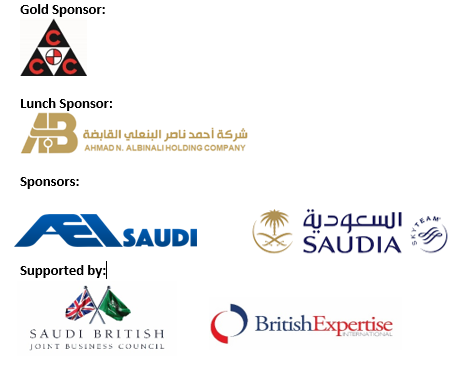 Sponsorship Opportunities
Raise your profile and create awareness of your brand by sponsoring Opportunity Arabia - Whatever your desired level of investment, we have a range of available options to suit your requirements. Please click here to view the opportunities available to you.