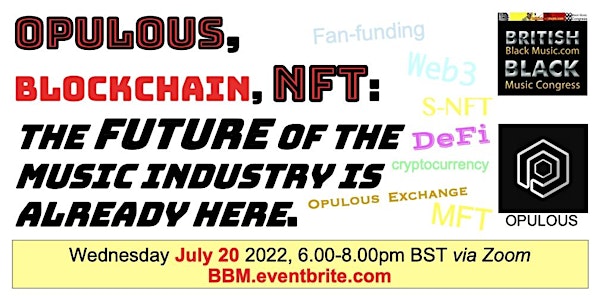 Opulous, Blockchain, NFT: The Future Of The Music Industry Is Already Here
Sales Have Ended
Registrations are closed
Hopefully you'll come back to complete your booking.
The future music industry financial model is already here! Find out how artist monetise content through new engagement models with fans!
About this event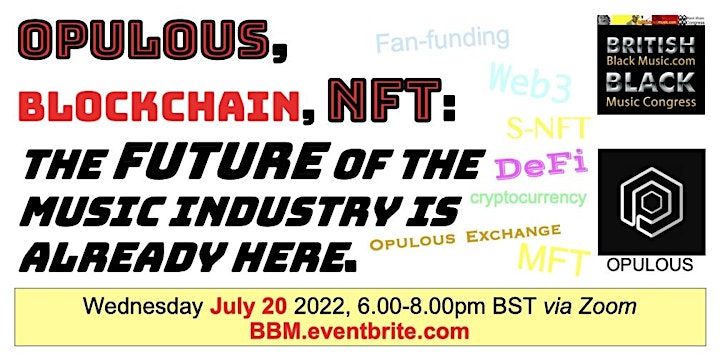 BBM/BMC (BritishBlackMusic.com/Black Music Congress) presents in association with Opolous and Ditto Music: 'Opulous, Blockchain, NFT: The Future Of The Music Industry Is Already Here'.
Fan-funding artist projects pre-dates the birth of the internet. But with the coming of web3, this has been taken to another level.
Artists , and not necessarily stars, are already generating five-to-six figure sums in advance of delivering product. Fans have the pleasure of owning, not only a piece of their favourite artist's work, but also have the right to share in the work's revenues.
So are the days of the traditional music industry deals with recoupable advances from record companies and music publishers over?
Why have the major entertainment companies got into NFTs? And, what's this about cryptocurrency or blockchain, I hear you ask?
No worries - if you don't know your S-NFT from MFT, or wonder whether DeFi is a new wi-fi or hi-fi - make sure you to register for this free online learning forum now!
Because Joe Mason, Head of Artist Services at Opulous, the web3, decentralised financing platform founded by Ditto Music CEO Lee Parsons, will be on hand to improve your knowledge.
Joe will make a presentation explaining all those web3 terms and concepts, and the Opulous vision of the future of the music industry, followed by a Q&A moderated by Kwaku*.
This online forum is open to anyone who is either curious or has an interest in developing a future-proof career in the music industry. It's aimed particularly at the unsigned or do-it-yourself artist, musicpreneur, or those who provide artists, songwriters and producers with specialist support, such as managers and business advisers.
If you want to know more about your options for developing a career and income streams for your passion and musical talent - then this seminar is for you!
This £Free event takes place via Zoom. Meeting details are sent by email upon booking. Diarise date and book this and other #BBMM2022 events at: www.BBM.eventbrite.com.
Click https://opulous.org for Opulous details.
*Kwaku (BBM/BMC & BTWSC) holds a Music Business Management MA, Media MA and an LLM in Entertainment Law. He has taught music industry courses from pre-degree levels at City & Islington College, City University London, to graduate and post-graduate level at University Of Westminster. He has guest lectured at University Of Hertfordshire and LIPA (Liverpool institute For Performing Arts). A qualified NVQ assessor, he's also designed and delivered Akoben Awards and BTWSC's accredited and non-accredited courses.