Description
This October Oracle will be holding their first 24 hour Blockchain Hackathon over the weekend of the 26th and 28th October in London. This event is targeted towards the UK Government and its aim is to identify and use real-life use-cases of distributed ledger technology to develop a deeper understanding on how and why DLT can be utilized in modern infrastructure to improve current processes, development, citizen user experience, efficiency and more.
We would like to explore and identify with all Government Departments for potential real-life use-cases to use within the Hackathon.
At the Hackathon we expect a whole host of delegates such as engineers, software developers & architects, students, designers, analysts, researchers allowing everyone to network, share knowledge and work on the challenges over the Hackathon weekend.
Example use-case:
Background
Government departments or any other public institutions providing public services that requires interfaces and integration including contracts, licences, permissions, travel documents, customs, immigration, certification, and standards.

What is the problem you're trying to solve?
On the technical front, resolves the need for costly system interfaces, integration and intra-web services. Government and public institutions generally lack expertise and skills to undertake and sustain integration and web service projects. On the social, economic, and legal front, increases transparency, accountability, and availability of end-to-end e-government services.
How do you plan to solve it?
On the blockchain, integration, and interfaces are implicit through distributed ledgers, smart contracts and consensus algorithms. Need to explore Blockchain services and tools, brainstorm, and propose and specify a technical solution.
The following are the general ideas that could further be refined for a probable solution:
1. Leverage existing platforms, databases and technologies to migrate public records to the blockchain.
2. Leverage existing national identification or create a unique ID for natural persons and legal entities linked to a unique cryptographic public address for access and participation in a permissioned blockchain.
3. Design smart contracts for enforceable standards, legal contract clauses, workflows, business processes, administrative and legal procedures, due dates, service fees etc.
4. Design a proof-of-stake consensus algorithm for the trustless system and maintenance of the distributed ledger.
DID (Distributed Identification)
The Challenge: "Currently there is no single citizen identity across government departments"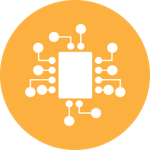 Procurement
The Challenge: "Current tendering processes in place are manual, complex and cumbersome"

Land Trade in a post Brexit Britain
The Challenge: "Combigning different technologies to move goods/services across boarders/customs"

Open Challenge
This is an open challenge allowing teams to focus on use-cases that they are more interested in within Government.