Refund policy
Contact the organiser to request a refund.
Eventbrite's fee is nonrefundable.
An inspiring talk celebrating the wildlife of orchards by author and wildlife documentary film-maker Nick Gates
About this event
Join us for an online event with author and wildlife film-maker Nick Gates who will share his passion for orchards and talk about their importance for people and wildlife.
Orchards have been a traditional component of the British landscape for many centuries. However, the majority of old orchards have been destroyed and now only a fraction remain. As late as 1991, there was Government legislation - 'The Apple Orchard Grubbing Up Regulation' - that paid for the removal of orchards.
The value of these orchards for wildlife, as well as people, has long been underestimated. Old orchards are crucibles of biodiversity, playing home to a wealth of wildlife from beetles to butterflies, hedgehogs to dormice.
Nick Gates and Ben Macdonald spent years visiting a magical traditional orchard, uncovering more of its stories each season and observing its imperilled and overlooked abundance of life. Their book, Orchard: A Year in England's Eden was the result of their passion.
Nick's talk will be a celebration of the extraordinary range of wildlife an ancient orchard supports, making it one of the richest ecosystems left in Britain. Nick will also share how he brought many of the principles that makes the orchard such a fantastic wildlife haven into his own small wildlife garden in Bristol, with some really notable species successes, including Purple Hairstreak and Great Crested Newt.
Join us on November 4th to be inspired - it only takes six trees to create an orchard.
The talk will be followed by a Question & Answer session.
This event is a collaboration between Moor Meadows and Orchard Link, both grassroots community groups based in Devon. Moor Meadows are a not-for-profit organisation, run by volunteers passionate about meadows and nature. Their mission is to celebrate the wonderful diversity of native plants and wildlife to be found in species-rich grasslands and to help reverse the trend of wildlife declines. For more information visit: Moor Meadows
Orchard Link is a volunteer-run, not-for-profit organisation run by and for orchard, apple and cider enthusiasts in South Devon. The group run training workshops and talks and you can hire excellent professional quality equipment from presses to pasteurisers. For more information see: Orchard Link
This talk is free, but if you can afford a donation, between £2.50 and £10, this will go towards supporting the work of Moor Meadows and Orchard Link.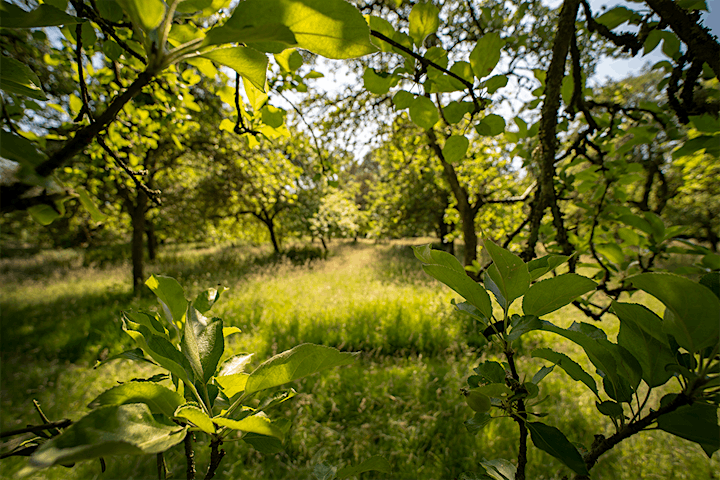 Book reviews of Orchard: A Year in England's Eden:
'A lyrical and thought-provoking love letter to the endless beauty and biodiversity of the English orchard', Waterstones
'Vivid', John Carey, Sunday Times
'Wonderful', John Burnside, New Statesmen
Available from NHBS and a book store near you.