Description
This is an event for anyone interested in community orchards and gardens in Scotland.
* If you are a group already helping to care for a community orchard, you can request up to £400 to run an orchard event in 2018, or maintain and improve your orchard. Full details here. The deadline is 18 July.
* If you are interested in starting a community orchard then you can pitch for an orchard starter pack. Full details here.
* If you are just interested in community orchards, come along as well.
Registration is essential. Please use the green register button at the top of this page. If you register before the 19
th
July, you'll receive a free, lovely bamboo notebook and pen.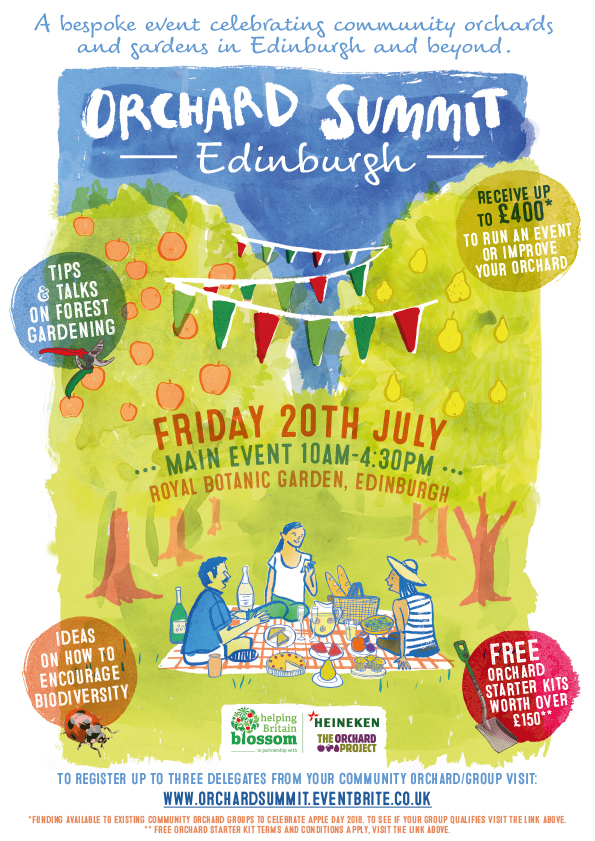 Programme:
10:00 Registration and refreshments

10:15 Welcome and introduction to the day

10:20 Talk on 'Forest Gardening in Scotland' by Alan Carter, Forester and Greenspace Manager
10:55 Break
11:00 Short 3 minute pitches from up to 12 orchard groups for up to £400 and voted on by other community orchard representatives.(*1)
11:50 Break
12:00 Continue with the 3 minute pitches
12:30 Lunch provided by RBGE's Sodexo.
During lunch opportunity to network with others and see the newly desiged orchard design kit by The Orchard Project. Also for those interested at the beginning of lunch, there is the opportunity to pitch for a community orchard starter kit (*2). Fill in the form here.
1:30 An afternoon of workshops(*3), including:
Pollinators, ways to

encourage orchard friendly insects and maximizing yield

;

Anthony McCluskey, Butterfly Conservation Trust

.
Community orchards, being enterprising - Generating ideas and useful steps;

Anne Gibson, Social Farms and Gardens.

Meet the plants of a forest garden; Alan Carter, Forester and Greenspace Manager.

Medicinal benefits of the rose family; s

imone melanie, Solar Ripe.

How to start up a community powered cider business? Dan Hasler, The Orchard Project.

How to run a bio blitz? Laura Goble, RSPB.

Bud grafting made simple and tips on tool maintenance; Tom Watson, Leith Croft.

Common pests and diseases in an orchard;

Clifford Cain, Fruitscape.



Preserving fruits – Top tips on jam and jelly making; Chelley Campbell, That's Jammy.

Organising events - A how to guide to organise an Apple day; Fergus Walker, The Orchard Project.

Growing trained trees and summer pruning tips; Tom Watson, The Croft.

Why bats and birds are important in our orchards?

Chris Kilmartin, Edinburgh University
3:45 Results of vote. Summary of workshops. Apple juice and cider tasting.
4:30 Finish
Notes from programme:
(*1) In the morning we will be hearing proposals from community orchard groups requesting up to £400 to help run an orchard event or maintain / improve their orchard.
Orchard groups will have 4 minutes to convince the audience, from other community groups, that they deserve a share of the £3,200 on offer. The winning groups will be decided by an audience vote on the day.
(*2) An opportunity for community groups to pitch for an orchard starter pack of 5 fruit trees, worth £150 (all the guards, posts, ties, mulch, etc needed).
(*3) In the afternoon we will be learning from experts with great ideas to make orchards and community gardens more fruitful and edible.
Frequently Asked Questions:
Q) How does my community orchard request some funds?
A) Full information and proposal form is here.
Q) Is this event for community gardens as well as orchards?
A) Yes! It's just most of our funding is for orchards. But there's so much overlap we didn't want separate events.
Q) Do I have to stay for the whole day?
A) No, you are busy people so come for the parts you can!
Q) How do I get to the venue?
A) Travel: Royal Botanic Gardens Edinburgh is a 15 minute bus journey from Edinburgh's city centre. LRT buses include 8,23 or 27.
Visit http://lothianbuses.com
Nearby on street parking is metered. There are cycle racks the East gate entrance and at 20A Inverleith Row.
Access: Entrance located at 20A INVERLEITH ROW EH3 5LR. Which is approximately 250m north of the East Gate on Inverleith Row. It is then a 2 minute walk from this entrance to the venue at The Fletcher Building. Receptionist at this entrance will be able to direct people to the building.
Q) I have food intolerances or dietry requirements, will you be able to cater for me?
A) Sodexo who are the caterers at RBGE, use freshly grown produce grown by RBGE's Edible Garden Project. They will be providing a vegetarian and vegan lunch. If you have specific dietary requirements, please detail needs in your answer to dietary preferences when registering.
Q) What does it cost to come?
A) The 'Orchard Summit – Edinburgh' is free to people involved in groups caring for community gardens and orchards. There are day tickets which makes a £10 contribution towards the costs of lunch and the day. Afternoon tickets for workshops are free.
Q) Will you be offering childcare?
A) We are not providing childcare. If this means you are unable to attend and participate please speak to Chris on 07715 407 801 or chris@theorchardproject.org.uk to see what we can do.
Q) Is the venue disability friendly?
A) The RBGE's Botanic Cottage venue is wheelchair accessible. If you have specific requirements to help you participate fully, please let Chris know on Chris@theorchardproject.org.uk
Q) Do I have to bring my printed ticket to the event?
A) All we need is your name upon arrival.
Q) How do I get in touch?
A) Chris Macefield (The Orchard Project, Edinburgh) chris@theorchardproject.org.uk 07715 407 801.
DATE:
Friday 20 July 2018
10:00 – 16:30
Location
The Fletcher Building (located on the east side of the gardens)
Royal Botanic Garden Edinburgh
Edinburgh
EH3 5LR