Description
In this exciting workshop we will be learning to create what we want in life by using powerful affirmations and visualizations. In this course, we're using the image of the Universe as a Cosmic Kitchen, where you can place any order you want! The Cosmic Chef prepares the order at the right time and it's delivered to you. We're going to learn the principles for placing\your orders, how to clear the past, and how to use the Law of Attraction. The sound therapy gong bath is aimed at relieving energetic blockages and aid with deep relaxation.
Important information
Your place on this event is guaranteed upon us receiving full payment. No refunds will be given for cancellations made less than six weeks before the start of the retreat. In the event of the event being cancelled a full refund will be given.
Please bring the following with you:
A journal and pen
A yoga mat
2 cushions
Blanket
A snack for the short break
We will provide:
Directions
This event will be held in the bungalow, which is located on the left-hand side as you enter through the gates of Firs Farm. There is parking space outside the bungalow as well as down the gravel track. You can park anywhere except for near the right hand annexe (as you look at the main house). Please keep cars off the grass areas.
Please arrive no later than 10 minutes before the retreat starts.
Please note that sat nav will not get you to our door, only the general area. Being familiar with the road layout in advance will serve you well. Capers End Lane is off a road called 'The Plantation' and is easily missed. When you arrive on Capers End Lane (Gravel track) proceed all the way down to the end and you will pass through the gates of Firs Farm. Please see maps below, call 07825 727331 if needed.
By Car
Firs Farm is located between the village of Botley and Bishops Waltham, Capers End Lane can be found off the B3035, and off The Plantation (see map below).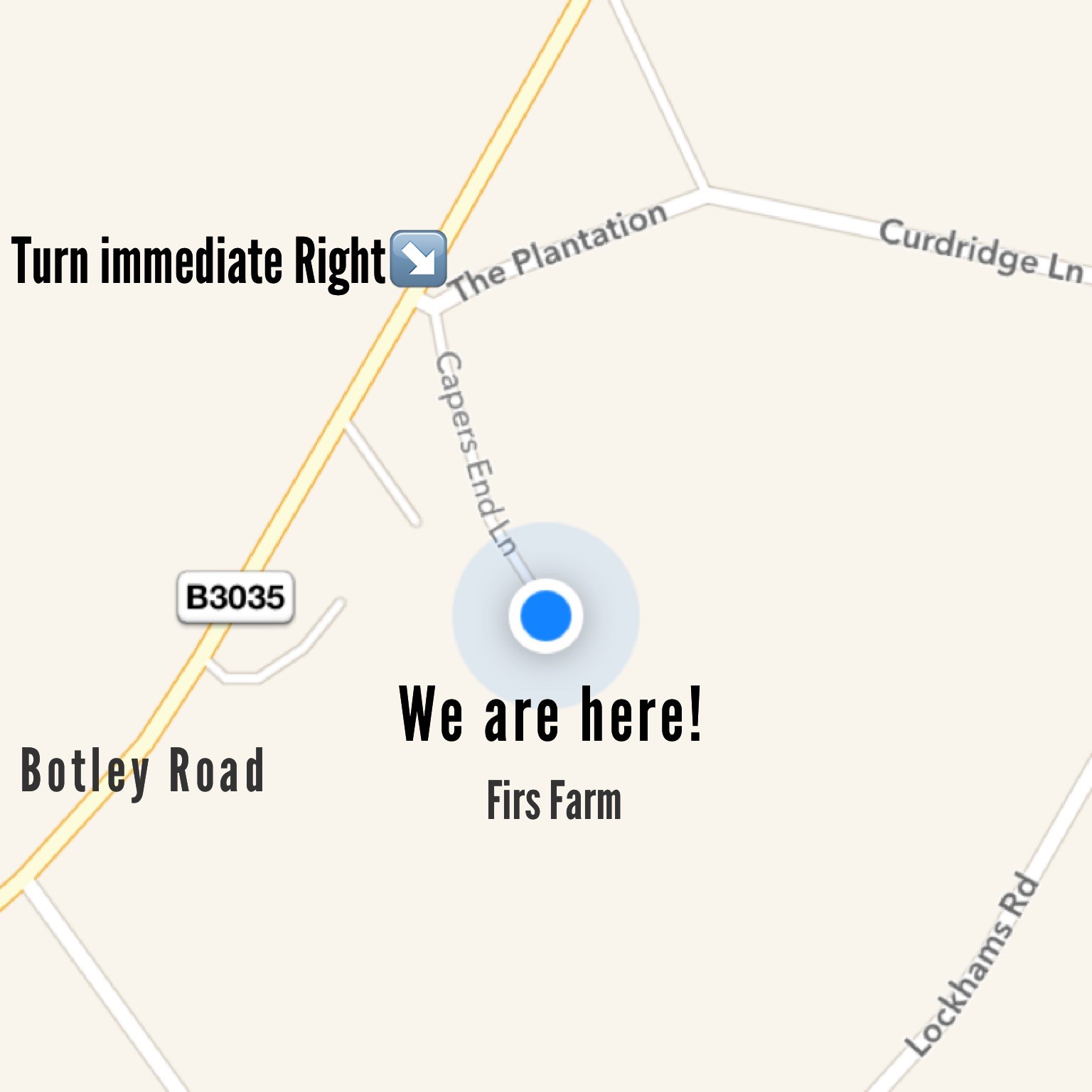 By Train / Taxi
Botley train station is a small station and approximately five-minute taxi drive to Firs Farm. The taxi would need to be pre booked. There are accessible ticket machines at this station as well as customer help points.
Local taxi services
Hedge End Service - 6 Botley Road (01489 696969) - OPEN 24 HOURS
Millers Private Hire Cars - 19 Allen Road (01489 788888)
Phipps Taxis Ltd - 6 Botley Road (070 0444 4444)