Use objective data to inspire a culture of engagement, identify talent and develop leadership competence for high performance
About this event
- HIGH PERFORMING LEADERS, TALENT AND CULTURE -
FREE 1 HR WEBINAR FOR PEOPLE DEVELOPMENT PROFESSIONALS
Discover how objective data can support your people plans and business objectives
Live demo of online interactive dashboards and simple traffic light colour scheme to visualise group and individual data
Get your own free personalised example of your unique data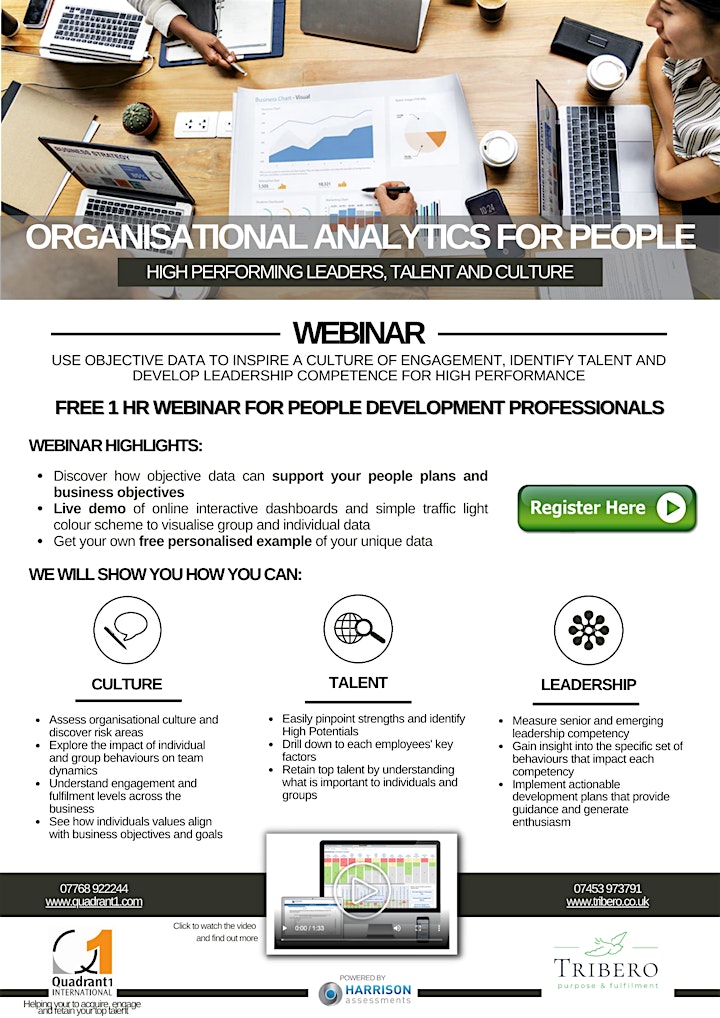 Quadrant 1 are delighted to be hosting this webinar in partnership with Tribero Ltd.
Organiser of Organisational Analytics for People
Quadrant1 use a combination of Harrison Assessments Talent Solutions (HATS), NLP and coaching to take organisations beyond conventional training and development methodologies.
HATS enables us to apply our expertise to identify strengths and potential in career development, leadership and succession planning. With increased focus on talent management, we have turned our skills towards helping organisations acquire, develop and retain talent to assist them in becoming an employer of choice in their industry. We offer a range of Talent Management services backed up with tailor-made training courses and bespoke consultancy solutions designed to meet your specific organisation and team challenges.