Description
Please join us for the Orion Health UK & Ireland Customer Conference 2016 on the 12th and 13th of October at the Wellcome Genome Campus Conference Centre in Hinxton, near Cambridge. Register now to secure your place!
Why attend?
Following the maxim 'The right care, in the right place, every time,' this promises to be a conference jam packed with opportunities to learn from and network with your fellow digital health leaders and practitioners and Orion Health experts. 
Agenda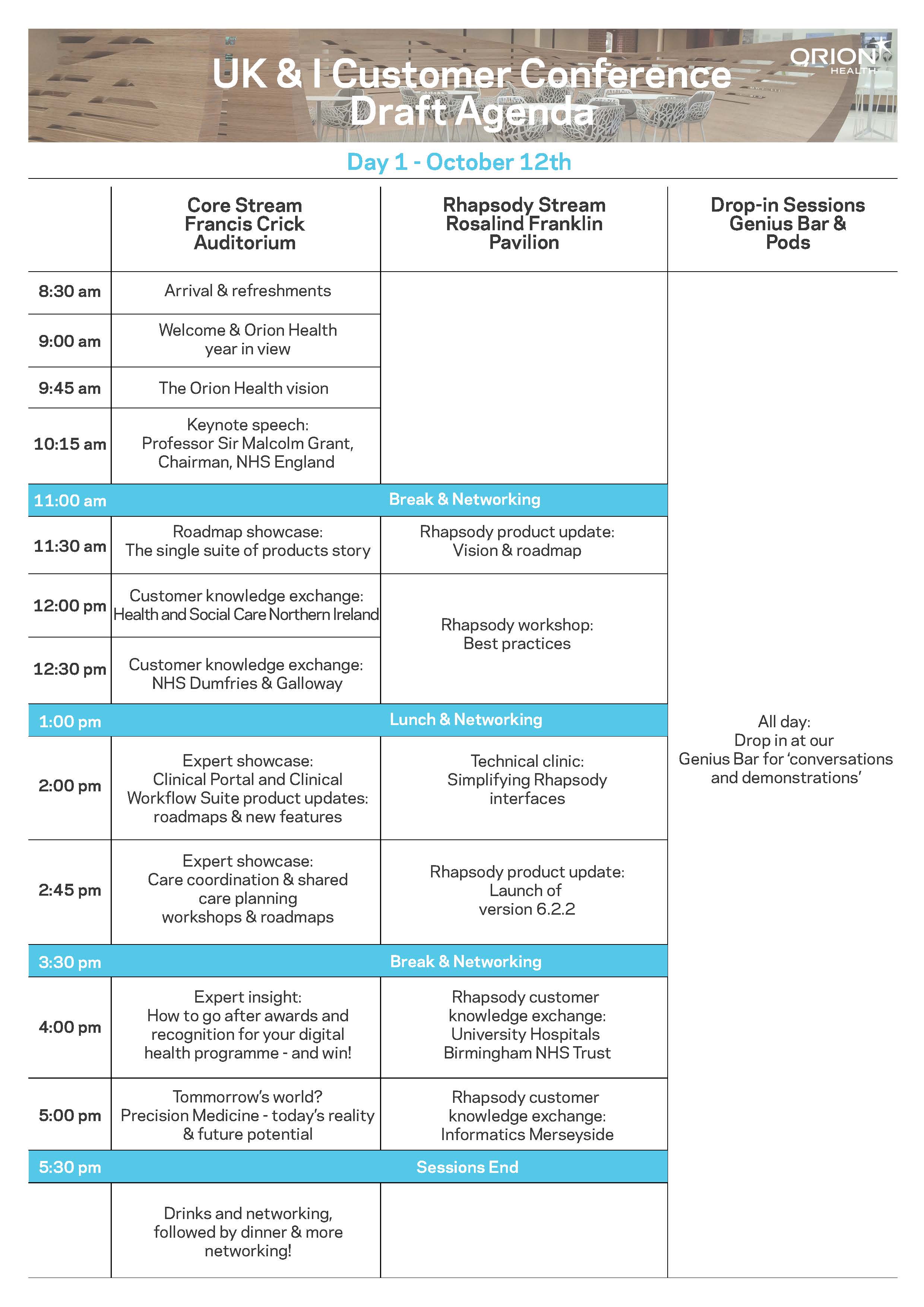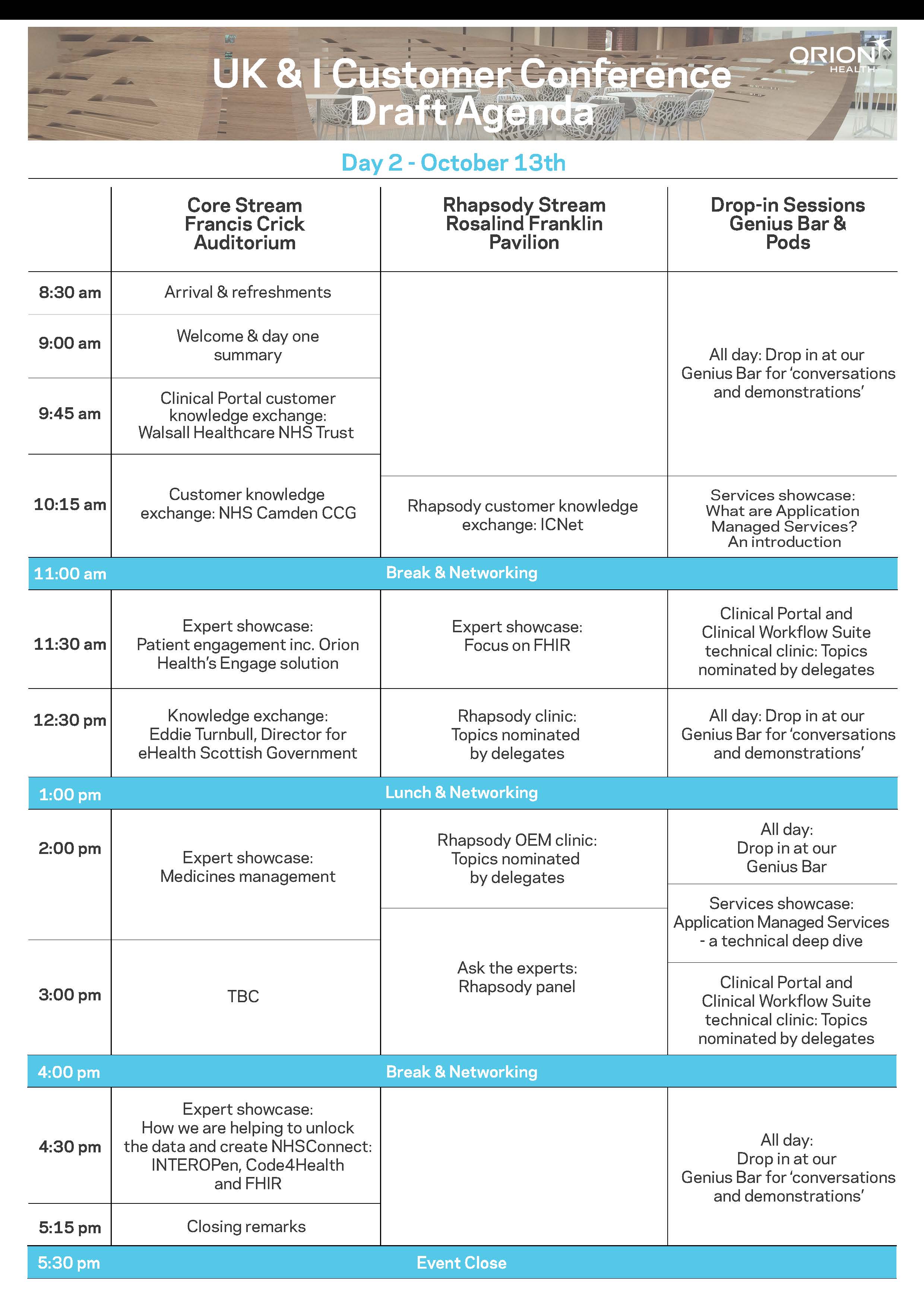 Updates to the agenda will be announced over the coming weeks. In addition to the Core Stream we will be running a dedicated Rhapsody Stream. You will be invited to submit your topics for the Rhapsody and Clinical Portal clinic sessions in August so look out for the communications. Places are filling up fast so please do register now to secure yours.
Want a reminder of the 2015 Conference? Click here to see a short video of last year's event. 
Conference Logistics & FAQs
The venue: The Genome Campus is a 55-acre estate south of Cambridge in the grounds of Hinxton Hall, home to two world-class research facilities: The Wellcome Trust Sanger Institute and the European Bioinformatics Institute (EBI). The site has developed to become the British hub of biomedical science. The Campus is also home to the Wellcome Trust Advanced Courses and Scientific Conferences programme and the Wellcome Genome Campus Conference Centre.
Getting there: Set in parkland on the banks of the River Cam, the Wellcome Genome Campus Conference Centre couldn't be easier to find. It's conveniently located for by road from the M11 (J9 or J10) and by rail from nearby Whittlesford Parkway station. Stansted, just off the M11, is the nearest airport. Click here for more infomation on the location and travel. Complimentary shuttle buses will be available between the Conference and Whittlesford Parkway station in the morning and evening on both days
Hashtag: #OHCC2016
Refreshments: A delicious lunch and refreshments will be provided on both days. For those that are able to join there will also be a networking dinner on the evening of the 12th. Please indicate any special dietary requirements on your registration form. 
Accomodation: There are 136 ensuite rooms available on the campus and there is a Holiday Inn Express next to Whittlesford Parkway station just a short drive from the campus. Rooms at the Wellcome Genome Campus Conference Centre are available on the 11th and/or 12th of October and should be booked by August the 12th. They are £94+VAT per night and breakfast is included. To book you need to contact the Wellcome Genome Campus Conference Centre directly and give your payment card details. These will not be processed until your departure. Please call 01223 495000 quoting 'Orion Health 8495.' If you have any questions about accommodation email reception@wellcomegenomecampus.org.
Need to know more? If you have any questions, please get in touch with us at emea-marketing@orionhealth